Image: Blog hero Plant Plate 09 boys dig in
GroundWork
News and ideas you can use to strengthen rural Minnesota communities.
The Birthplace of Brain Gain: Mitchell, S.D.
by Blandin Foundation Posted in Vibrant Rural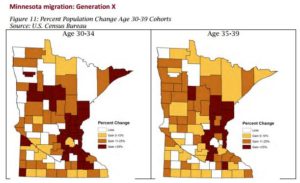 Sometimes innovation springs from the strangest places – like a palace housing over 275,000 ears of intricately designed corn.
Mitchell, South Dakota is home to the nation's only Corn Palace and as Northern Minnesota author Aaron Brown says in his recent Daily Yonder article,
While some might only know Mitchell as a tourist trap on the way to Mt. Rushmore, or as the boyhood home of former Senator and unsuccessful presidential candidate George McGovern, this city has quietly reinvented itself as an economic center for technology, marketing and manufacturing. The nation's leading supplier of rural telecommunication services developed itself right here, and billboards for miles around tout new high-paying jobs in Mitchell.
Brown spotlights Mitchell as the "Home of the Brain Gain," a migration trend showing that young adults, ages 30-50, are moving to rural communities from urban centers. He recently wrote a post for us describing the concept in detail.
So how did this happen? And what can rural cities all over American learn from Mitchell, South Dakota?
From the mouths of sociologists, economic developers and recently relocated rural residents…it's all about quality of life!
Bryan Hisel, executive director of the Mitchell Area Development Corporation, said Mitchell's success has been a combination of existing local talent and a collective focus on improving quality of life and infrastructure in Mitchell.

"Every community has this opportunity whether they know it or not," said Hisel. "It comes down to whether the smart people who grew up and live in your community think it's a good place to live or not."
Furthermore…
"We have really smart people who live in rural America," said Hisel. "This is a desirable place to grow up, to stay and grow your career and enterprise. If you work on building the community into a quality place to live, that's the key.
Read the full article at The Daily Yonder and check out our blog post for links to brain gain research and stories.
Sign Up for E-News
Subscribe to our periodic newsletter for updates and opportunities about vibrant rural Minnesota.