Image: Blog hero Plant Plate 09 boys dig in
GroundWork
News and ideas you can use to strengthen rural Minnesota communities.
Education Grants "fill the gap" for 328 students
by Blandin Foundation Posted in Grants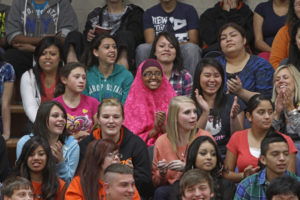 With books stacked sky high in the back seat and a trunk that's bungee corded shut, many young Minnesotans hit the road last month, putt-putting to their futures.
The Minnesota Office of Higher Education recently reported that 77 percent of the state's high school graduates attended college in 2012, up from 56 percent in 1996. At a glance, this increase helps gauge how attainable higher education is to students of all socioeconomic backgrounds.
Part of rising accessibility is related to student aid.  College Board found that student aid nation-wide has increased from $29 million in 1992 to $102.5 million in 2012. This shift in funding is opening up opportunities for students who need to fill the gap between the cost of school and the amount they can afford.
With rural schools growing in numbers and in diversity, it's important all students feel supported as they take their first steps towards achieving their dreams.
"Our trustees and staff recognize the possibilities that come with education, and celebrate that local students are making ambitious, hopeful choices for their futures," said Kathy Annette, Blandin Foundation CEO.  "Communities are stronger with every success of every child, and we are honored to stand with students, families and communities in embracing our youth, from cradle to career."
As students all over the country take their first (sometimes) shaky step into freshmen orientation, 328 Itasca County students, who were awarded an Education Grant, will have the confidence knowing that their community is rooting for their success.
Sign Up for E-News
Subscribe to our periodic newsletter for updates and opportunities about vibrant rural Minnesota.