Image: Blog hero Plant Plate 09 boys dig in
GroundWork
News and ideas you can use to strengthen rural Minnesota communities.
On the path to a vibrant future: Warroad
by Jennifer Bevis Posted in Rural Capacity Building, Vibrant Rural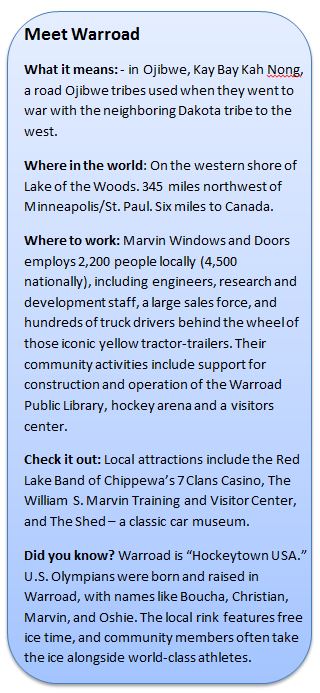 On the surface, Warroad, Minnesota, seems like countless rural Minnesota places: a small town (population 1,781), near a big lake (Lake of the Woods), in one of the state's sparsely populated areas (northwestern Minnesota). With vital stats like these, you might assume Warroad is clinging to survival, struggling with a decimated economy and discouraged residents.
You would need to check that assumption. Warroad, you would discover, boasts a robust economy, brims with community passion, and brings commitment to design and claim a vibrant future.

The community's largest employer, Marvin Windows and Doors, draws thousands of workers – some who drive 50 or 60 miles one away. The family-run enterprise has intentionally invested for more than a century in its industry-leading, state-of-the-art manufacturing plant – and in the community. And Warroad's heritage as a hotbed of hockey has propelled it into international spotlights many times over the years – most recently last February when T.J. Oshie and Gigi Marvin, both hometown heroes and household names, competed in the Winter Olympics in Sochi, Russia.
Looking a little deeper, you would discover that Warroad figures prominently in Native American history and culture. It is home to Laotians and Scandinavians, folks whose families have farmed or worked at Marvins for generations, and those who've recently arrived, attracted by competitive wage jobs and a unique quality of life.
Keenly aware of their remote location, and dedicated to maintaining and enriching Warroad's assets, community leaders have set a community vision that's rich, relevant and vibrant. They're talking to each other, dreaming with one another, seeking the next generation of community leaders who will share that vision and make it their own, moving the community forward in the process.
Vision, passion and action — just a few of the things Blandin Foundation CEO Kathy Annette heard during a listening meeting she hosted recently in Warroad with nearly a dozen community leaders. Those community assets are focused on topics like housing to accommodate a growing workforce, discerning the best ways Warroad can be welcoming, bringing high-speed internet to more residents, and mentoring the next generation of leaders.
It also means celebrating characteristics that make Warroad unique. Following the resolution of a dispute with a national organization over Warriors high school mascot, community leaders collaborated on a rededication ceremony to celebrate the Warroad Warriors. The event included an Ojibwe pipe ceremony, drumming and a community-wide pep rally in recognition of the community's connection to the Native American community, and to acknowledge the importance of respecting the cultural significance of the icon.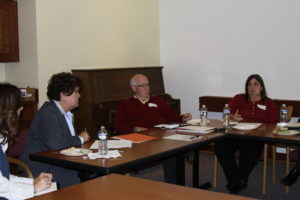 Discovering the rich conversations and commitment alive all across rural Minnesota is what drives Annette's commitment to host listening meetings as often as she can, including 17 in the past three years. This year, in addition to Warroad, she will hear from Grand Marais, Inger and Austin.
"Each community has its own narratives and personality," Kathy said. "It's such a privilege when these places welcome us in and share their stories and ideas. I get a glimpse of their community, gather information that helps the Foundation strengthen its work, and I always come away energized about the tough, yet rewarding, work leaders all across the state are doing to build hope and strengthen rural Minnesota."
Jennifer Bevis, Communications Assistant at Blandin Foundation.
Sign Up for E-News
Subscribe to our periodic newsletter for updates and opportunities about vibrant rural Minnesota.