Image: Blog hero Plant Plate 09 boys dig in
GroundWork
News and ideas you can use to strengthen rural Minnesota communities.
Minnesota shares a holiday gift with the nation
by Blandin Foundation Posted in Vibrant Rural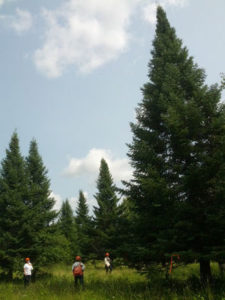 As intricate, iridescent snowflakes start to fall, the smell of pine needles, the sight of twinkling lights, the taste of peppermint treats, and feeling the holiday cheer is palpable. The warmth of family, friends and community envelopes us like a weighty, woven blanket.
The magic of the holidays was in full-swing last week when students from the Bug-O-Nay-Ge-Shig and Northland Schools performed a drum and dance ceremony while standing among the towering trees of the Chippewa National Forest. One of those trees, an 88-foot white spruce, was cut down by Minnesota Logger of the Year Jim Scheff to be transported to Washington D.C. and featured as this year's Capitol Christmas Tree.

Jim Michaud, Special Projects Director for Leech Lake Band of Ojibwe, said the experience of watching the students dance beneath the tall pines was unforgettable.
"The students were really excited to be there and they did a fantastic job," said Michaud.
The tree, initially wrapped and prepared by students from Itasca Community College, will make more than 30 stops from the Leech Lake Indian Reservation to its final home on Capitol Hill.
Yesterday, the tree made a stop in Blandin Foundation's home community of Grand Rapids.
At the event, U.S. Forestry Service Ranger Chad Kirschbaum spoke about the importance of forestry to rural Minnesota's economic vitality.
"[This tree] represents all our hardworking families, our values of education and sustainable natural resource management."
This hard work was quantified by the Department of Natural Resources 2011 report found that forest products manufacturing and related sectors directly contribute $3 billion to Minnesota's economy, employing about 40,370 people.
To most attendees, though, the tree is a symbol of something else, something unique to Minnesota.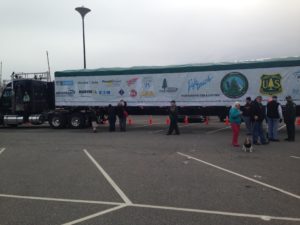 "This tree, and our partnership, speaks to our culture of inclusivity that strengthens and awakens our connection to the land," said Kirschbaum.
To share that connection with others, more than 150 students from northern Minnesota schools will follow the tree from their home state to Washington D.C. and join countless others in witnessing the awe-inspiring lighting of "The People's Tree."
Gathered with people from all over the nation, Minnesota students will experience the true spirit of the holiday season as they share with the world one of Minnesota's greatest gifts – our natural resources.
Sign Up for E-News
Subscribe to our periodic newsletter for updates and opportunities about vibrant rural Minnesota.