Image: Blog hero Plant Plate 09 boys dig in
GroundWork
News and ideas you can use to strengthen rural Minnesota communities.
Tele-dentistry fights the "silent epidemic" in rural Minnesota
by Blandin Foundation Posted in Broadband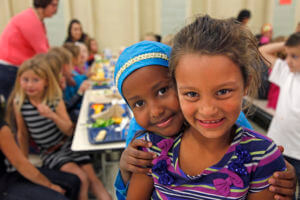 Did you know that 51 million hours of school time is lost each year due to dental illness? That's a staggering number!
"A lot of people don't realize dental disease is the most common disease in kids and it's completely preventable," says Sarah Wovcha, executive director of Children's Dental Services (CDS), a nonprofit organization dedicated to improving the oral health of children from families with low incomes. "There needs to be a wake-up call about the negative impact this is having on our children."

CDS provides a full range of dental services to children and pregnant women across Minnesota, but rural communities pose unique problems, Wovhca says.
"In Minnesota, we see various pockets of very vulnerable people, but we've really seen a crisis in access to care in our rural communities."
Why? Travel distance and lack of available dentists, says Wovcha.
This is most evident in northeastern Minnesota, where some communities have fewer than three dentists.
This predicament has led to what U.S. Surgeon General David Satcher called a "silent epidemic."
"With so few dentists, people on public assistance just don't get served," she says.
Enter the connective power of technology.
With a $50,000 Blandin Community Broadband Program grant, CDS implemented the use of tele-dentistry to view and send digital images electronically to dentists in remote locations in order to expand access to restorative care to the Nashwauk, Keewatin and Northome school districts.
Technology has enabled CDS to fight this "silent epidemic" in rural Minnesota, says Wovcha.
Through the grant, CDS was able to provide dental care to 512 low-income, underserved children and pregnant women in northeastern Minnesota.
"We're literally saving their teeth, reducing their risk of cancer and death by oral disease and, ultimately, putting them on a path to lead longer, healthier lives," said Wovcha.
While kids might say that going to school is like getting teeth pulled, given the choice, I know what I would choose. How about you?
Sign Up for E-News
Subscribe to our periodic newsletter for updates and opportunities about vibrant rural Minnesota.