Image: Blog hero Plant Plate 09 boys dig in
GroundWork
News and ideas you can use to strengthen rural Minnesota communities.
Trustees tour Itasca Economic Development Corporation
by Blandin Foundation Posted in Blandin Foundation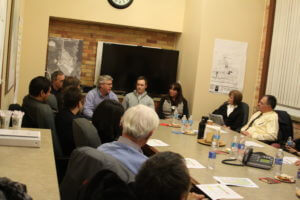 Nonprofits and funders are finding new ways of working together to achieve greater impact, a survey conducted by Grantmakers for Effective Organizations found. Forging partnerships through authentic communication is crucial to understanding the needs of both grantees and those they serve.
Building deeper relationships was the focus of a recent visit between Blandin Foundation trustees and staff at Itasca Economic Development Corporation (IEDC), our home community's"go to" resource for business development.  During the course of the conversation trustees listened about opportunities and challenges in IEDC's work, their philosophy of economic development and their recent successes including the sale of  the former Ainsworth site and the advancement in businesses broadband adoption through the Blandin Broadband Community program.
The power of relationships was underscored as members of IEDC partner organizations, APEX and the Entrepreneur Fund, were also in attendance. Together, they agreed that fostering close relationships with the business community was key to understanding their needs and that developing the capacity of existing businesses was priority.
Blandin Foundation trustees and staff will continue to listen deeply as we develop new ways to engage our partners' voices in decision-making.
Sign Up for E-News
Subscribe to our periodic newsletter for updates and opportunities about vibrant rural Minnesota.