Image: Blog hero Plant Plate 09 boys dig in
GroundWork
News and ideas you can use to strengthen rural Minnesota communities.
Inviting youth & community to learn Why Treaties Matter
by Blandin Foundation Posted in Grants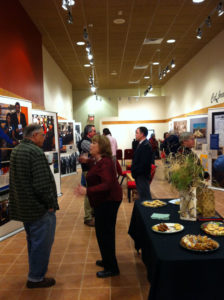 It's your story. It's my story. It's our story. Yet, it's a story few of us know.
For eight months now, community members throughout Itasca County have been exploring their shared history and filling in knowledge gaps about the promises made between American Indians and the United States that have shaped Minnesota's past, present and future. The story is being told through the Why Treaties Matter exhibit, a traveling collection of rich, authentic Dakota and Objibwe voices that share stories or survival and creative leadership.
Made possible through a partnership between Itasca Community College and Circle of Healing, a local cross-cultural group, this week the traveling exhibit landed at its eighth stop (out of 22), the Edge Center in Bigfork, Minnesota.

Yesterday, students, teachers and community members came together to discuss the the meaning behind the exhibit. Representing Blandin Foundation and the Circle of Healing, Becky LaPlant urged those in attendance to dive in to the exhibit and think through what this information means to them.
"Imagine how these experiences, and lack of knowledge about this history, affects all of us today. If you look for it, lack of knowledge is all around us."
She shared her own experience, stating, "I knew nothing about the treaties, issues such as sovereignty and had such a void of knowledge about Minnesota history that I never questioned why."
What better place to question "why" than in school?
"For the teachers in the room, imagine how these realities play out in the education system. As you and your students study the lessons from Why Treaties Matter, please keep this in mind as together you gain a deeper understanding of the past, and understanding that treaties are living documents that continue to bind us together."
She signed off with a few key takeaways from the exhibit that she wanted to share with students and teachers alike.
"If you ask me to condense the lessons I learned from my time with this exhibit to a couple of ideas, I'd say this: First, it is important to tell the truth—in this case about our history. And second, we need to keep our promises. When you make a promise, keep it."
To see a virtual rendition of Why Treaties Matter, and to access the tour schedule, visit www.tratiesmatter.org/exhibit/
Sign Up for E-News
Subscribe to our periodic newsletter for updates and opportunities about vibrant rural Minnesota.