Image: Blog hero Plant Plate 09 boys dig in
GroundWork
News and ideas you can use to strengthen rural Minnesota communities.
Nichole Uzelac: highly motivated and mechanically minded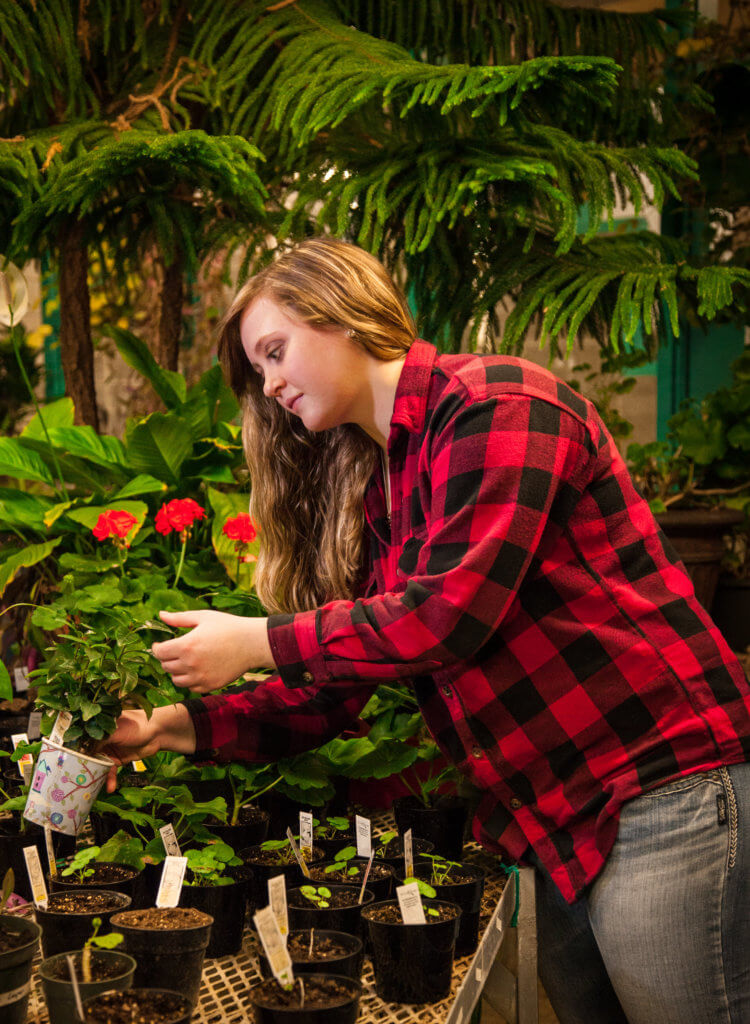 by Blandin Foundation Posted in Grants
Nichole Uzelac only has a few weeks of high school left. Her clear vision for life after high school, paired with hands-on experience she gained in classes at Grand Rapids High School, has her future plans – to become a diesel mechanic – humming.
That's right. Diesel mechanic.
What drew this articulate, highly motivated and focused young woman to a nontraditional line of work? Pace and variety of work, the chance to solve problems and address challenges, income potential – and the possibility of getting a job that will allow her to stay in the Itasca area.
"I want to become a successful diesel mechanic. I want to buy a bit of land around here, and have my horses and dogs," she said. "Nothing too complicated."
Her interest in mechanics started small – in the small engines course she took her junior year.

"That really got me going on the mechanical end of the spectrum," she said.
Last summer, she took her newfound interest up a notch, landing an internship at a local small motor repair shop. She worked on chainsaws, Weed Wackers – and found a little time to dabble in the overhaul of a 1972 John Deere riding lawn mower.
Last semester's welding class strengthened her skill set and fueled her enthusiasm for making hands-on work her life work. A job-shadow at the Hawkinson Construction equipment shop gave her a glimpse of life as a mechanic. She liked what she saw.
"It was so much fun! They had me weld something one minute, the next I was changing the tire on one of the semis. The guys were surprised and excited that I was there."
She'll be around more this summer, as their shop help and parts runner, and is completing an automotive class in the meantime. The combination of traditional learning tools – she reports there are just as many quizzes, tests and worksheets in auto and welding as English or math classes – with hands-on, applicable skills is powerful for her.
"One thing I do believe strongly in: the stuff you learn in all the hands-on classes — welding and automotive, robotics, electricity classes – are real-life skills you'll be applying every day in your job. I'm not saying you shouldn't learn English, math and science. But if someone wants to go into being a millwright, or a diesel mechanic or things like that, you should take those classes because you're building skills in those industries. I'm thankful that our school offers these classes so I can prepare myself for my career."
Another tool Nichole is considering to accomplish her dream is a Blandin Foundation education grant. As a senior at GRHS, She's one of more than 530 seniors in the Itasca area newly eligible for grants of $1,000 to $4,000 each year at any accredited program or institution.
The flexibility of the program is intended to open doors to opportunity and bright futures wherever they lead. For Nichole, that choice is easy: a diesel mechanic program, maybe Hibbing Community College or a technical institute in Wyoming.
She's eager to get moving and encourages others to follow her lead.
"Go for it! If that's something you really want to do, do it. Girls can do whatever they want. Guys can't hold you back!"
Sign Up for E-News
Subscribe to our periodic newsletter for updates and opportunities about vibrant rural Minnesota.