Image: Blog hero Plant Plate 09 boys dig in
GroundWork
News and ideas you can use to strengthen rural Minnesota communities.
Get up close and personal with C.K. Blandin and his Foundation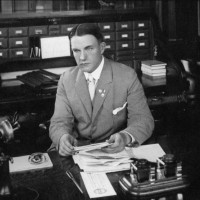 by Blandin Foundation Posted in Blandin Foundation
In just a handful of months, we will be blowing out our 75th birthday candles. As we get closer to that date, we want to share with you the ways in which Blandin Foundation continues to honor its commitments to its founder, Charles K. Blandin, and to its local Itasca area communities. So here's your first of many chances to get up close and personal with C.K. Blandin and his Foundation.
How did the Blandin Foundation get its start?
Charles K. Blandin, teacher, entrepreneur and owner of a world-class paper mill in northern Minnesota, established the Blandin Foundation in 1941 to aid and promote Grand Rapids and the surrounding area.
Since the sale of the Blandin Paper Company in 1977, the financial resources of the Foundation have expanded dramatically, as has its area of service.
More
How is Blandin Foundation connected to UPM Blandin Paper Company?
Since the sale of the Blandin Paper Company, Blandin Foundation is no longer legally connected in any way with the paper company. However, the communities of Itasca County, known as the "wood basket," continue to be the focus of the majority of Foundation resources.
How does C.K. Blandin's last will and testament guide the work of the Blandin Foundation?
Charles K. Blandin established the Blandin Foundation in 1941 to distribute profits from his paper mill. Though the Foundation's mission, vision, resources and work have evolved in the more than 70 years since, documents illustrating Mr. Blandin's intent continue to guide Blandin Foundation trustees and management.
Mr. Blandin required that accounts of the C.K. Blandin Residuary Trust be reviewed by Ramsey County District Court. Every three years, a judge reviews those accounts, including Foundation financials and activities. The next court review will be held this fall.
What kind of work does the Blandin Foundation do?
Blandin Foundation takes a range of approaches to help strengthen rural Minnesota communities. These primarily are:
Granting money and providing other types of resources that support innovative work of rural Minnesota organizations.
Providing world-class instruction for rural community leaders.
Convening and supporting diverse stakeholders around critical issues.
Strengthening rural Minnesota's voices in statewide decision-making that especially affects rural communities.
How much does Blandin Foundation award in annual grants?
Blandin Foundation awarded $11.2 million in 2013, and from 2008-2013, 69 percent of grants and scholarships were awarded in the Itasca area and 31 percent in rural communities across the state.
How does the Blandin Foundation distribute its grants?
In December 2003, the Foundation's Board of Trustees approved a resolution, ratified by the Ramsey County District Court, to distribute an average of at least 55 percent of all paid grants to the Grand Rapids/Itasca County area over a six-year rolling period.
This April, the Court agreed to increase the minimum amount of grants paid in the foundation's local giving area from 55 to 60 percent, starting January 1, 2015.
How does Blandin Foundation uphold its commitment to the will of Charles K. Blandin and to it local communities?
The Foundation continually seeks to earn, and highly values, the trust of its partners — especially those in the Grand Rapids area.
Since 2003, the Trust and Foundation have worked closely with the court, and a court-appointed special master, to forge a robust process that helps our partners find, see and understand our work. Regular reports to the community and court, sharing our 990 tax form publicly, and providing a current list of grants are just a few tools we use in that process.
On April 28, 2015, the court discharged the special master, and approved the transition to an independent self-reporting system, which will be verified triennially by an external auditor.
We continually seek new and innovative ways to bring clarity to our work — which is why we decided to join the ranks of foundations across the country with Glasspockets. http://glasspockets.org/glasspockets-gallery/who-has-glass-pockets
Want to know more?
What other questions do you have about our founder C.K. Blandin and his Foundation? Post them below and we will do our best to answer!
Sign Up for E-News
Subscribe to our periodic newsletter for updates and opportunities about vibrant rural Minnesota.