Image: Blog hero Plant Plate 09 boys dig in
GroundWork
News and ideas you can use to strengthen rural Minnesota communities.
Highlights from Rural Assembly panel on rural philanthropy
by Blandin Foundation Posted in Blandin Foundation, Vibrant Rural
This morning, Blandin Foundation president Kathy Annette participated in a Rural Assembly panel entitled, "Closing the Philanthropy Gap. She, along with Justin Maxom of the Mary Reynolds Babock Foundation, Jamie Bennett of ArtPlace America, Heetan Kalan of the New World Foundation, provided their expertise and insight to answer the question: What is the role of philanthropy in building a stronger rural America and a more inclusive nation?
Here are some of the featured tweets from the session. Notes to follow.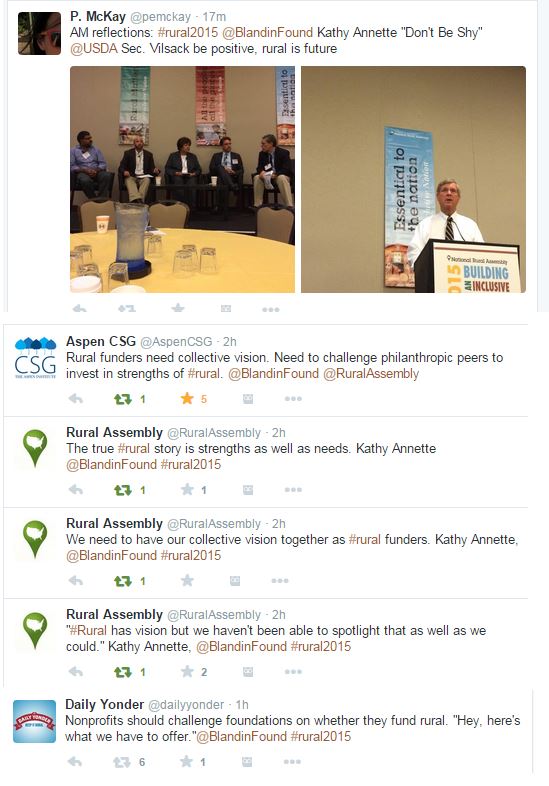 Takeaways
Kalan: The belief is that if you're going to push from great national policy, the way is through urban areas. Unless you focus on both urban and rural, you won't be successful.
Maxon: There are times where investment in a strategy that has potential to grow and strengthen an effort that couldn't exist without risk capital. The reality is, what we need is multi-year operational support to take on very difficult issues.
Bennett: Philanthropy needs to be more explicit when they they fund "everyone" because rural doesn't see themselves in "everyone."
Annette: It's really important to know when we lead with rural and when we let that go. We have to show up, we have to bring our voice. Move movements rather than fund projects.
Maxon: All levels of government should be using the bully pulpit to move philanthropy to focus on rural.
Maxon: How do we make sure that the people making the decisions represent the people intended to be benefited?
Do you have notes to add? Post them below!
Sign Up for E-News
Subscribe to our periodic newsletter for updates and opportunities about vibrant rural Minnesota.