Image: Blog hero Plant Plate 09 boys dig in
GroundWork
News and ideas you can use to strengthen rural Minnesota communities.
Vision follows passion: Chisago County taps community's energy to drive change in broadband access and use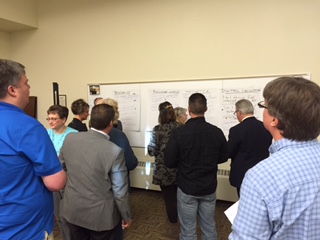 Chisago County community leaders gather to identify their broadband priorities.
by Blandin Foundation Posted in Broadband
The moment the first press release dropped announcing Chisago County's designation as a Blandin Broadband Community, the community was abuzz.
"I was getting calls from businesses I had never heard of," said Nancy Hoffman, Executive Director of Chisago County Economic Development Authority. "Every one of them had a story to share. It confirmed for me that it's not just one or two complainers grumbling about poor broadband, it's a county-wide problem."
The Blandin Broadband Communities program, Hoffman said, is giving people in Chisago County a chance to voice their vision for a vibrant future – one where all residents have the access and training to make best use of high-speed Internet.
A full-service program that provides planning, technical and financial support, there are 10 Blandin Broadband Communities throughout rural Minnesota all raising up possibilities for better broadband access and use.
In Chisago County, "people are ready to talk about broadband publicly," said Hoffman. "We are owning the fact that we have work to do. With heightened attention around rural broadband at the state level, the time was right to start the conversation at home."
Ted Krause, owner of Wild River Log Homes and resident of North Branch, jumped at the chance to work with other community members interested in bettering broadband access and use.
"I depend on the Internet for my work," said Krause. "It's getting tougher and tougher to run my business now that Google is the first point of contact. I need to be able to respond to my customers! After years of having trouble, it's nice to know you're not the only one singing the same song."
Community members who showed early interest in the program, along with a number of other local leaders, were invited to a visioning meeting where they selected the county's broadband

priorities.
"People showed up because they want to get things done," said Hoffman. "Everyone came with their own needs, their own agenda – better coverage for a home business, training in the schools, digital archives to capture our community history, etc. Rather than being a hurdle, we see these needs as vital to the success of our broadband work. They come from a place of passion and we can get behind passion."
Projects that matched with the community's passions rose to the surface as 39 meeting attendees broke up into small groups to talk about opportunities in each of the five components of the Intelligent Community Framework: broadband access, digital inclusion, knowledge workforce, innovation, and marketing.
"After looking at our county's broadband strengths and gaps, we brainstormed a wealth of ideas and prioritized them," said Hoffman. "As we looked them over, it became apparent, if you don't have good broadband, you can't accomplish anything else."
So before embarking on any of the community-identified projects, Chisago County leaders conducted a survey to determine broadband availability, use and demand throughout the county.
Now closed, the survey garnered almost 900 responses from Chisago County residents.
"The survey will guide the rest of the Blandin Broadband work we do," said Hoffman. "We now know how people are using the Internet or how they would use it if they had it. We've identified the places people are going to access the Internet and what they would pay to be able to have access. All of this information will help us make the most of our participation in the BBC program."
For Krause, the survey signals the importance to keep moving forward.
"It's cool to see the progress we've already made with the survey," said Krause. "We're gaining traction because local people are at the head of it. We recognize that broadband is really important for this county – for our businesses, families, and schools. I'm excited to see what comes next."
Sign Up for E-News
Subscribe to our periodic newsletter for updates and opportunities about vibrant rural Minnesota.