Image: Blog hero Plant Plate 09 boys dig in
GroundWork
News and ideas you can use to strengthen rural Minnesota communities.
New this year! Rural Pulse 2016 Regional Reports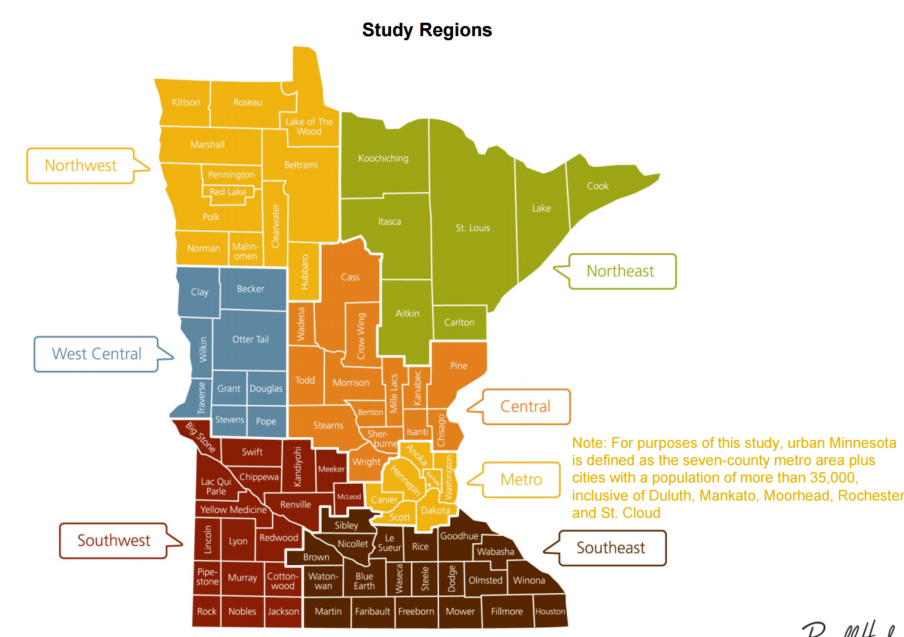 by Blandin Foundation Posted in Blandin Foundation, Vibrant Rural
Rolling hills, towering pines and jagged bluffs – just like the unique and varied landscape of Minnesota, the priorities and concerns of its people are equally diverse. Each region has its own story, its own challenges and its own priorities.
Rural Pulse 2016 helps tell that story through a series of special reports focusing on the six regions of Minnesota (NE, NW, WC, C, SE, and SW). Leaders can now use this data in conversations already happening, or ripe to happen, in their communities.
Highlights from Minnesota's rural regions include:
Northeast: More than 3 out of 4 Northeast Minnesotans surveyed believe improved Internet access could help boost local economic vitality.
Northwest: Northwest Minnesota stands out as most likely to consider serving in a leadership role, compared to other rural regions.
West Central: West Central experienced a significant 24 percent decline from 2013 in belief that they are able to contribute to their community's future, although many still feel they can make a positive impact.
Central: 85% of Central Minnesotans believe the community provides quality educational opportunities, a six percent rise from 2013.
Southeast: With a 14% increase since 2013, 52% of southeast Minnesotans believe there are an adequate number of jobs that pay household-supporting wages in their community.
Southwest: Seven in 10 residents in Southwest Minnesota feel their community is vibrant, although it is the least likely region to believe that regional communities are resilient and able to recover from difficult situations — a compelling decrease from 2013 findings.
Access the Rural Pulse 2016 Regional Reports at ruralpulse.org and like us on Facebook to engage in regional conversations about the data.
Sign Up for E-News
Subscribe to our periodic newsletter for updates and opportunities about vibrant rural Minnesota.