Image: Blog hero Plant Plate 09 boys dig in
GroundWork
News and ideas you can use to strengthen rural Minnesota communities.
Rural Pulse 2016: Seeing rural Minnesota through the eyes of our communities of color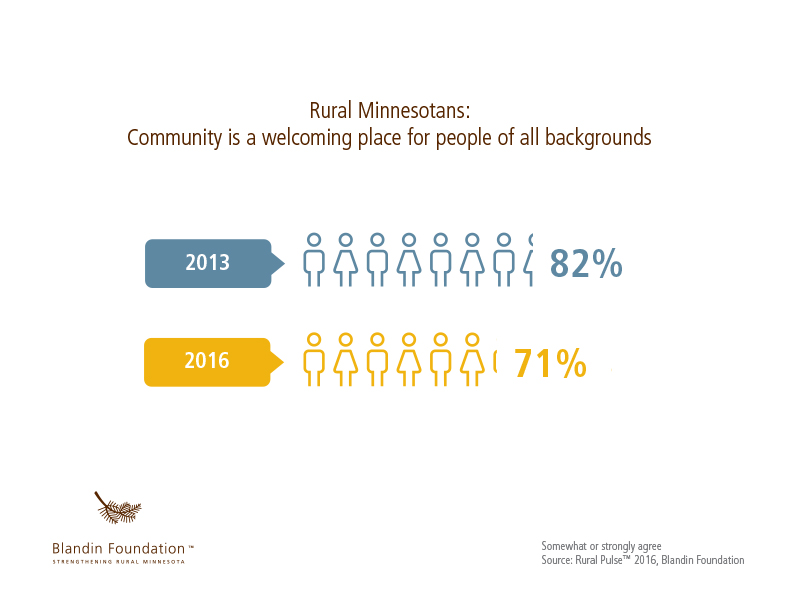 by Blandin Foundation Posted in Blandin Foundation, Vibrant Rural
"Because with 75 years experience, we know that a truly vibrant community will be one where every member has both options for their life, and the ability to pursue those paths to their fullest end."
Blandin Foundation President and CEO Kathy Annette shared this statement with our partners earlier this year in an email about the work we, and Minnesota's rural communities, must do around making the most of the differences in our communities.
As Minnesota's rural population diversifies, local leaders have the opportunity to engage in important conversations about what it will take to appreciate, and effectively work across, our differences.
A special report out of Rural Pulse 2016 can help spur or enrich these conversations by gaining insight into how communities of color are experiencing rural Minnesota.

Key findings include:
While job growth and development  — including attracting new businesses and maintaining and growing existing job opportunities — are considered the primary priorities by a combined 25 percent of those of color, crime control is the top individual priority (17%), which is six percentage points higher than rural Minnesotans at large.
Fifty-seven percent of rural residents of color feel a sense of ownership over the direction of their community and that they are able to contribute to its future.
Seventy-two percent of rural Minnesotans of color believe their community considers diverse cultural and arts opportunities.
While many have not yet served in a leadership role, seven in 10 (71%) of-color Minnesotans say they would consider doing so if asked, showing significantly more interest than Caucasians in rural areas (58%).
Dig into the data at ruralpulse.org and follow us on Facebook and Twitter to join in the conversation.
Sign Up for E-News
Subscribe to our periodic newsletter for updates and opportunities about vibrant rural Minnesota.