Image: Blog hero Plant Plate 09 boys dig in
GroundWork
News and ideas you can use to strengthen rural Minnesota communities.
Minnesota newspapers feature Blandin Foundation CEO commentary on broadband needs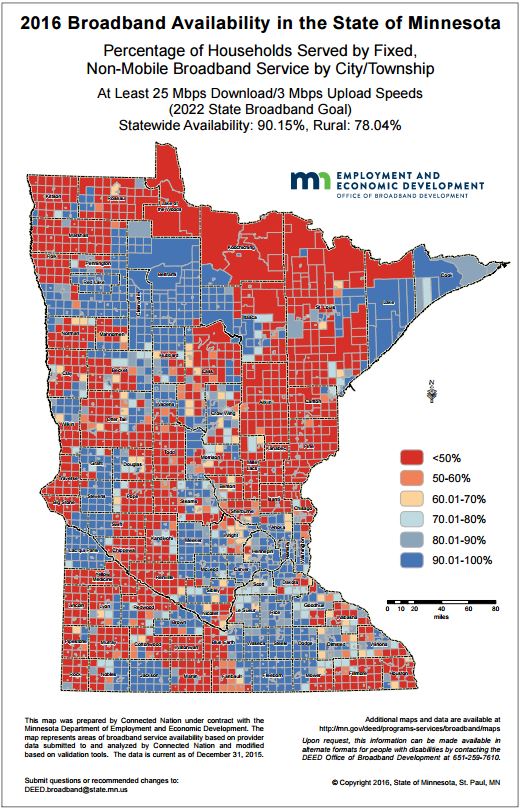 by Blandin Foundation Posted in Blandin Foundation, Broadband
In a series of region-specific commentaries on the need for better broadband in rural Minnesota, Blandin Foundation President Dr. Kathleen Annette congratulates the hard work so many communities have done to bring high-speed Internet to their communities. With nearly all of the state's un- and underserved areas in rural communities, though, she urges leaders to push on.
Links to the region-specific versions will be added below as they are published.
The author William Gibson writes, "The future is already here.  It's just not very evenly distributed."   So true when it comes to broadband, especially.

Given Minnesota's many opportunities and challenges — in economy, healthcare, education, and public life – it is easy to see how access and use of high-speed Internet is essential for progress.  Yet absent adequate broadband, existing opportunity gaps across our state will continue to widen.

High-speed Internet availability maps show that nearly all of the state's un- and underserved areas are in rural communities.  In Northeast Minnesota, nearly 30 percent of residents still do not have Internet access that meets state standards.

The 2016 Border-to-Border state broadband grant awards are proof that Minnesota's communities and community-minded providers are ready and able to put partnerships and investments to work to build world-class broadband networks, generating huge returns on public investment in both access and use.  There is no shortage of vision and passion in rural Minnesota.

For example, the most recent round of state broadband grant awards will improve speeds for residents in Fayal Township, south of Eveleth, to the 2026 state speed goal of 100 megabits per second download by 20 megabits per second upload.

Future business development, health care and educational opportunities in Harris Township will be supported with an improved fiber and coaxial hybrid network.

After a county-wide, resident-driven broadband campaign, rural Itasca County residents will benefit from a gigabit fiber build out.

These projects illustrate how Northeast Minnesotans have blended community leadership, public investment and responsive providers to bring broadband-fueled opportunities to their region.  It is a similar story statewide, where in three funding rounds to date, the state's broadband grants program has supported more than 73 projects serving more than 25,000 households.

Blandin Foundation has had the great privilege, since 2003, to stand with dozens of rural Minnesota communities as they imagine and claim futures that are healthy, resilient and connected.  After many years of partnership building, it is thrilling to see the impact of the state's grants program in communities that have done the hard work to prepare to put the public funds to good use.    Congratulations to leaders both at the local and state levels who stood up and took the risks so that all Minnesotans could have a more connected, vibrant future.

Of course, we still have work to do. Communities need high-speed Internet access to reach their fullest potential and we must not stop until border-to-border broadband is a reality for all rural Minnesotans.
Sign Up for E-News
Subscribe to our periodic newsletter for updates and opportunities about vibrant rural Minnesota.