Image: Blog hero Plant Plate 09 boys dig in
GroundWork
News and ideas you can use to strengthen rural Minnesota communities.
Healing Foundations Therapeutic Farm Offers a Fresh Approach to Youth Mental Health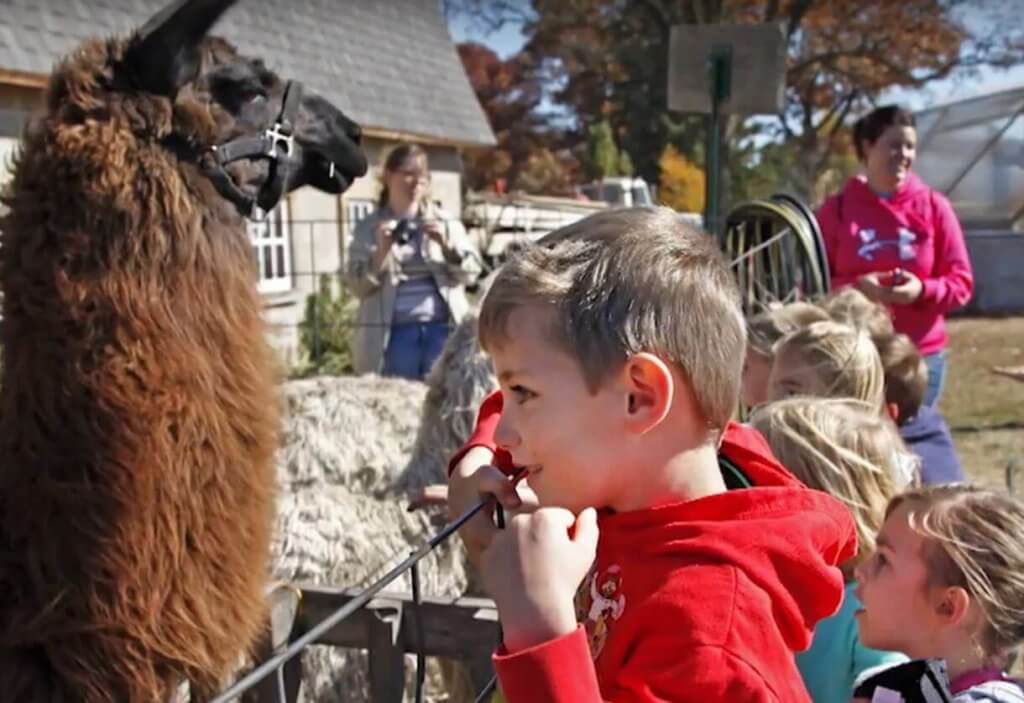 by Blandin Foundation Posted in Grants, Vibrant Rural
For Mac McKinney's son, there hadn't been a program yet that had totally clicked. He had been working on his own with a therapist to help with his emotional and behavioral struggles, but had never engaged in group therapy. That was until Healing Foundations Therapeutic Farm opened its barn doors.
"It's a different approach to treatment," said Angie Baratto, clinical counselor and co-founder of Healing Foundations about group therapy that takes place on the 12-acre farm outside of Grand Rapids. "The curriculum focuses on teaching youth a new skill every day using the animals."
Healing Foundations opened up earlier this year at a time when mental health services are at an all-time shortage in rural Minnesota communities. Standing with education, mental health, tribal, and medical partners, Blandin Foundation awarded a $75,000 grant in support of the project to Northland Counseling Center, a 501(c)(3) serving communities across northern Minnesota.
"It's a good addition to our community," said Deer River High School Counselor Tanis Henderson. "It's an increase in mental health services for Itasca County as a whole, which we need a lot more of."
Known as "animal-assisted interventions," Northland Counseling staff, who own and operate Healing Foundations, engage a variety of animals to provide motivation for change, build relationships, social skills, emotional regulation, and psychological well-being.
The growing lineup of animals on the farm include: two rabbits, two guinea pigs, a leopard gecko, three tree frogs, three hermit crabs, fish, four horses, two alpacas, and two goats. Staff is currently on the lookout for a donkey!
"It's amazing the progress we've already seen," said Baratto. "A little boy with attention and behavioral struggles has befriended a bunny that now sits on his lap during group sessions. Before he would never have been able to sit still long enough to listen to others speak."
"I believe whole-heartedly in Northland," said McKinney. "My son's been in there since day one. It's just a relaxing place to work on your skills."
This unique model of treatment didn't come without challenges. Needing acreage and farm facilities, Healing Foundations is located out of Grand Rapids' city limits, making transportation difficult for some. Local schools, however, are stepping up to break down that barrier. For example, the Deer River School District buses youth to and from the Farm during school hours.
The community is pulling together in many more ways to make the farm successful. A master gardener from Itasca Community College volunteers his time by helping with the farm grounds. Northland Counseling staff, families who utilize Northland's services and community volunteers passionate about mental health have spent time digging for fence posts, helping out with the animals and contributing funds.
Some animals will be used in a new treatment method offered in the area, called the EAGALA model of Equine Therapy. Involving a herd horses, a licensed mental health professional, an equine specialist, young person and/or family, the EAGALA model practices awareness of self and the animal's feelings, behavior and boundaries.
Those who work with youth are appreciating Healing Foundations' fresh approach to mental health.
"Families have the right to choose their mental health services," said Henderson. "We need to have diverse offerings to meet the different mental health needs in our community and Healing Foundations has been a good fit for some of our students. The ability to have a relationship with nature and with the providers in a new setting has been really big for them."
Like Henderson, McKinney is seeing the impact Healing Foundations is having on his son.
"It's enjoyable to see your child smile at something they used to struggle with and to have the comfort of knowing they can talk to someone when they're hurting."
Since its first grant in 1993, Blandin Foundation has awarded 14 grants totaling $521,386 to Northland Counseling Center. You can view those grants on our website.
Sign Up for E-News
Subscribe to our periodic newsletter for updates and opportunities about vibrant rural Minnesota.