Image: Blog hero Plant Plate 09 boys dig in
GroundWork
News and ideas you can use to strengthen rural Minnesota communities.
Vibrant communities. Vibrant arts.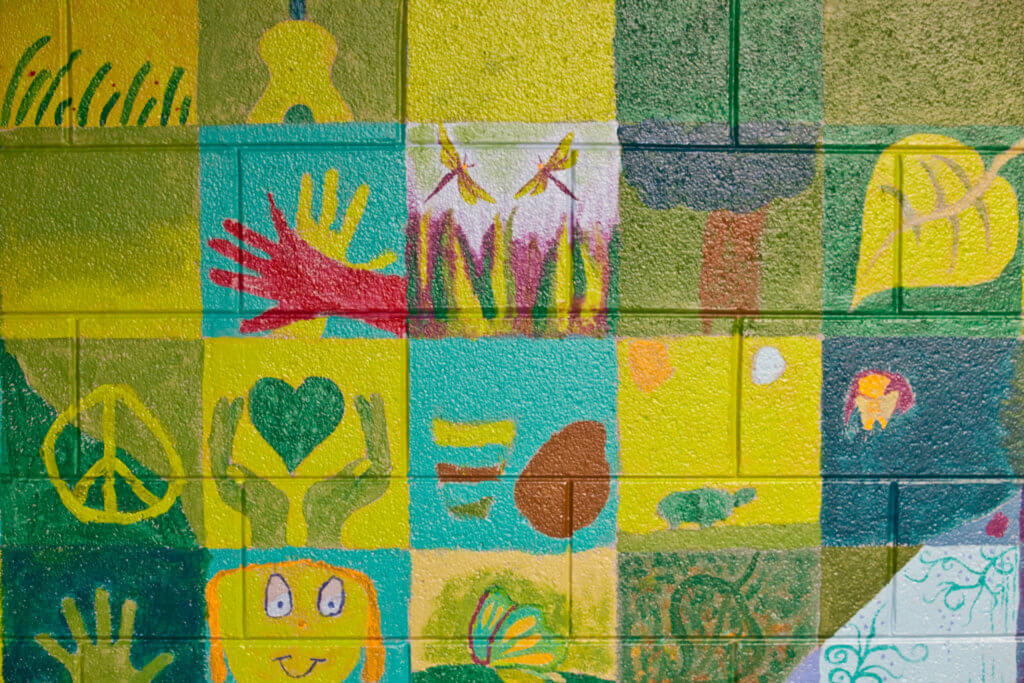 Wall mural at Deer River school
by Blandin Foundation Posted in Grants, Vibrant Rural
Colorful murals, performances in the park, public art sculptures – vibrant, healthy communities are made up of many interrelated dimensions, but perhaps none are as visible as a community's commitment to integrating art into daily life.
Thriving communities explore and reflect the cultural backgrounds, talents and experience of all community members through art. By infusing art into the daily pulse of community life, artists strengthen residents' sense of belonging and connection to the place they call home.
Attachment to a place matters. Studies show communities with high levels of attachment see greater economic growth and engagement in community life.
Art is so much more than just art for art's sake.
Across rural Minnesota, we are seeing communities tap the power of art to enhance local economies, build youth skills, and bolster civic life.
Luv1LuvAll, a group in Luverne, Minnesota working to address poverty, invited community members to a free three-act play to explore how poverty impacts residents and how to withhold assumptions to help people move out of it.
In Brainerd, Minnesota, leaders collaborated with the school district to repurpose an abandoned junior high to a residential and commercial arts building that would bring vitality to the area. Franklin Arts Center, completed in 2008, has added to the local economy by providing space for arts-friendly businesses and encouraging entrepreneurism.
The Circle of Time monument in Walker, Minnesota consists of thirteen bronze statues depicting the art, culture, and history of the Leech Lake area. It lifts the area's history, while offering a way to engage the community across differences.
Two young playwrights created an original play, Ziibi (Ojibwe for river), that featured the history and culture of the Grand Rapids area. Together with actors young and old, the Grand Rapids Players put on a performance that educated audiences and developed skills of young people.
These are only a few of the bright spots across the state we've been proud to support in recent years.
In northeast Minnesota, many communities have prioritized art to revitalize community aesthetics, engage in difficult conversations, and diversify economies. Their work is paying off. In 2017 alone, the arts added more than $83 million to northeast Minnesota's economy. More importantly, though, local art is bringing new energy and excitement into our communities.
In the coming days, you will get to read about the many ways leaders are building vibrant communities by incorporating the arts in our northeast corner of Minnesota. We look forward to sharing these stories. Follow #30DaysofArt and #ArtsontheRange to access all the great content!
Sign Up for E-News
Subscribe to our periodic newsletter for updates and opportunities about vibrant rural Minnesota.