Image: CTC-Backroom-2-color
Program Requirements and Impact in Minnesota
The FCC's Connect America Fund (CAF II) is designedx to spur broadband deployment in unserved, high-cost rural areas with phone and sometimes Internet services provided by large telephone companies regulated as price cap carriers. These carriers have accepted payments from the FCC to deploy broadband services to a targeted number of households in their service areas.
Over the five-year program, four companies serving rural Minnesota will receive federal funds for broadband deployment. Construction using CAF II dollars began in 2016 and must be complete by the end of 2020. Companies were required to have completed at least 40 percent of the funded network built by the end of 2017.
| | | |
| --- | --- | --- |
| Company | # of Households | Funds Awarded Annually |
| CenturyLink | 114,739 | $54,035,149 |
| Consolidated Communications | 4,266 | $2,516,502 |
| Frontier Communications | 46,910 | $27,551,367 |
| Windstream Communications | 4,440 | $1,519,856 |
| Total | 170,355 | $85,622,874 |
Source: Office of Broadband Development
Not all unserved areas will benefit from this program: Areas where at least 3 Mbps upload speed is currently available or where deployment costs exceed FCC limits are excluded. xi This map illustrates eligible areas in Minnesota, with the two large CAF II recipients noted. CenturyLink areas are shown in green and Frontier in red.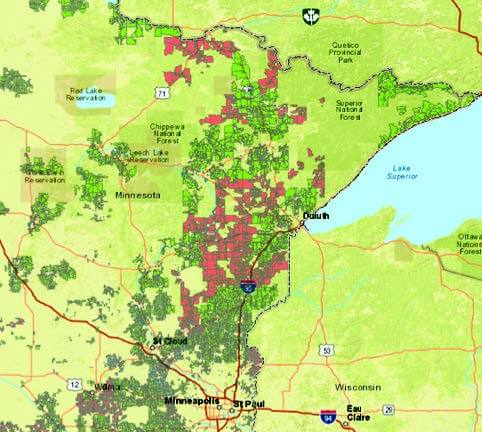 CAF II eligible areas: CenturyLink areas shown in green and Frontier in red
Companies accepting CAF II funds must meet the following FCC requirements for voice and broadband services:
Speed: Service providers must offer broadband at speeds of at least 10 Mbps downstream and 1 Mbps upstream, standards that do not meet the FCC's own current definition of broadband which is 25 Mbps/3 Mbps.
Latency (the time it takes for a data packet to travel back and forth over a broadband network): Service providers' network latency cannot be higher than 100 milliseconds round trip.
Usage Allowance: Currently, the carrier must offer at least one plan with a minimum usage allowance of at least 150 gigabytes (GB) per month, or in certain circumstances, a plan with 100 GB of usage.
Pricing: Service providers must offer service at rates reasonably comparable to rates in urban areas.
Unlike Minnesota's state broadband grant program recipients, CAF II recipients are not required, nor do they, report network enhancement plans or deployments. This makes it difficult for impacted communities to assess or predict the broadband access that will result.
The FCC faces a significant challenge in spurring investment in rural broadband networks. While new Fiber to the Premise (FTTP) networks provide the best tech infrastructure platform for robust rural connectivity, rural fiber deployments can range from $4,000 to more than $10,000 per passing (depending on population density and terrain). Nationally, CAF II subsidies are less than $1,000 per passing. According to the chart on page 8, in Minnesota, CenturyLink is receiving less than $500 per household, whereas Frontier received almost $600 per household.
Impact of CAF II-funded Networks