Table of goal data by year

| Year | Rank | 100/20 Mbps |
| --- | --- | --- |
| 2022 | #77 of 87 | 60.36% |
| 2021 | #78 of 87 | 52.96% |
| 2020 | #82 of 87 | 46.66% |
| 2019 | #80 of 87 | 37.74% |
| 2018 | #82 of 87 | 17.55% |
| 2017 | #76 of 87 | 11.51% |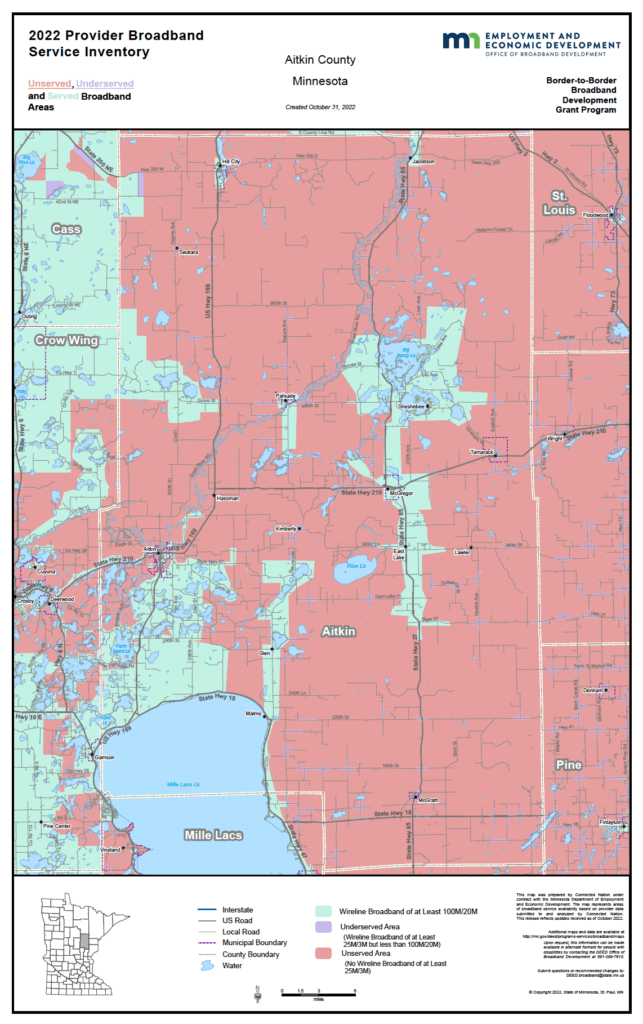 Rank: 77 (out of 87) for access to 100/20 megabits per second (Mbps)
Aitkin County ranks 77 for broadband access and 84 for digital equity out of 87 counties. They have gone from almost 53 percent coverage to broadband of 100 Mbps down and 20 up in 2021 to 60.36 percent coverage in 2022. They have 5527 households without access to broadband at that speed. Estimates indicate that it will cost $51.4 million to get to ubiquitous broadband in the county.
Aitkin will benefit from two border to border grants announced in December 2022.
Mille Lacs Energy Cooperative, $1,231,818.00
Paul Bunyan Communications, $3,052,120.00 (also serves Itasca and St. Louis)
They will also benefit from the $4.8 million block grant McGrath Project that is scheduled to be completed by fall 2023.
Aitkin County has seen slow but steady progress in broadband deployment. (As the chart below indicates.)  Last year they worked with the Blandin Foundation as an IRBC (Iron Range Broadband Community) and they were cohorts in Blandin's inaugural Accelerate! program, a process to spur community acquisition and deployment of federal and state broadband funds. That preparation and their low ranking in broadband access and digital equity could put them in a good position to take advantage of federal (and state) funding that will be coming to Minnesota in the next few years.
One roadblock for them is that the county is widely served by a national provider that has not been upgrading the connections in their area. With a national provider, there is a fear that they may challenge any border to border grant applications, which makes it more difficult for another provider to invest in the time to apply.
Aitkin is getting an optimistic yellow code; they remain at the bottom ranking, they have a serious roadblock but it seems that their years of engagement is leading to steady increases in access to 100/20 broadband speeds.
Digital Equity:
Aitkin County ranks 84 out of 87 for digital equity. (See full Digital Equity Profile)
Aitkin ranks 87 out of 87 for computer ownership. 83.7 percent of homes have a computer of device as compared to statewide ownership of 95.5 percent.
Households with Device Access
A Device
83.7%
95.5%
statewide
Desktop or Laptop
70.8%
83.2%
statewide
Smartphone
63.9%
90.1%
statewide
Tablet
47.9%
65.8%
statewide
Has Worked with Blandin Foundation
Yes
Has Received MN Grant(s)
Yes
Mille Lacs Energy Cooperative (MLEC) – Mille Lacs Energy Cooperative Phase 4 FTTH – GRANT $198,607. This fiber-to-the-home (FTTH) project will serve 80 unserved and five underserved locations along the southeast side of Farm Island Lake in Aitkin County. Through a funding partnership with the State of Minnesota, MLEC will bring 1 Gbps speeds to 84 homes and one business on the fiber route, exceeding the State's 2022 and 2026 speed goals.
2017 – SCI – Shamrock Township Broadband Expansion – GRANT $148,503
2016 – MILLE LACS ENERGY COOPERATIVE FTTP PROJECT – GRANT: $1,757,640
2020 – Emily Cooperative Telephone Company – Round Lake Fiber Project – GRANT $376,000
2020 Mille Lacs Energy Cooperative (MLEC) – MLEC Phase 3 FTTH Project with CTC – GRANT $1,253,955
2020: SCI Broadband (Savage Communications Inc.) – Glen Township Broadband Expansion Project – GRANT $195,848
Government Districts
U.S. Congress: CD 8
MN Senate: 10, 07
MN House: 07A, 10A