Table of goal data by year
Year
25/3 Mbps
100/20 Mbps
2019
#11 of 87
98.8%
#8 of 87
97.47%
2018
#10 of 87
98.87%
#5 of 87
97.86%
2017
#18 of 87
97.56%
#7 of 87
96.1%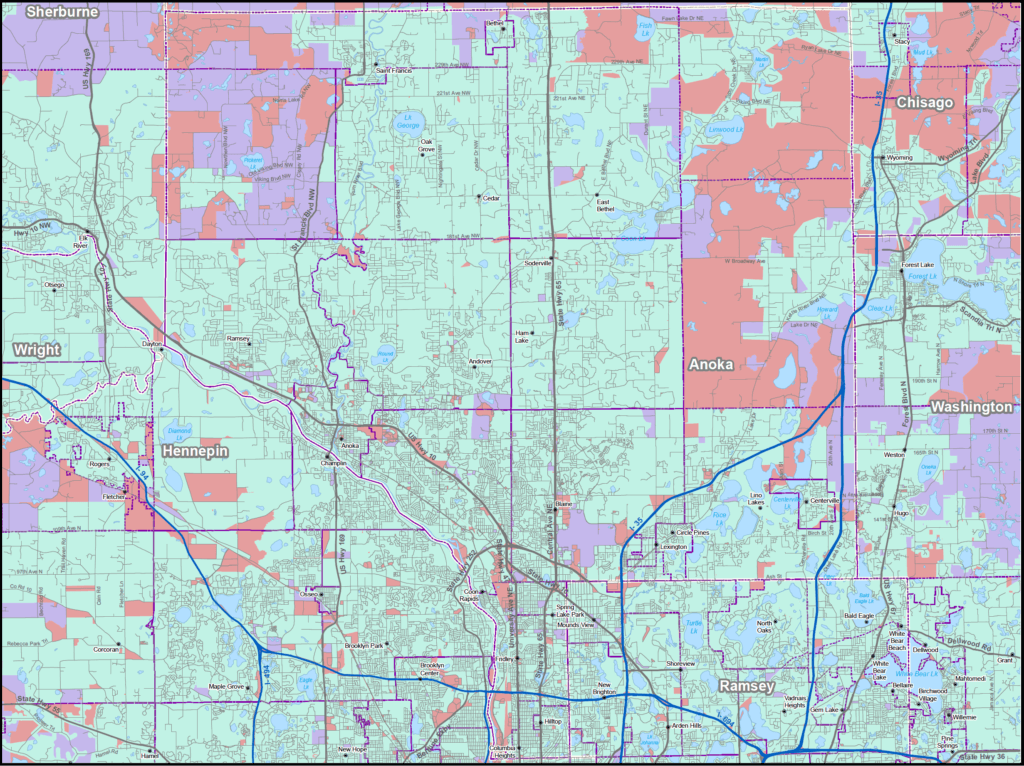 Rank: 8 (out of 87) for access to 100/20 megabits per second (Mbps)
Anoka County is poised to make both the 2022 and 2026 speed goals with just a little effort.
Anoka County is a metro county. The population density makes a market solution to broadband possible in most of the county. The received federal (ARRA) funding in 2013, that helped with a 287-mile broadband network that includes connecting 145 government locations.
In 2016 they benefited from a MN state broadband grant:
2016 – BENTON COOPERATIVE TELEPHONE COMPANY RAMEY – GRANT: $225,100
This last mile project will serve 122 unserved households and 5 unserved businesses in the rural Ramey, MN exchange. In a funding partnership with the State of Minnesota, Benton Cooperative will improve unserved levels to 100 Mbps download and 20 Mbps upload, reaching the 2026 state speed goal, increasing opportunities for educational access for all ages, telemedicine, telecommuting, and improved business development. Total eligible project cost is $776,220. Local match is $551,120.
Despite being in good shape, the folks in the county are still doing what they can to narrow the digital divide. In 2019, Libraries without Boundaries, Anoka County Libraries and the Department of Education held a meeting in a manufactured (mobile) home park to talk about how to better serve the needs of residents with improved access to library services and broadband.
Find more articles on broadband in Anoka County.
Has Worked with Blandin Foundation
No
Has Received MN Grant(s)
Yes
Government Districts
U.S. Congress: CD 6
MN Senate: 31, 35, 36, 37, 38, 41
MN House: 31A, 31B, 35A, 35B, 36A, 36B, 37A, 37B, 41A, 41B