Table of goal data by year

| Year | Rank | 100/20 Mbps |
| --- | --- | --- |
| 2022 | #15 of 87 | 96.64% |
| 2021 | #12 of 87 | 97.41% |
| 2020 | #9 of 87 | 97.14% |
| 2019 | #8 of 87 | 97.47% |
| 2018 | #5 of 87 | 97.86% |
| 2017 | #7 of 87 | 96.1% |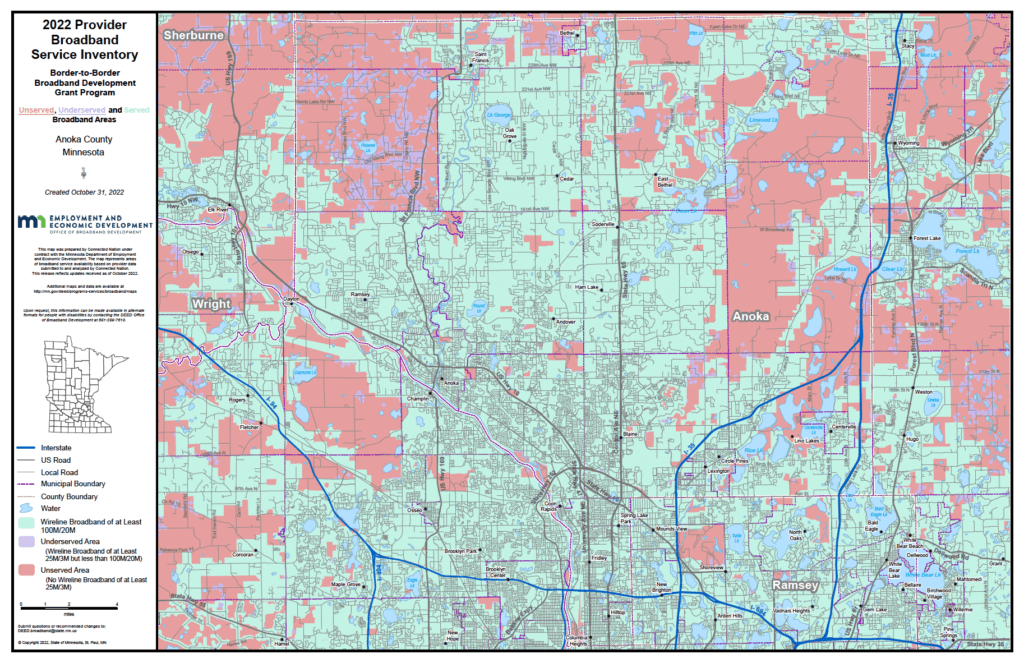 Rank: 15 (out of 87) for access to 100/20 megabits per second (Mbps)
Anoka County ranks 15 (down 3 places) for broadband access and 6 for digital equity out of 87 counties. They have stayed constant with about 96 percent coverage of broadband of 100 Mbps down and 20 up since 2017. They have 4367 households without access to broadband at that speed. Estimates indicate that it will cost $43 million to get to ubiquitous broadband in the county.
Anoka will benefit from a border to border grant announced in December 2022:
Tekstar Communications, Inc. dba Arvig, $219,727.00
Anoka received an American Recovery and Reinvestment Act (ARRA) grant in 2013, which has helped serve government facilities. As a report from the Institute for Local Self Reliance pointed out, the networks in Anoka County have done little to improve residential or commercial Internet access, though they have led to significant local government savings.
Anoka gets a green code for ability to get to ubiquitous broadband in the county because Anoka ranks well for digital equity and they have a strong computer ownership. So, while the cost to close the gap is high, it a metro county and residents with high computer ownership are likely to demand better broadband when they need it.
Digital Equity:
Anoka County ranks 6 out of 87 for digital equity. (See full Digital Equity Profile)
Anoka ranks 9 out of 87 for computer ownership. 95.8 percent of homes have a computer of device as compared to statewide ownership of 95.5 percent.
Households with Device Access
A Device
92.7%
95.5%
statewide
Desktop or Laptop
85.1%
83.2%
statewide
Smartphone
79.7%
90.1%
statewide
Tablet
62.3%
65.8%
statewide
Has Worked with Blandin Foundation
Yes
Has Received MN Grant(s)
Yes
Government Districts
U.S. Congress: CD 3, CD 5, CD 6
MN Senate: 27, 30, 31, 32, 34, 35, 36, 39
MN House: 27B, 30B, 31A, 31B, 32A, 32B, 34B, 35A, 35B, 36A, 39A, 39B