Table of goal data by year

| Year | Rank | 100/20 Mbps |
| --- | --- | --- |
| 2021 | #12 of 87 | 97.41% |
| 2020 | #9 of 87 | 97.14% |
| 2019 | #8 of 87 | 97.47% |
| 2018 | #5 of 87 | 97.86% |
| 2017 | #7 of 87 | 96.1% |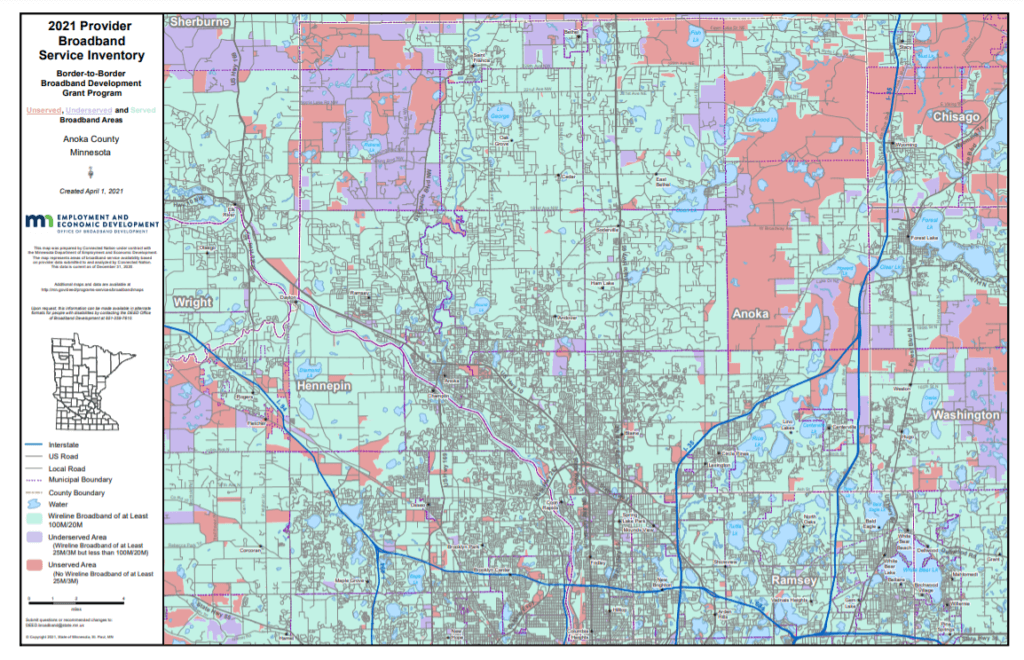 Rank: 12 (out of 87) for access to 100/20 megabits per second (Mbps)
As a fairly (but not entirely) metro county, it is easier for providers to make a business case to serve Anoka. They received an American Recovery and Reinvestment Act (ARRA) grant in 2013, which has helped serve government facilities. As a report from the Institute for Local Self Reliance pointed out, the networks in Anoka County have done little to improve residential or commercial Internet access, though they have led to significant local government savings.
Last year, the Anoka County Regional Economic Development worked with the Blandin Foundation's Community Broadband Resources program to help the cities of East Bethel, Columbus, Nowthen and Linwood Township with broadband improvement projects. Linwood Township partnered with Midco to connect a 50+ single family development to broadband services.  Linwood is also considering options to improve fiber connections in other unserved or underserved portions of their community.
Anoka County saw an increase in coverage this year. They slipped in the ranking but that has more to do with other counties catching up than their own access getting worse. They have applied for Broadband Infrastructure Program (BIP) funds with a project that would serve 834 unserved residents. That is why they get a green code.
Previous Grants:
2013: The County received federal (ARRA) funding in 2013. In partnership with Zayo, the County was able to build a 287-mile broadband network for government facilities.
Find more articles on broadband in Anoka County.(http://tinyurl.com/zuvt4x7)
Households with Device Access
Computer
96.2%
93.6%
statewide
Desktop or Laptop
84.8%
80.6%
statewide
Smartphone
6.3%
7.7%
statewide
Tablet
67.2%
63.8%
statewide
Has Worked with Blandin Foundation
Yes
Has Received MN Grant(s)
Yes
Government Districts
U.S. Congress: CD 6
MN Senate: 31, 35, 36, 37, 38, 41
MN House: 31A, 31B, 35A, 35B, 36A, 36B, 37A, 37B, 41A, 41B