Table of goal data by year

| Year | Rank | 100/20 Mbps |
| --- | --- | --- |
| 2022 | #48 of 87 | 78.45% |
| 2021 | #57 of 87 | 73.42% |
| 2020 | #51 of 87 | 73.41% |
| 2019 | #87 of 87 | 6.22% |
| 2018 | #85 of 87 | 12.95% |
| 2017 | #81 of 87 | 6.58% |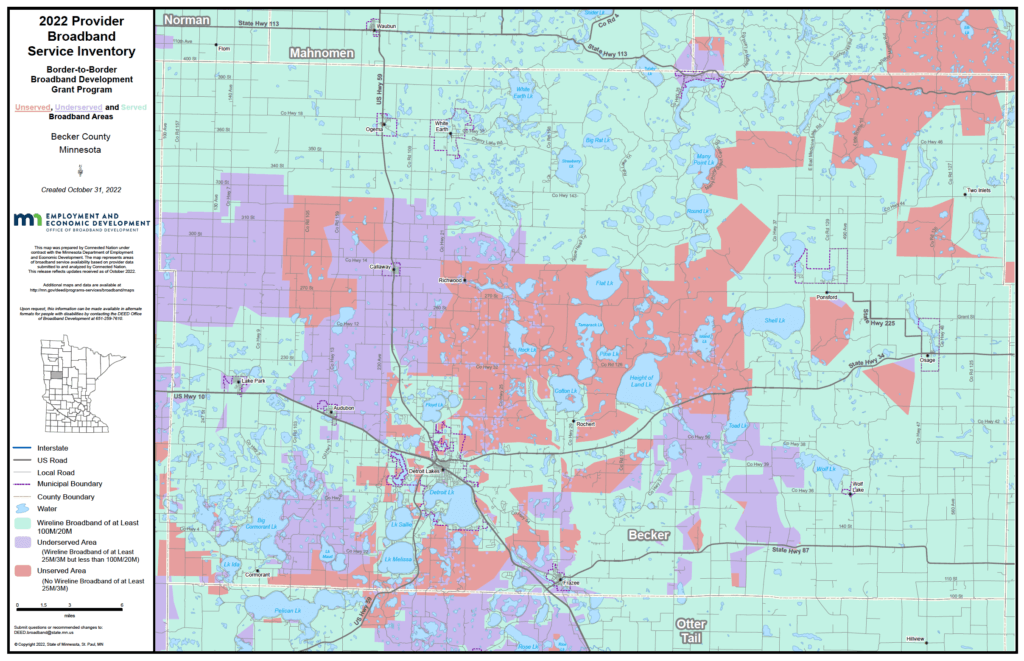 Rank: 48 (out of 87) for access to 100/20 megabits per second (Mbps)
Becker County ranks 48 for broadband access and 34 for digital equity out of 87 counties. They have more than 78 percent coverage to broadband of 100 Mbps down and 20 up. They have 4228 households without access to broadband at that speed. Estimates indicate that it will cost $39 million to get to ubiquitous broadband in the county.
Becker County has 92 percent access to slower Internet speeds (25/3) and 78 percent access to 100/20. (As the chart below indicates.) The gap is concerning, especially since it first showed up last year. This means someone has invested in improvement but they did not invest in speeds that will meet future needs. Also they rank 48 for broadband access and 38 for digital equity; those are very middle of the road scores. A concern is that there's no local champion or drive for better broadband.
Good news is that local provider Arvig committed to spending almost $20 million on upgrades in Becker, Otter Tail and Redwood Counties.
Becker County gets a cautious yellow code; they are close and are getting closer but there isn't a great drive for more.
Digital Equity:
Becker County ranks 38 out of 87 for digital equity. (See full Digital Equity Profile)
Becker ranks 34 out of 87 for computer ownership. 83.7 percent of homes have a computer of device as compared to statewide ownership of 95.5 percent.
Households with Device Access
A Device
86.1%
95.5%
statewide
Desktop or Laptop
74.8%
83.2%
statewide
Smartphone
69.3%
90.1%
statewide
Tablet
53.3%
65.8%
statewide
Has Worked with Blandin Foundation
Yes
Has Received MN Grant(s)
Yes
2016 – PAUL BUNYAN COMMUNICATIONS HUBBARD, BECKER & ITASCA COUNTIES – GRANT: $1,742,232
Arvig (Loretel Systems, Inc.) – Cormorant Lakes Area Project – GRANT $430,780
Government Districts
U.S. Congress: CD 7, CD 8
MN Senate: 02, 04, 05
MN House: 02B, 04B, 05B
Overlapping MN Reservations