Table of goal data by year
Year
25/3 Mbps
100/20 Mbps
2020
#65 of 87
78.99%
#51 of 87
73.41%
2019
#32 of 87
91.36%
#87 of 87
6.22%
2018
#31 of 87
88.94%
#85 of 87
12.95%
2017
#58 of 87
69.41%
#81 of 87
6.58%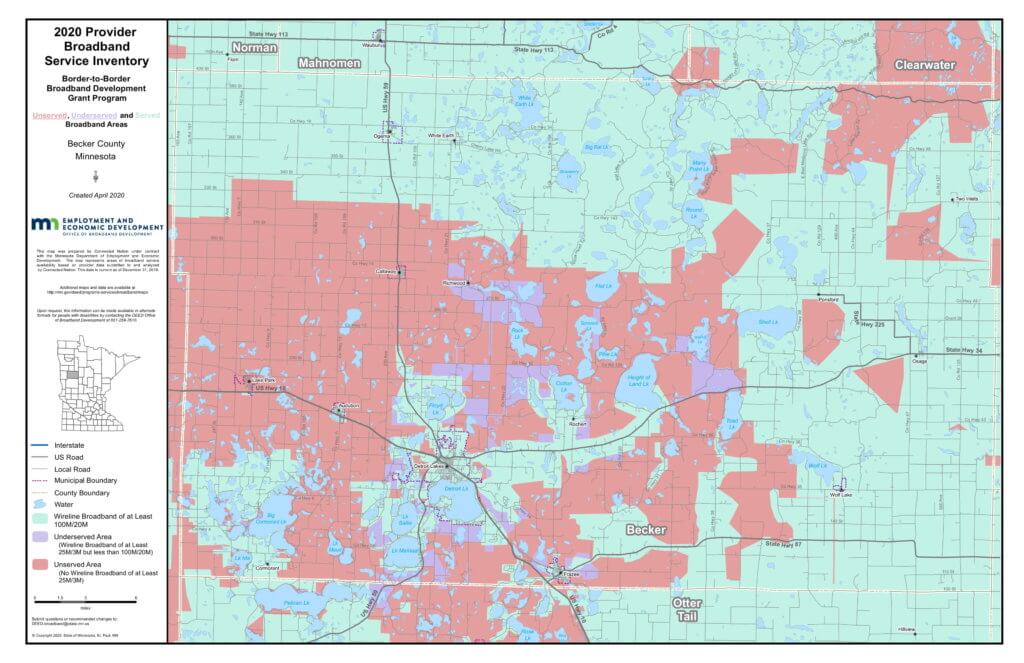 Rank: 50 (out of 87) for access to 100/20 megabits per second (Mbps)
In 2016, Becker got a boost in the form of a MN Border to Border grant; they went from bottom ranking (87) last year to ranking 50 in the race to countywide coverage of 100/20 Mbps. While 50 is not good standing, it is a great leap and a trajectory in the right direction. It looks like that momentum is poised to continue; Becker will benefit from a recent grant through Arvig that will improve service in Becker, Clay and Otter Tail Counties.
What we learned in the past:
Last year we saw that much of Becker County is served by one large national provider. That is likely a bottleneck to better access. They have benefited from a 2016 MN state grant in their area:
2016 – PAUL BUNYAN COMMUNICATIONS HUBBARD, BECKER & ITASCA COUNTIES – GRANT: $1,742,232
It appears as if the impact of that project is now documented in the maps as they went from 6 percent coverage to more than 73 percent coverage since last year's county profile.
Update from 2020:
Becker will benefit from a recent MN Border to Border grant:
Arvig (Loretel Systems, Inc.) – Cormorant Lakes Area Project – GRANT $430,780
This middle and last mile project will upgrade approximately 481 unserved locations near Pelican Lake, Lake Ida, Turtle Lake, and Big Cormorant Lake in Otter Tail, Becker, and Clay Counties. In a funding partnership with the State of Minnesota and Otter Tail County, Arvig will improve broadband service levels up to 1 Gbps download and 1 Gbps upload, exceeding the 2022 and 2026 state speed goals. These investments will improve quality of life and business development opportunities.
Total eligible project cost is $1,230,800
Local match is $800,020
Find more articles on broadband in Becker County.
Households with Device Access
Computer
86.1%
90.3%
statewide
Desktop or Laptop
74.8%
81.1%
statewide
Smartphone
69.3%
76.5%
statewide
Tablet
53.3%
59.3%
statewide
Has Worked with Blandin Foundation
Yes
Has Received MN Grant(s)
Yes
Government Districts
U.S. Congress: CD 7
MN Senate: 02, 04
MN House: 02B
Overlapping MN Reservations