Table of goal data by year
Year
25/3 Mbps
100/20 Mbps
2019
#6 of 87
99.58%
#5 of 87
98.91%
2018
#9 of 87
98.91%
#4 of 87
98.91%
2017
#57 of 87
70.12%
#25 of 87
70.12%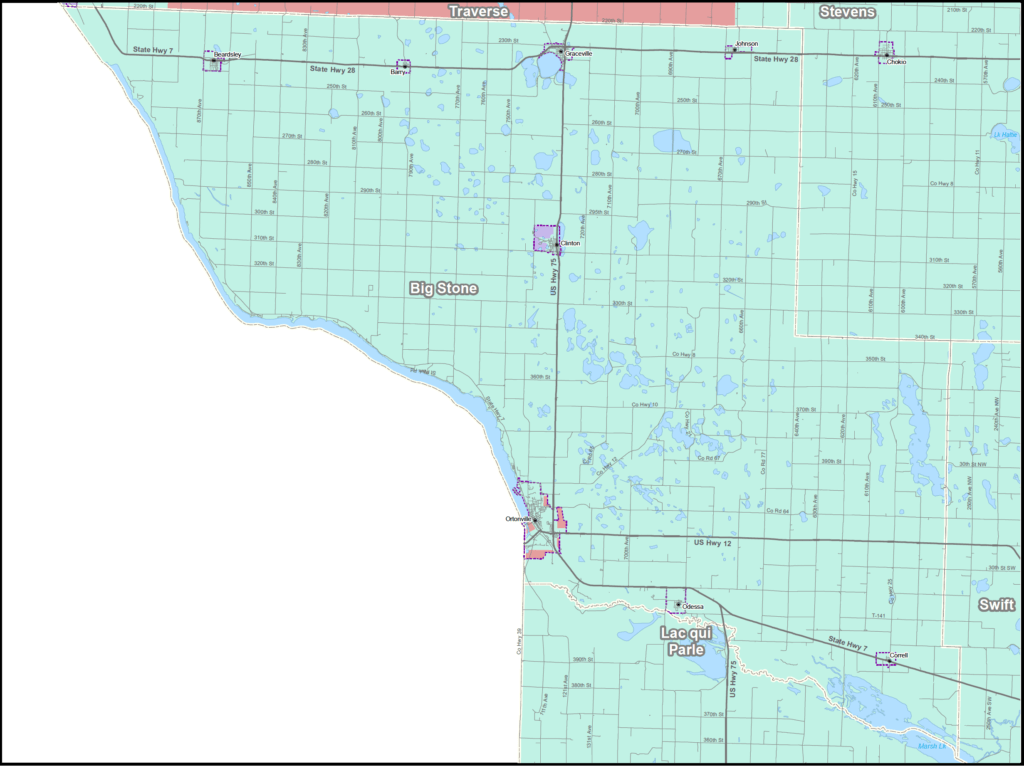 Rank: 5 (out of 87) for access to 100/20 broadband megabits per second (Mbps)
Big Stone County is on track to meet the Minnesota state speed goals for both 2022 and 2026.
In 2014, Big Stone benefited from a state broadband grant:
2014 – Federated Telephone Cooperative, Big Stone County
Award: $3.92 million. Total project cost: $7.92 million. Impact: Service to 1,072 unserved premises in the communities of Barry, Beardsley and Johnson, and rural parts of Big Stone County
By 2018, the percentages of households with access to 100/20 Mbps had gone from 70 percent to almost 99 percent. The county is served primarily by Federated Telephone, which has been expanding deployment of Fiber to the Home (FTTH) across its service territory in that region for years.
One anomaly, the coverage for 25/3 Mbps and 100/20 Mbps was the same for 2017 and 2018. This year there is a small increase in coverage of 25/3 Mbps. Now 98.91 percent of Big Stone have access to 100/20 Mbps (no change from last year), yet 99.58 percent have access to 25/3 Mbps. My concern would be that a few households have been upgraded to 25/3 Mbps only. Perhaps this is a temporary measure and part of a future anticipated upgrade; if not, down the road those recently upgraded households will have considerably slower broadband than their neighbors, which will impact resale value.
Find more articles on broadband in Big Stone County.
Has Worked with Blandin Foundation
Yes
Has Received MN Grant(s)
Yes
Government Districts
U.S. Congress: CD 7
MN Senate: 12
MN House: 12A