Table of goal data by year
Year
25/3 Mbps
100/20 Mbps
2020
#8 of 87
99.48%
#7 of 87
98.6%
2019
#6 of 87
99.58%
#5 of 87
98.91%
2018
#9 of 87
98.91%
#4 of 87
98.91%
2017
#57 of 87
70.12%
#25 of 87
70.12%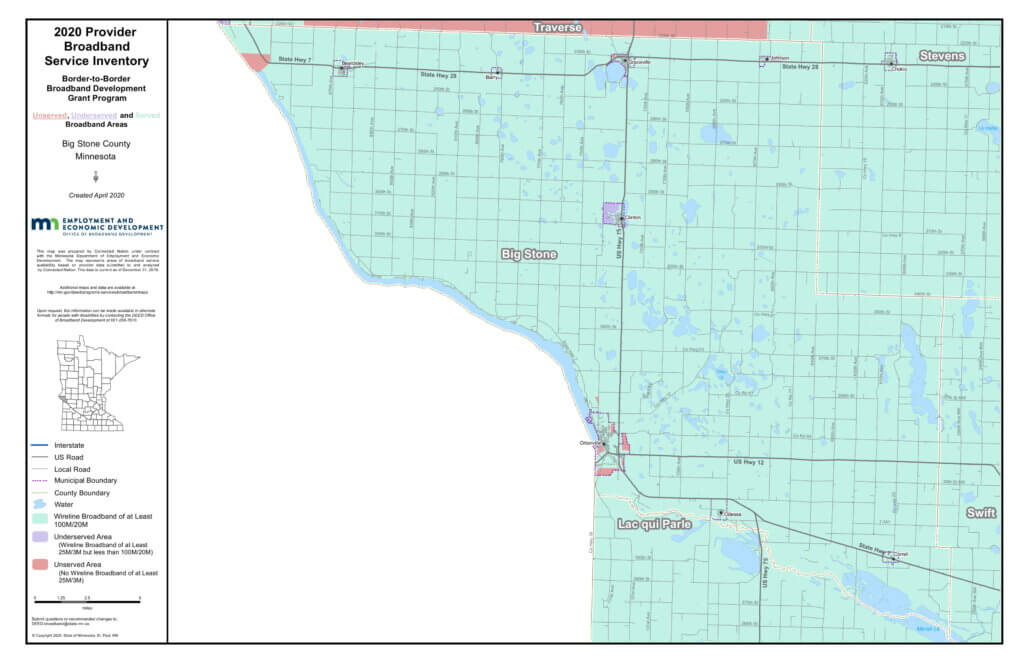 Rank: 7 (out of 87) for access to 100/20 megabits per second (Mbps)
In 2018, after partnering with Federated Telephone Cooperative on a successful MN Border to Border grant, Big Stone County moved to top 10 (often top 5) ranking for access to 100/20 Mbps broadband. Their broadband access remains the same; their ranking slips only because other counties are doing even better. It's good to see their recent involvement in the State Telecommuter Forward program, showing an interest in broadband promotion and use as well as access.
What we learned in the past:
In 2014, Big Stone benefited from a MN state broadband grant:
2014 – Federated Telephone Cooperative, Big Stone County
That moved them from pretty good status to contenders in 2018.
Update from 2020:
Big Stone County was named one of 23 Telecommuter Forward communities by the State in August 2020. How this will manifest during COVID is yet to be seen but it shows an interest in broadband adoption.
Find more articles on broadband in Big Stone County.
Households with Device Access
Computer
78.6%
90.3%
statewide
Desktop or Laptop
69.3%
81.1%
statewide
Smartphone
58.4%
76.5%
statewide
Tablet
44.0%
59.3%
statewide
Has Worked with Blandin Foundation
Yes
Has Received MN Grant(s)
Yes
Government Districts
U.S. Congress: CD 7
MN Senate: 12
MN House: 12A