Table of goal data by year

| Year | Rank | 100/20 Mbps |
| --- | --- | --- |
| 2022 | #12 of 87 | 97.09% |
| 2021 | #9 of 87 | 98.6% |
| 2020 | #7 of 87 | 98.6% |
| 2019 | #5 of 87 | 98.91% |
| 2018 | #4 of 87 | 98.91% |
| 2017 | #25 of 87 | 70.12% |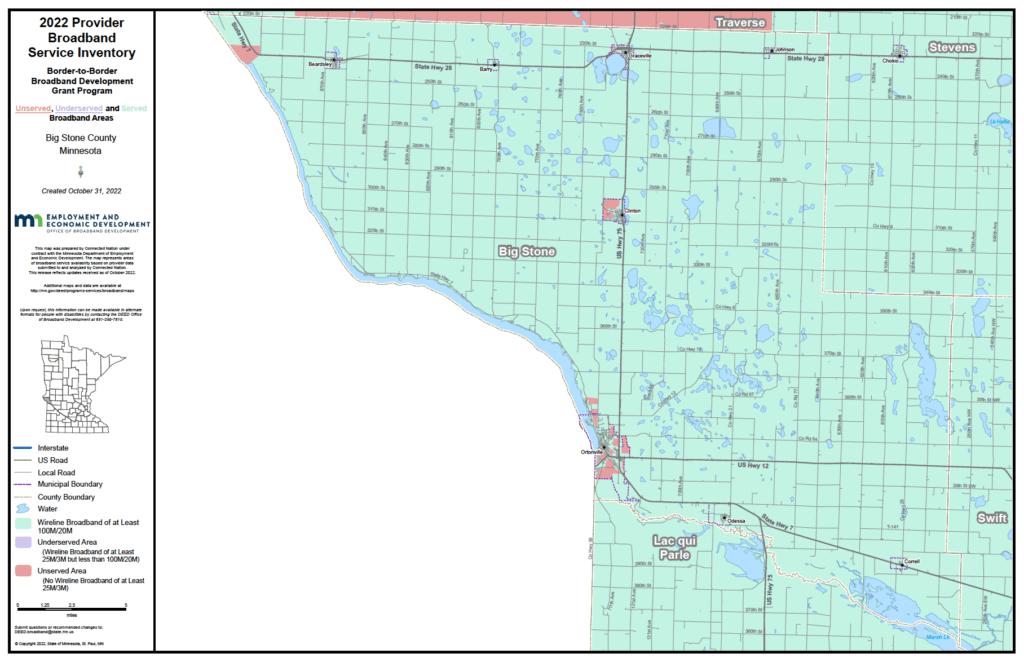 Rank: 12 (out of 87) for access to 100/20 megabits per second (Mbps)
Big Stone County ranks 12 for broadband access and 63 for digital equity out of 87 counties. They have hovered around 98 percent coverage to broadband of 100 Mbps down and 20 up since 2018. They have 87 households without access to broadband at that speed. Estimates indicate that it will cost $800,000 to get to ubiquitous broadband in the county.
In 2018, after partnering with Federated Telephone Cooperative on a successful MN Border to Border grant, Big Stone County moved to top 10 ranking for access to 100/20 Mbps broadband. Their broadband access remains the same; their ranking slips only because other counties are doing even better.
Big Stone County ranks much higher for access to broadband (12) than digital equity (63). But they have spent the last year working as a Blandin Broadband Community (BBC), which should help build an interest in greater use and spur community engagement.
They receive a green code because they have over 99 percent covered and they need less than a million dollars to get to ubiquitous broadband.
Digital Equity:
Big Stone County ranks 63 out of 87 for digital equity. (See full Digital Equity Profile)
Big Stone County ranks 67 out of 87 for computer ownership. 91.5 percent of homes have a computer of device as compared to statewide ownership of 88.4 percent.
Households with Device Access
A Device
78.6%
95.5%
statewide
Desktop or Laptop
69.3%
83.2%
statewide
Smartphone
58.4%
90.1%
statewide
Tablet
44.0%
65.8%
statewide
Has Worked with Blandin Foundation
Yes
Has Received MN Grant(s)
Yes
2014 – Federated Telephone Cooperative, Big Stone County
Government Districts
U.S. Congress: CD 7
MN Senate: 12
MN House: 12A