Table of goal data by year

| Year | Rank | 100/20 Mbps |
| --- | --- | --- |
| 2022 | #45 of 87 | 79.96% |
| 2021 | #50 of 87 | 75.99% |
| 2020 | #48 of 87 | 74.6% |
| 2019 | #45 of 87 | 74.5% |
| 2018 | #27 of 87 | 73.76% |
| 2017 | #24 of 87 | 72.89% |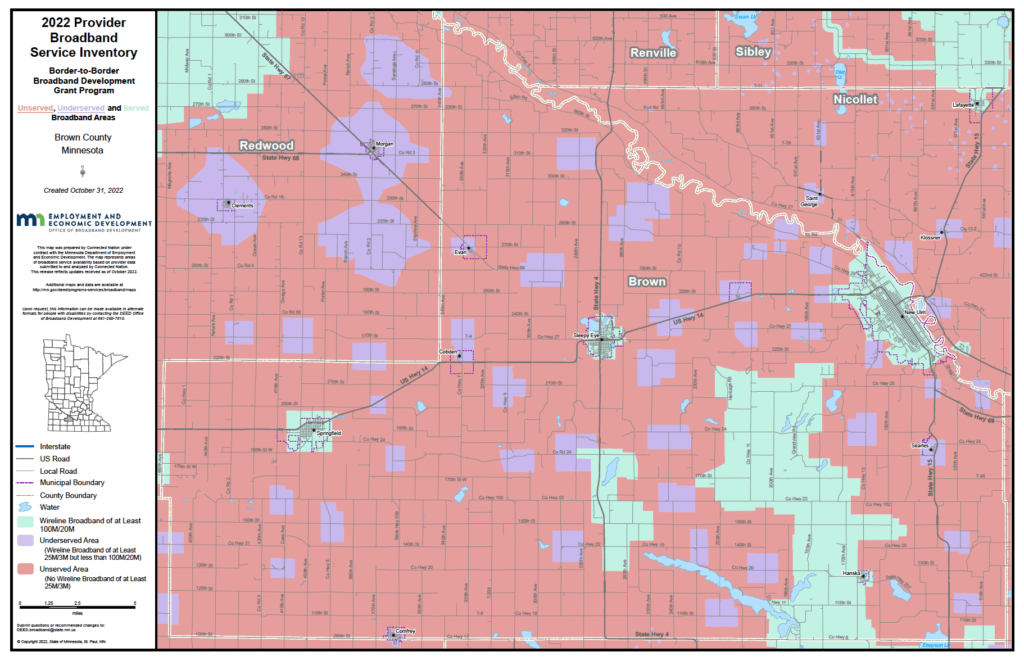 Rank: 45 (out of 87) for access to 100/20 megabits per second (Mbps)
Brown County ranks 45 for broadband access and 34 for digital equity out of 87 counties. They have seen incremental improvement up to almost 80 percent coverage to broadband of 100 Mbps down and 20 up since 2017. They have 2361 households without access to broadband at that speed. Estimates indicate that it will cost $22 million to get to ubiquitous broadband in the county.
Brown County will see improvement based on a border to border grant announced in December 2022.
Nuvera Communications, Inc., $3,839,000.00 to serve 497 unserved and 181 underserved locations in the rural areas of Brown County
In December 2021, Federated Rural Electric acquired a wireless internet company with a promise to expand access and pursue grants in Jackson, Cottonwood, Nobles, Martin, Murray and Brown Counties.
Brown County is seeing an improvement to yellow code due in great part to the nearly $4 million grant for a $7.6 million project in Brown County. Hopefully that will spur greater engagement moving forward.
Digital Equity:
Brown County ranks 34 out of 87 for digital equity. (See full Digital Equity Profile)
Brown County ranks 43 out of 87 for computer ownership. 91 percent of homes have a computer of device as compared to statewide ownership of 95.5 percent.
Households with Device Access
A Device
86.5%
95.5%
statewide
Desktop or Laptop
76.1%
83.2%
statewide
Smartphone
68.8%
90.1%
statewide
Tablet
51.3%
65.8%
statewide
Has Worked with Blandin Foundation
Yes
Has Received MN Grant(s)
Yes
2107 – New Ulm Telecom, Inc.– Hanska A&D FTTP – GRANT $324,894
2016 – New Ulm Telecom, Inc. – Hanska – GRANT: $ 200,397
2019 – Nuvera Communications, Inc. – New Ulm SW Project – GRANT $385,600
2021 – Minnesota Valley Telephone Company (MVTC) – Rural Franklin Fiber Project – GRANT $226,800. This middle and last mile project will serve approximately 45 unserved locations in the City of Franklin and the townships of Sherman, Eden, Camp and Birch Cooley in Redwood, Renville and Brown counties.
Government Districts
U.S. Congress: CD 1, CD 7
MN Senate: 15
MN House: 15B