Table of goal data by year
Year
25/3 Mbps
100/20 Mbps
2019
#48 of 87
83.66%
#45 of 87
74.5%
2018
#15 of 87
96.31%
#27 of 87
73.76%
2017
#21 of 87
95.92%
#24 of 87
72.89%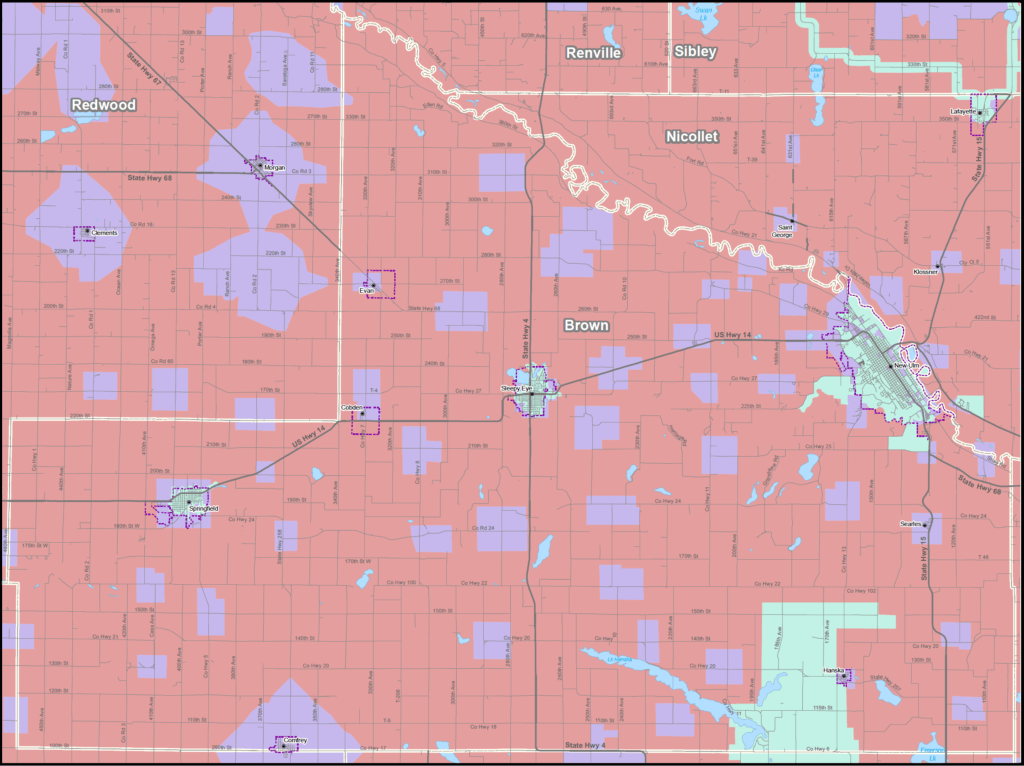 Rank: 44 (out of 87) for access to 100/20 megabits per second (Mbps)
The numbers available make it difficult to assess exactly where Brown County is and in which direction they are going.  What is clear is that the access to 100/20 Mbps hasn't changed much since 2017. In 2017, they were likely in the top 10; today,  the rest of the state is catching up with them. It will take a concerted effort for Brown County to move ahead in the rankings.
Brown County has benefited from two state broadband grants:
2107 – New Ulm Telecom, Inc. – Hanska A&D FTTP – GRANT $324,894
Serving 9 unserved households and 38 unserved businesses in the Hanska area south of New Ulm near the border of Brown and Watonwan Counties.
2016 – NEW ULM TELECOM, INC. HANSKA – GRANT: $ 200,397
Serving 14 unserved households and 32 unserved businesses in Lake Hanska Township in Brown County and Riverdale Township in Watonwan County.
A few years ago, there appeared to be a lot of broadband activity in Brown County. They are near Sibley and Renville Counties, which have been very active in improving access but there hasn't been much action evident in Brown County in the last year.
Brown County could benefit from future grants. In 2019, Minnesota Valley Tel. Co. (MVTC) and Nuvera applied to upgrade service in Brown. (That doesn't mean they will get the grant; they have only applied.)
Find more articles on broadband in Brown County.
Has Worked with Blandin Foundation
Yes
Has Received MN Grant(s)
Yes
Government Districts
U.S. Congress: CD 1
MN Senate: 16
MN House: 16B