Table of goal data by year

| Year | Rank | 100/20 Mbps |
| --- | --- | --- |
| 2021 | #79 of 87 | 52.08% |
| 2020 | #77 of 87 | 52.02% |
| 2019 | #73 of 87 | 47.57% |
| 2018 | #44 of 87 | 58.22% |
| 2017 | #40 of 87 | 52.32% |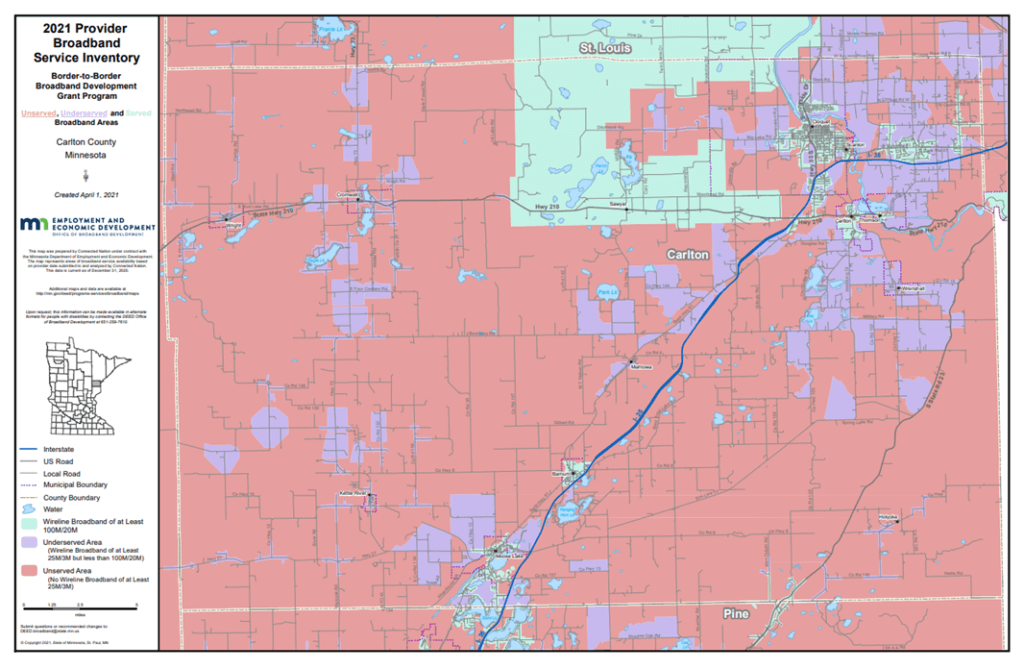 Rank: 79 (out of 87) for access to 100/20 megabits per second (Mbps)
Carlton County is one of several counties that is served primary with one national provider, who may not be as invested locally as a local provider or cooperative. They recognize the need for improvement; they need to find a way to make it happen.
Their access to broadband hasn't changed substantially since we have been tracking. County Commissioners have recognized the importance of better broadband. Local media has also written about the need for better broadband, especially since the pandemic. Projected allocation of American Recovery Project ARP funds in Carlton is $6,956,960; broadband is one possible use.
Unfortunately, local recognition of need is not enough to make a difference when a community is served by a provider that is not engaged. Perhaps, the advent of federal funding (ARP and Capital Project Funds) might spur interest in providers that haven't been interested or spur a community to look at solutions outside of their community. But that is a hard lift and therefore they maintain their red code.
They may benefit from intervention, such as the Blandin Accelerate program, a process to spur community acquisition and deployment of federal and state broadband funds, to find an alternative solution.
Find more articles on broadband in Carlton County. (http://tinyurl.com/z4me5k4)
Households with Device Access
Computer
87.4%
93.6%
statewide
Desktop or Laptop
72.8%
80.6%
statewide
Smartphone
7.5%
7.7%
statewide
Tablet
55.3%
63.8%
statewide
Has Worked with Blandin Foundation
Yes
Has Received MN Grant(s)
Yes
2017 – Carlton County w/ Frontier – Phase I: Cromwell/Kettle River – GRANT: $569,058
Fond du Lac Band of Lake Superior Chippewa – Big Lake Road Project – GRANT $602,916
Government Districts
U.S. Congress: CD 8
MN Senate: 11
MN House: 11A
Overlapping MN Reservations