Table of goal data by year

| Year | Rank | 100/20 Mbps |
| --- | --- | --- |
| 2022 | #83 of 87 | 48.71% |
| 2021 | #79 of 87 | 52.08% |
| 2020 | #77 of 87 | 52.02% |
| 2019 | #73 of 87 | 47.57% |
| 2018 | #44 of 87 | 58.22% |
| 2017 | #40 of 87 | 52.32% |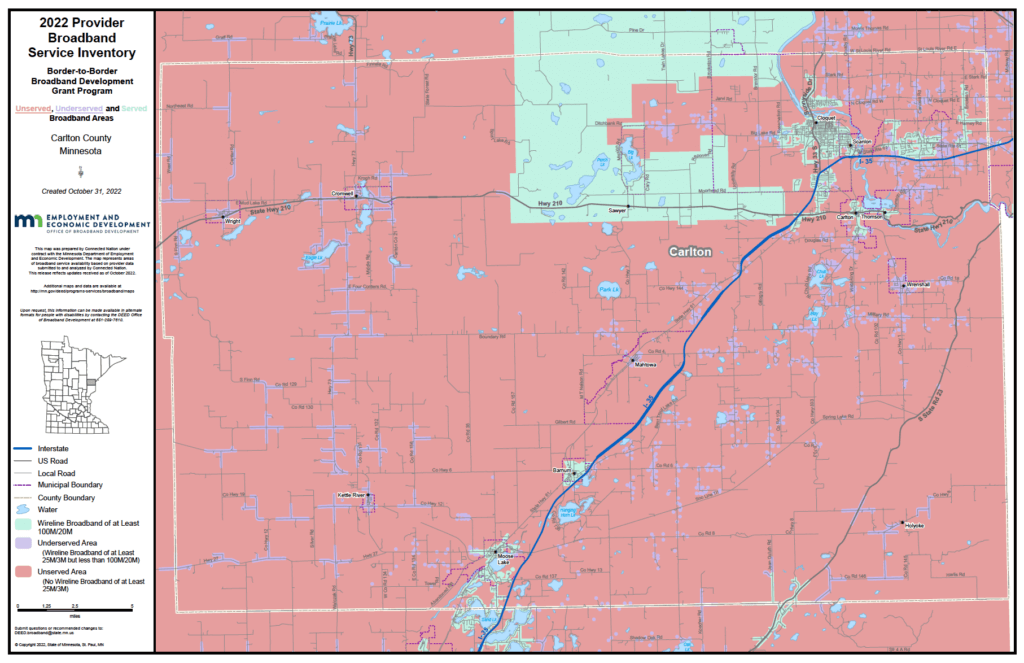 Rank: 83 (out of 87) for access to 100/20 megabits per second (Mbps)
Carlton County ranks 83 for broadband access and 84 for digital equity out of 73 counties. They have gone from almost 53 percent coverage to broadband of 100 Mbps down and 20 up to less than 50 percent. This is likely due to greater granularity in reporting, but is not positive. They have 8046 households without access to broadband at that speed. Estimates indicate that it will cost $74.8 million to get to ubiquitous broadband in the county.
Carlton County will benefit from two border to border grants announced in December 2022.
Mediacom Minnesota LLC, $801,834.27 – for a project with a cost of $2,719,526
Consolidated Telephone Company (CTC) was one of the grant recipients, receiving $4,857,030 in funding (to cover St. Louis, Carlton, and Cass counties)
Carlton County is one of several counties that is served primary with one national provider, who may not be as invested locally as a local provider or cooperative. The County has shown an interest in investing federal (ARPA) money; they need engaged providers.
Carlton County access to broadband hasn't changed substantially since we have been tracking.
Carlton County receives a red code because they have so far to go to get ubiquitous coverage. They have received some good news but the $2.7 million project they will see soon is a far cry from the $75 million estimated investment required.
Digital Equity:
Carlton County ranks 73 out of 87 for digital equity. (See full Digital Equity Profile)
Carlton County ranks 35 out of 87 for computer ownership. 91.5 percent of homes have a computer of device as compared to statewide ownership of 95.5 percent.
Households with Device Access
A Device
85.1%
95.5%
statewide
Desktop or Laptop
73.5%
83.2%
statewide
Smartphone
71.0%
90.1%
statewide
Tablet
54.1%
65.8%
statewide
Has Worked with Blandin Foundation
Yes
Has Received MN Grant(s)
Yes
2017 – Carlton County w/ Frontier – Phase I: Cromwell/Kettle River – GRANT: $569,058
Fond du Lac Band of Lake Superior Chippewa – Big Lake Road Project – GRANT $602,916
Government Districts
U.S. Congress: CD 8
MN Senate: 11
MN House: 11A
Overlapping MN Reservations