Table of goal data by year
Year
25/3 Mbps
100/20 Mbps
2020
#69 of 87
75.17%
#77 of 87
52.02%
2019
#74 of 87
71.71%
#73 of 87
47.57%
2018
#72 of 87
67.29%
#44 of 87
58.22%
2017
#66 of 87
62.74%
#40 of 87
52.32%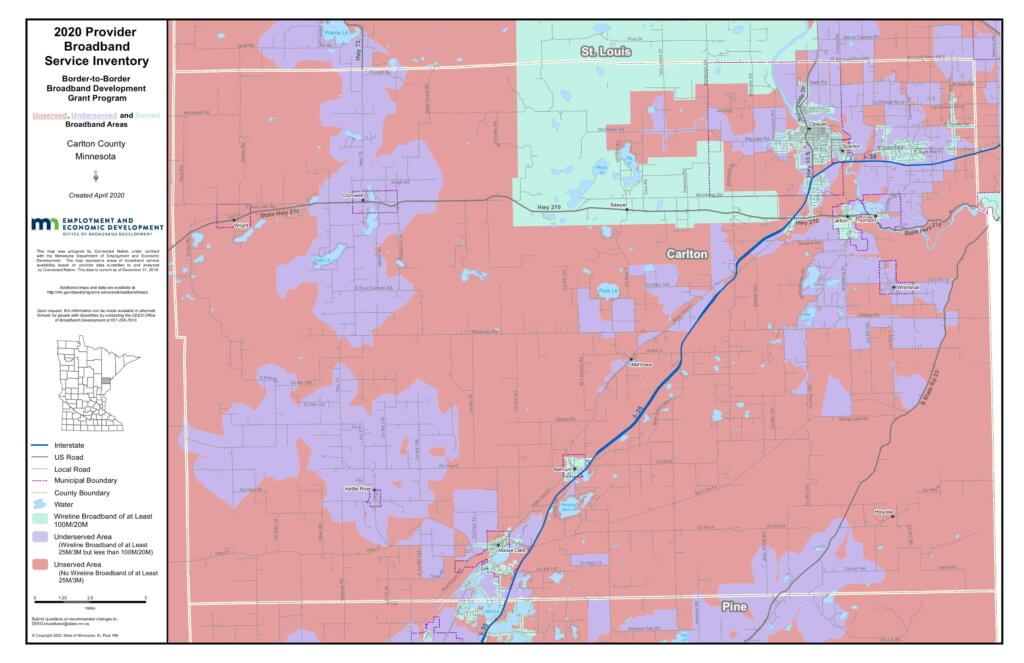 Rank: 76 (out of 87) for access to 100/20 megabits per second (Mbps)
To meet the speed goals for 2026, Carlton County needs to act. They are one of several counties that is served primary with one national provider, who may not be as invested locally as a local provider or cooperative. They recognize the need for improvement; they need to find a way to make it happen.
What we learned in the past:
In 2017, Carlton benefited from a MN state broadband grant:
2017 – Carlton County w/ Frontier – Phase I: Cromwell/Kettle River – GRANT: $569,058
Unfortunately, that grant aimed at building to 25/3 Mbps. Last year we saw that much of Carlton County is served by one large national provider. That is likely a bottleneck to better access.
Update from 2020:
In May (2020), local media pointed out the inequity in broadband coverage in Carlton County…
According to the Minnesota Department of Employment and Economic Development, vast swaths of rural Carlton County are either unserved or underserved by broadband internet services. …
While larger cities and those relatively close to the I-35 corridor like Cloquet, Carlton and Moose Lake enjoy ideal speeds, the more rural communities like Cromwell, Wrenshall and Kettle River are underserved at best.
Fond du Lac Reservation, adjacent to Carlton County has received a Border to Border grant in the latest round that may or may not help Carlton in the future:
Fond du Lac Band of Lake Superior Chippewa – Big Lake Road Project – GRANT $602,916
This last mile project will upgrade approximately 37 unserved and 99 underserved locations in a portion of Carlton County located within the boundaries of the Fond du Lac Reservation, including the western part of the City of Cloquet and Perch Lake Township. In a funding partnership with the State of Minnesota, Fond du Lac Band of Lake Superior Chippewa will improve broadband service levels up to 1 Gbps download and 1 Gbps upload, meeting or exceeding the 2022 and 2026 state speed goals. By building a fiber to the home network, faster internet speeds will open up many opportunities such as telemedicine, home health care, electronic health records, online schooling, business development and more. All of these factors will assist in creating a more vibrant community and region.
Total eligible cost is $1,205,832
Local match is $602,916
Find more articles on broadband in Carlton County.
Households with Device Access
Computer
85.1%
90.3%
statewide
Desktop or Laptop
73.1%
81.1%
statewide
Smartphone
73.5%
76.5%
statewide
Tablet
71.0%
59.3%
statewide
Has Worked with Blandin Foundation
Yes
Has Received MN Grant(s)
Yes
Government Districts
U.S. Congress: CD 8
MN Senate: 11
MN House: 11A
Overlapping MN Reservations