Table of goal data by year
Year
25/3 Mbps
100/20 Mbps
2019
#10 of 87
98.8%
#16 of 87
92.14%
2018
#27 of 87
89.81%
#17 of 87
85.09%
2017
#14 of 87
98.51%
#18 of 87
81.04%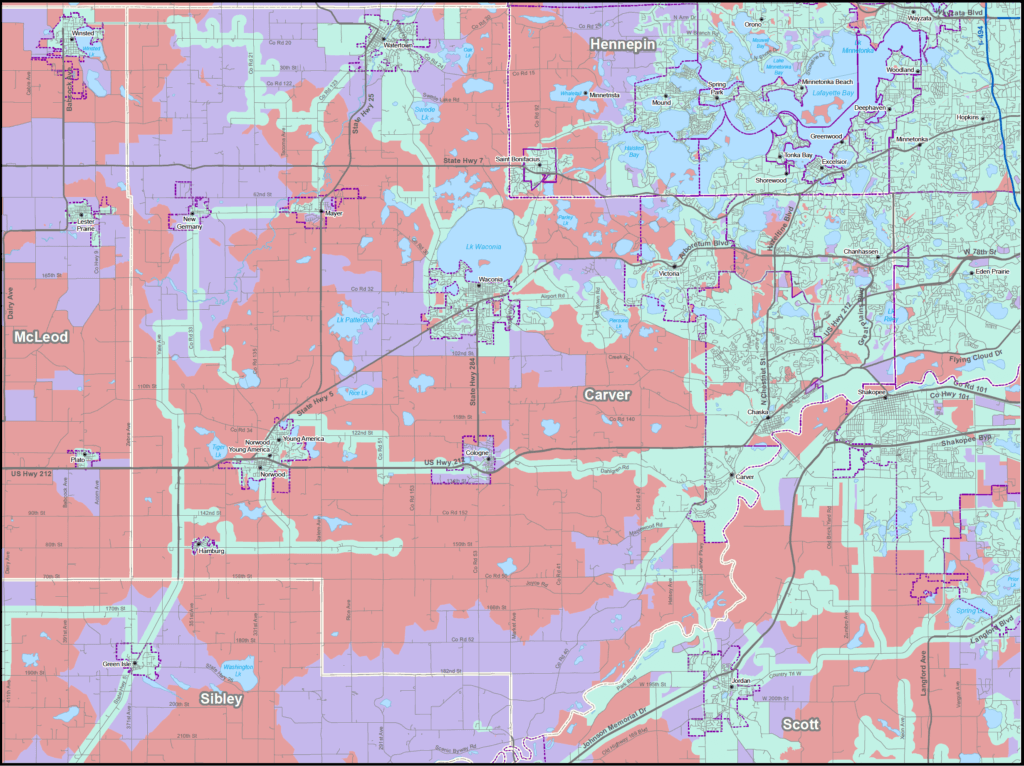 Rank: 23 (out of 87) for access to 100/20 broadband megabits per second (Mbps)
Carver County is a fairly metro county so the market will take care of most of the county but they will need help in areas with lower population density. It seems likely that they will meet the 2022 speed goals; the 2026 goals are not as certain.
Carver County has had the underpinings of a strong broadband county since 2013. They received American Recovery and Reinvestment Act (ARRA) funding for Carverlink, a publicly owned 89-mile base ring with 33 miles of lateral lines. It was completed in Fall of 2013.
Carverlink has left them in good shape, but not enough has happened since then. They will need to make a concerted effort to get to ubiquitous coverage.
Carver County could benefit from future grants. In 2019, Jaguar Communications and Winsted Telephone Company applied for a state grant to upgrade service in Carver. (That doesn't mean they will get the grant; they have only applied.)
Find more articles on broadband in Carver County.
Has Worked with Blandin Foundation
No
Has Received MN Grant(s)
No
Government Districts
U.S. Congress: CD 3, CD 6
MN Senate: 33, 47
MN House: 33B, 47A, 47B