Table of goal data by year

| Year | Rank | 100/20 Mbps |
| --- | --- | --- |
| 2022 | #19 of 87 | 93.2% |
| 2021 | #25 of 87 | 90.2% |
| 2020 | #20 of 87 | 89.37% |
| 2019 | #16 of 87 | 92.14% |
| 2018 | #17 of 87 | 85.09% |
| 2017 | #18 of 87 | 81.04% |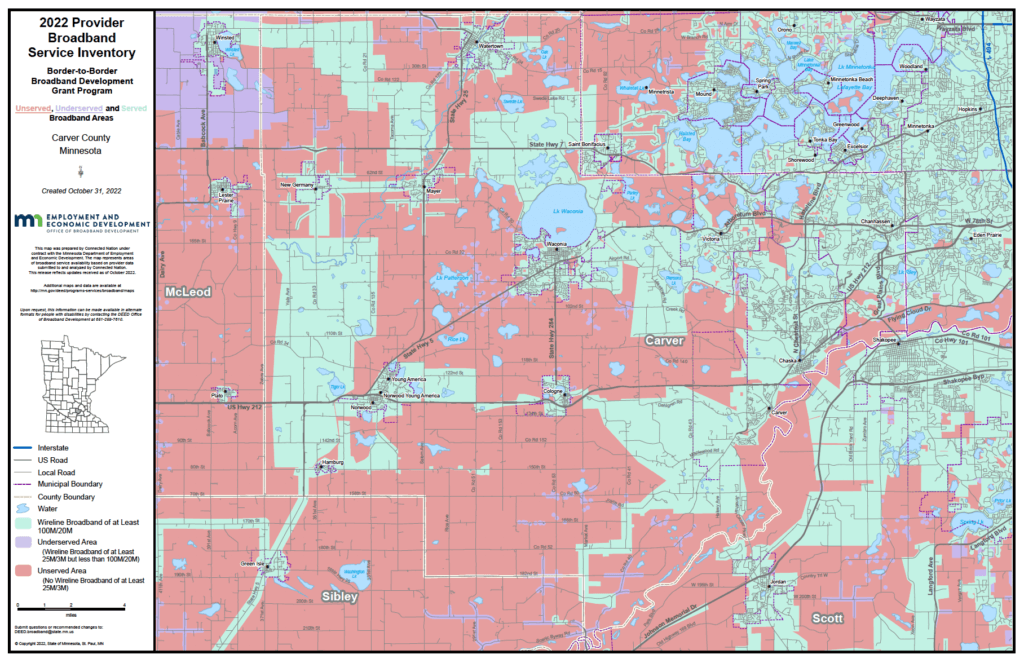 Rank: 19 (out of 87) for access to 100/20 megabits per second (Mbps)
Carver County ranks 19 for broadband access and 2 for digital equity out of 87 counties. They have ranked well for years but saw a nice push to 93.2 percent coverage to broadband of 100 Mbps down and 20 up in the last year. They have 2745 households without access to broadband at that speed. Estimates indicate that it will cost $25.5 million to get to ubiquitous broadband in the county.
Carver County is making a big push to reach ubiquitous broadband.
They began construction of 350 miles of middle mile broadband as part of Connect Up Carver Initiative, a $10.5 million project
They have applied for $3.5 million grant for a $5 million project to extend the network to areas that were caught in the LTD Broadband RDOF area, where they had a federal award revoked.
They have been working with local provider Metronet to reach smaller cities and towns.
They are working with local businesses to find a way to provide service to them.
Carver County gets a green light because they are close to ubiquitous coverage. They had seemed stuck for a while but they've improved in the last year and have solid plans for more. Also they rank well for digital inclusion, which indicates an audience that would be receptive to better broadband.
Digital Equity:
Carver County ranks 2 out of 87 for digital equity. (See full Digital Equity Profile)
Carver County ranks 1 out of 87 for computer ownership. 98.7 percent of homes have a computer of device as compared to statewide ownership of 95.5 percent.
Households with Device Access
A Device
94.1%
95.5%
statewide
Desktop or Laptop
89.6%
83.2%
statewide
Smartphone
83.1%
90.1%
statewide
Tablet
67.5%
65.8%
statewide
Has Worked with Blandin Foundation
No
Has Received MN Grant(s)
Yes
2013, Carver County received ARRA funding for Carverlink, a publicly owned 89-mile base ring with 33 miles of lateral lines. It was completed in Fall of 2013.
Government Districts
U.S. Congress: CD 3, CD 6
MN Senate: 17, 48
MN House: 17B, 48A, 48B