Table of goal data by year
Year
25/3 Mbps
100/20 Mbps
2020
#21 of 87
93.73%
#20 of 87
89.37%
2019
#10 of 87
98.8%
#16 of 87
92.14%
2018
#27 of 87
89.81%
#17 of 87
85.09%
2017
#14 of 87
98.51%
#18 of 87
81.04%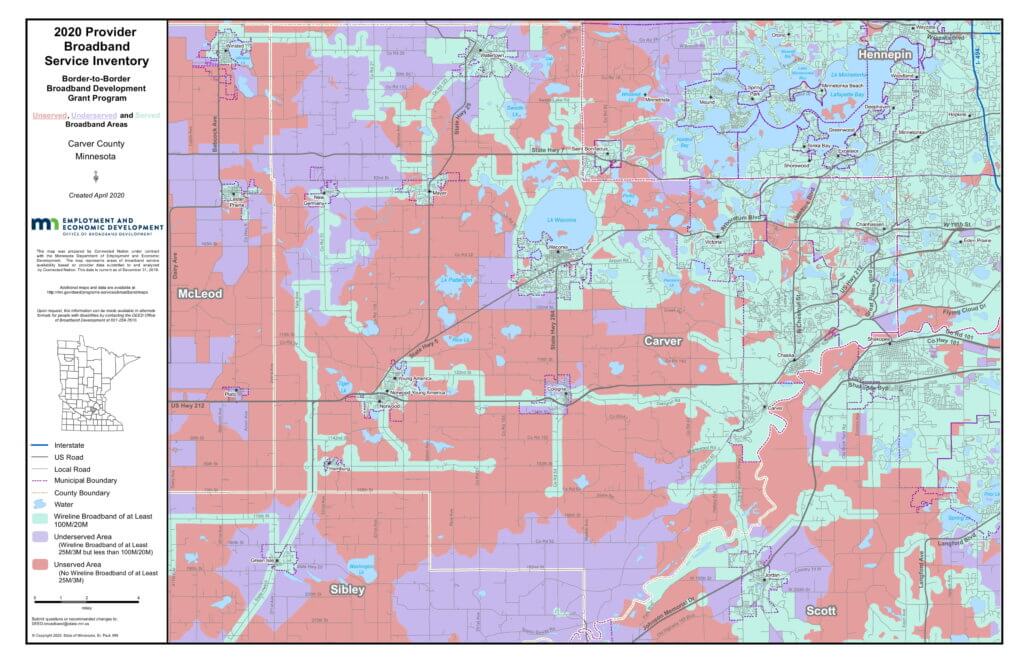 Rank: 20 (out of 87) for access to 100/20 megabits per second (Mbps)
Carver County is stalled with 85-90 percent of the county having access to 100/20 Mbps broadband. They received an American Recovery and Reinvestment Act (ARRA) grant in 2013, which put them on a good path for connectivity but very little has happened since then. They are part of the 7-county metro area. Their cities and towns are well served but areas with lower population density are not.
What we learned in the past:
In  2013, Carver County received ARRA funding for Carverlink, a publicly owned 89-mile base ring with 33 miles of lateral lines. It was completed in Fall of 2013.
Carverlink has left them in good shape, but not enough has happened since then.
Update from 2020:
Part of Carver County was served by Jaguar, which was acquired by MetroNet in July (2020). MetroNet claims they will invest $150 million to grow their Minnesota market.
Find more articles on broadband in Carver County.
Households with Device Access
Computer
94.1%
90.3%
statewide
Desktop or Laptop
89.6%
81.1%
statewide
Smartphone
83.1%
76.5%
statewide
Tablet
67.5%
59.3%
statewide
Has Worked with Blandin Foundation
No
Has Received MN Grant(s)
No
Government Districts
U.S. Congress: CD 3, CD 6
MN Senate: 33, 47
MN House: 33B, 47A, 47B