Table of goal data by year

| Year | Rank | 100/20 Mbps |
| --- | --- | --- |
| 2021 | #37 of 87 | 82.67% |
| 2020 | #29 of 87 | 83.55% |
| 2019 | #31 of 87 | 81.7% |
| 2018 | #77 of 87 | 24.8% |
| 2017 | #69 of 87 | 24.45% |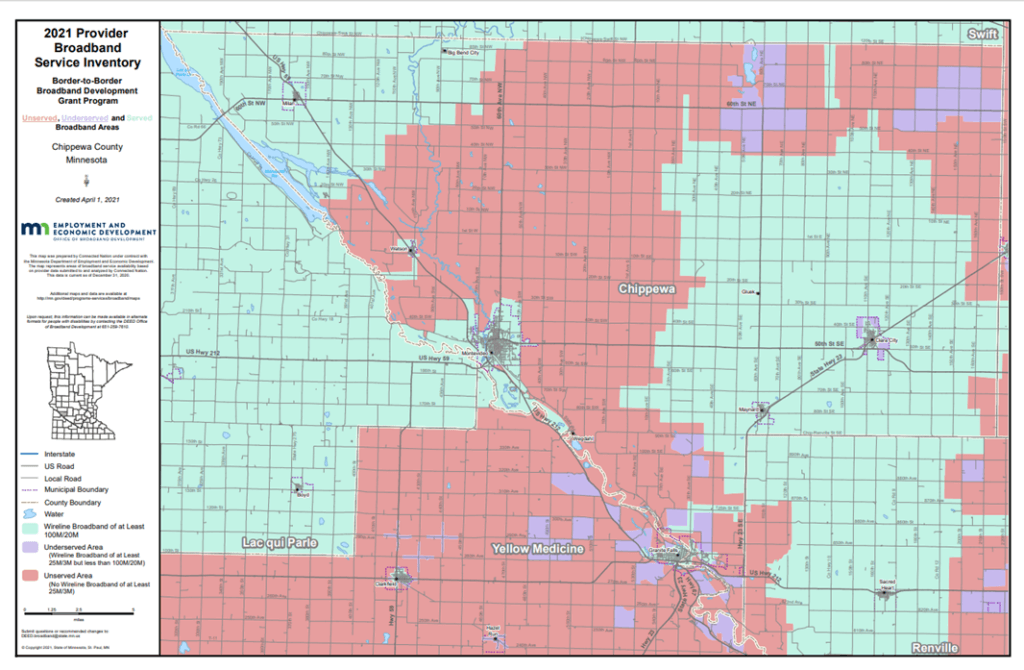 Rank: 37 (out of 87) for access to 100/20 megabits per second (Mbps)
Chippewa made great strides a few years ago when they went from 25 percent coverage to more than 80 percent. In 2018, they completed a feasibility study. They have applied for funding but have not received it. Chippewa County is part of the Upper Minnesota Valley Regional Development Commission (UMVRDC), which released a report saying that access to broadband was the number two issue in the area.
Projected allocation of American Recovery Project ARP funds in Chippewa is $2,288,537; broadband is one possible use.
Chippewa has greater access than other counties, but they seem to be bumping up against issues that aren't going away. That is why they are getting a red code.
Find more articles on broadband in Chippewa County. (http://tinyurl.com/htwz58a)
Households with Device Access
Computer
83.2%
93.6%
statewide
Desktop or Laptop
68.5%
80.6%
statewide
Smartphone
8%
7.7%
statewide
Tablet
51.2%
63.8%
statewide
Has Worked with Blandin Foundation
Yes
There is a matrix of Minnesota broadband adoption projects; it includes projects from this area.
Has Received MN Grant(s)
Yes
2015 – MVTV Wireless Middle Mile, Grant award: $808,080
Government Districts
U.S. Congress: CD 7
MN Senate: 17
MN House: 17A
Overlapping MN Reservations