Table of goal data by year

| Year | Rank | 100/20 Mbps |
| --- | --- | --- |
| 2022 | #43 of 87 | 80.55% |
| 2021 | #37 of 87 | 82.67% |
| 2020 | #29 of 87 | 83.55% |
| 2019 | #31 of 87 | 81.7% |
| 2018 | #77 of 87 | 24.8% |
| 2017 | #69 of 87 | 24.45% |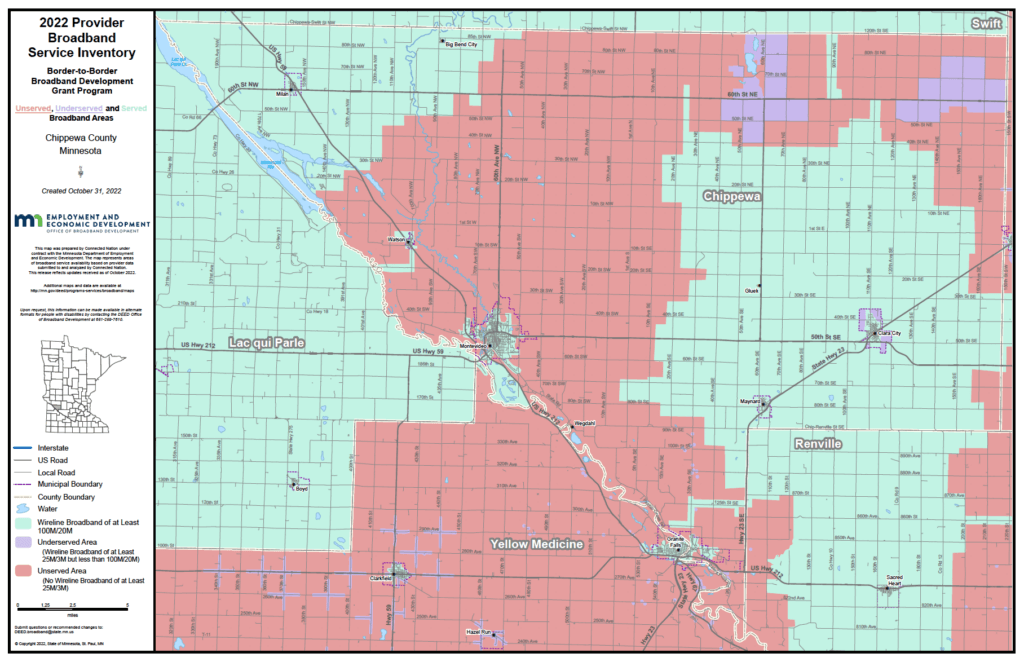 Rank: 43 (out of 87) for access to 100/20 megabits per second (Mbps)
Chippewa County ranks 43 for broadband access and 54 for digital equity out of 87 counties. Chippewa County's percent coverage to broadband of 100 Mbps down and 20 up decreased to 80 percent (down from 82). They have 1094 households without access to broadband at that speed. Estimates indicate that it will cost $10.2 million to get to ubiquitous broadband in the county.
Chippewa will benefit from a border to border grant announced in December 2022:
Farmers Mutual Telephone Company, $4,728,186.00
The Farmers Mutual Telephone project full budget is $10 million, which is the estimated amount it would take to deploy ubiquitous broadband in the county – however the proposed network will reach 636 unique locations. But that's more than half of locations they need to cover.
Chippewa County is getting a yellow code, with a lean toward green based on the grant and expressed interest from Farmers Mutual Telephone. An engaged provider can make all of the difference.
Digital Equity:
Chippewa County ranks 54 out of 87 for digital equity. (See full Digital Equity Profile)
Chippewa County ranks 57 out of 87 for computer ownership. 89.4 percent of homes have a computer of device as compared to statewide ownership of 95.5 percent.
Households with Device Access
A Device
83.7%
95.5%
statewide
Desktop or Laptop
69.9%
83.2%
statewide
Smartphone
66.7%
90.1%
statewide
Tablet
49.2%
65.8%
statewide
Has Worked with Blandin Foundation
Yes
There is a matrix of Minnesota broadband adoption projects; it includes projects from this area.
Has Received MN Grant(s)
Yes
2015 – MVTV Wireless Middle Mile, Grant award: $808,080
Government Districts
U.S. Congress: CD 7
MN Senate: 15, 16
MN House: 15A, 16A
Overlapping MN Reservations