Table of goal data by year

| Year | Rank | 100/20 Mbps |
| --- | --- | --- |
| 2022 | #60 of 87 | 73.63% |
| 2021 | #58 of 87 | 73.34% |
| 2020 | #53 of 87 | 71.92% |
| 2019 | #51 of 87 | 71.26% |
| 2018 | #32 of 87 | 69.53% |
| 2017 | #29 of 87 | 65.45% |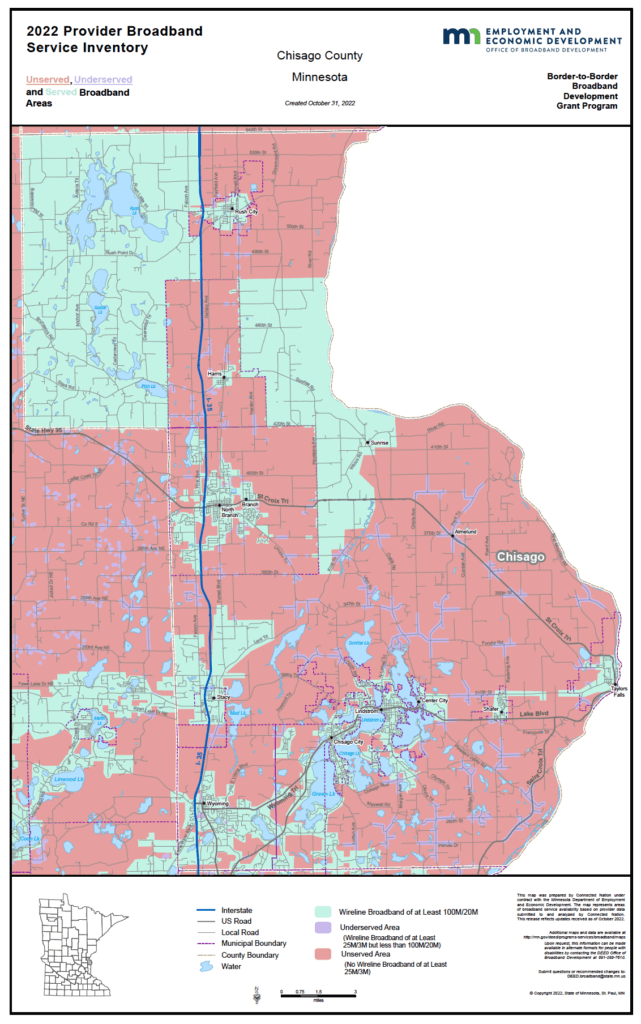 Rank: 60 (out of 87) for access to 100/20 megabits per second (Mbps)
Chisago County ranks 60 for broadband access and 16 for digital equity out of 87 counties. Chisago County has seen only incremental increase in percent coverage of broadband of 100 Mbps down and 20 up since 2017 – from 65 percent in 2017 to 73.63 in 2022. They have 5879 households without access to broadband at that speed. Estimates indicate that it will cost $54.7 million to get to ubiquitous broadband in the county.
Chisago County will benefit from a border to border grant announced in December 2022:
Qwest Corporation dba CenturyLink QC, $465,814.00
Like several other counties, Chisago County has areas where there is one national provider (or another). Often national providers are not as engaged in rural areas as providers with roots in the community. Chicago has found creative ways to get around that in several towns in the county.
East Central Energy (ECE) is a cooperative that has decided in the last year to become a broadband provider. They plan to serve parts of Chisago County. It seems that if there's a chance to gain momentum and provide value to the coop members, that ECE might consider extending to new areas. That might helps them get closer to the goal/
Few counties are as engaged as Chisago is with promoting better broadband; last year a report from the Institute for Local Self Reliance pointed out, they have a plan to apply for State funding one community at a time until they're covered. With a plan like that, they get a green code, despite their numbers!
Despite their low ranking, Chisago gets a green code because of their continued engagement, the hope of a new entrant into the provider field and the recent grant awarded in the area.
Digital Equity:
Chisago County ranks 16 out of 87 for digital equity. (See full Digital Equity Profile)
Chisago County ranks 20 out of 87 for computer ownership. 93.3 percent of homes have a computer of device as compared to statewide ownership of 95.5 percent.
Households with Device Access
A Device
90.7%
95.5%
statewide
Desktop or Laptop
83.8%
83.2%
statewide
Smartphone
77.8%
90.1%
statewide
Tablet
63.7%
65.8%
statewide
Has Worked with Blandin Foundation
Yes
Has Received MN Grant(s)
Yes
2016 – SUNRISE TOWNSHIP (CENTURYLINK) FIBER TO THE HOME – GRANT: $1,074,852
2017 – CenturyLink – Fish Lake Township FTTH Project – GRANT $1,833,724
CenturyLink (Qwest Corporation) – Nessel Township FTTH Project – GRANT $1,657,550
Government Districts
U.S. Congress: CD 8
MN Senate: 11, 28
MN House: 11B, 28A, 28B