Table of goal data by year

| Year | Rank | 100/20 Mbps |
| --- | --- | --- |
| 2022 | #20 of 87 | 92.06% |
| 2021 | #26 of 87 | 89.08% |
| 2020 | #23 of 87 | 87.57% |
| 2019 | #29 of 87 | 82.32% |
| 2018 | #19 of 87 | 82.52% |
| 2017 | #22 of 87 | 74.13% |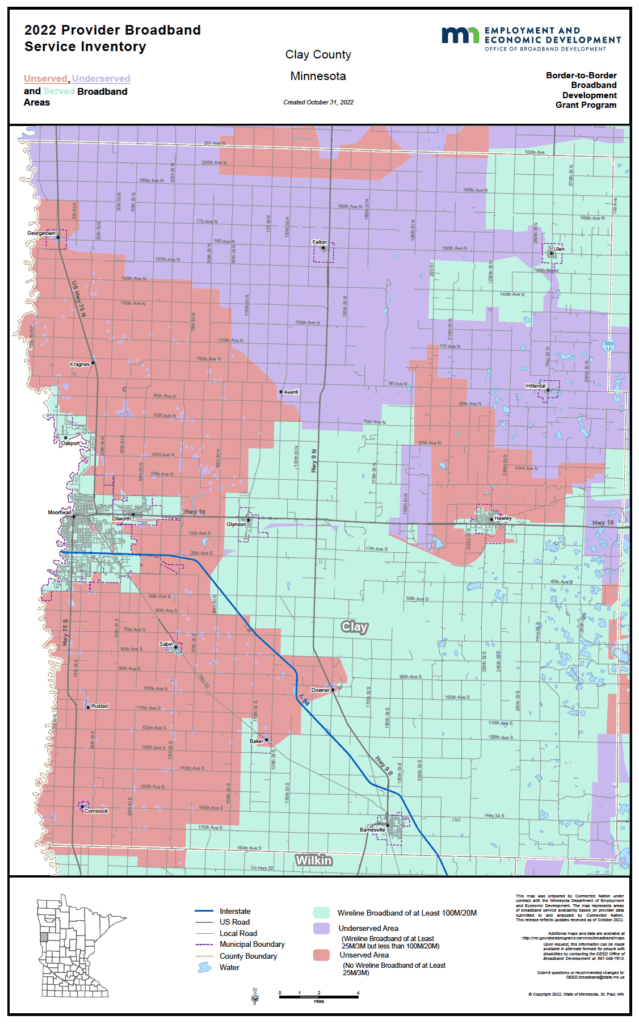 Rank: 20 (out of 87) for access to 100/20 megabits per second (Mbps)
Clay County ranks 20 for broadband access and 27 for digital equity out of 87 counties. Clay County has seen steady, yet incremental growth since 2017; this year they have 92.06 percent coverage to broadband of 100 Mbps down and 20 up. They have 2131 households without access to broadband at that speed. Estimates indicate that it will cost $19.8 million to get to ubiquitous broadband in the county.
Clay County has been on the road to steady improvement since as long as we have been looking. The growth has slowed in the last year but there is still an increase.
There isn't much evidence of community activity to promote broadband in the area.
Clay County gets a yellow coding because they are close to ubiquitous coverage but there is little demonstration of movement from a local provider, not the community to get to the last push.
Digital Equity:
Clay County ranks 27 out of 87 for digital equity. (See full Digital Equity Profile)
Clay County ranks 19 out of 87 for computer ownership. 93.4 percent of homes have a computer of device as compared to statewide ownership of 95.5 percent.
Households with Device Access
A Device
87.8%
95.5%
statewide
Desktop or Laptop
79.3%
83.2%
statewide
Smartphone
74.7%
90.1%
statewide
Tablet
57.9%
65.8%
statewide
Has Worked with Blandin Foundation
No
Has Received MN Grant(s)
Yes
2019: Arvig (Loretel Systems, Inc.) – Cormorant Lakes Area Project – GRANT $430,780
Government Districts
U.S. Congress: CD 7
MN Senate: 01, 04
MN House: 01B, 04A, 04B