Table of goal data by year
Year
25/3 Mbps
100/20 Mbps
2020
#26 of 87
90.31%
#23 of 87
87.57%
2019
#20 of 87
95.82%
#29 of 87
82.32%
2018
#17 of 87
95.45%
#19 of 87
82.52%
2017
#38 of 87
83.15%
#22 of 87
74.13%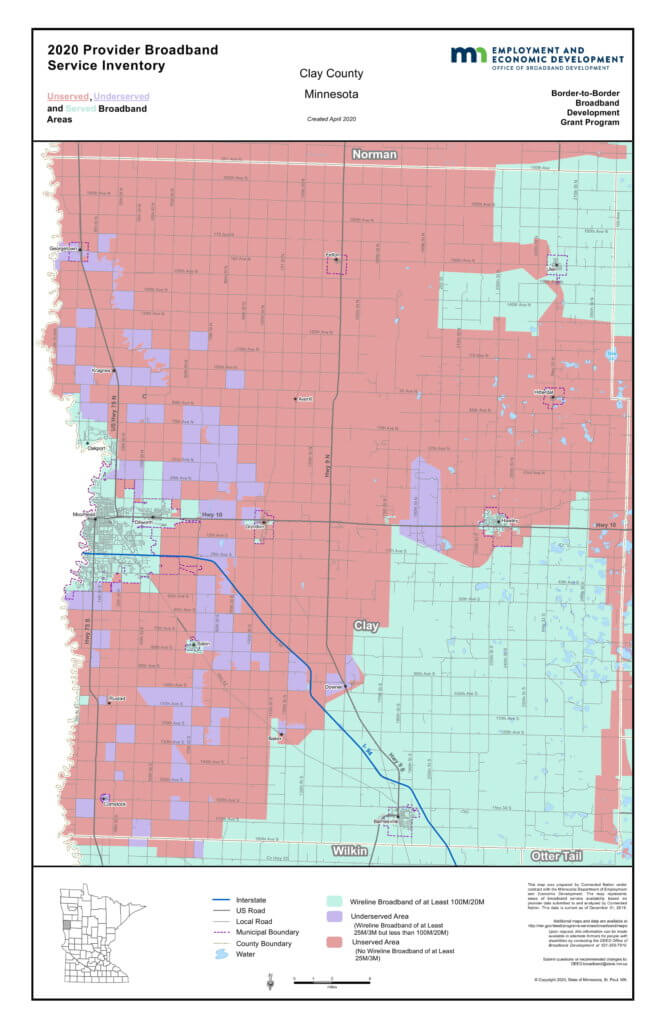 Rank: 23 (out of 87) for access to 100/20 megabits per second (Mbps)
If slow and steady wins the race, we might want to keep an eye on Clay County. In 2010, they made the FCC list of worst served Minnesota Counties; they are much better off now. They have seen consistent improvements through the years and local provider, Arvig, received a Border to Border grant in the last round that should help improve access for the next profile.
What we learned in the past:
Back in 2010, Clay County made the list of the nine unserved counties in Minnesota based on the FCC Annual Broadband Report, which defined broadband as 4 Mbps down and 1 Mbps up. Clearly Clay County has improved since then. They have a local Minnesota business providing service and choice of providers in much of the county. Their improvements have been slow but steady since we started looking at improvements.
Update from 2020:
2019: Clay County will benefit from a project that was awarded Border to Border funding in the last round.
Arvig (Loretel Systems, Inc.) – Cormorant Lakes Area Project – GRANT $430,780
This middle and last mile project will upgrade approximately 481 unserved locations near Pelican Lake, Lake Ida, Turtle Lake, and Big Cormorant Lake in Otter Tail, Becker, and Clay Counties. In a funding partnership with the State of Minnesota and Otter Tail County, Arvig will improve broadband service levels up to 1 Gbps download and 1 Gbps upload, exceeding the 2022 and 2026 state speed goals. These investments will improve quality of life and business development opportunities.
Total eligible project cost is $1,230,800
Local match is $800,020
Find more articles on broadband in Clay County.
Households with Device Access
Computer
87.8%
90.3%
statewide
Desktop or Laptop
79.3%
81.1%
statewide
Smartphone
74.7%
76.5%
statewide
Tablet
57.9%
59.3%
statewide
Has Worked with Blandin Foundation
No
Has Received MN Grant(s)
No
Government Districts
U.S. Congress: CD 7
MN Senate: 04
MN House: 04A, 04B