Table of goal data by year

| Year | Rank | 100/20 Mbps |
| --- | --- | --- |
| 2021 | #26 of 87 | 89.08% |
| 2020 | #23 of 87 | 87.57% |
| 2019 | #29 of 87 | 82.32% |
| 2018 | #19 of 87 | 82.52% |
| 2017 | #22 of 87 | 74.13% |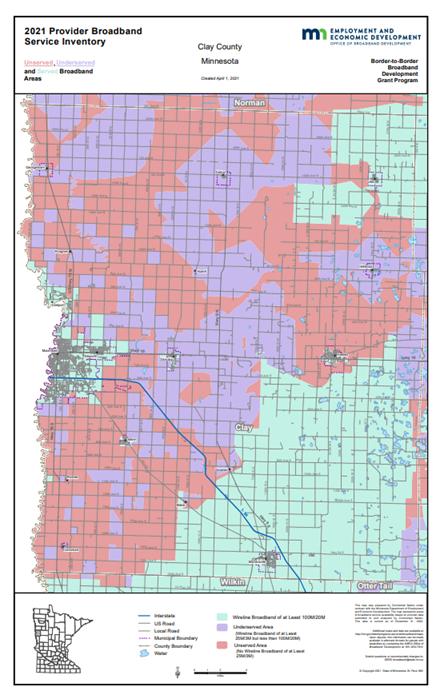 Rank: 26 (out of 87) for access to 100/20 megabits per second (Mbps)
Clay County has been on the road to steady improvement since as long as we have been looking. The growth has slowed in the last year but there is still an increase.
There isn't much evidence of community activity to promote broadband in the area. Arvig got a grant in 2019; the evidence of that has probably been reflected in the map. Also projected allocation of American Recovery Project ARP funds in Clay is $12,455,461; broadband is one possible use. That may help.
It's difficult to know what to expect in the future but they have earned their yellow code with continued improvement.
Find more articles on broadband in Clay County. (http://tinyurl.com/hcgg9rm)
Households with Device Access
Computer
90.2%
93.6%
statewide
Desktop or Laptop
81.1%
80.6%
statewide
Smartphone
4.1%
7.7%
statewide
Tablet
60.2%
63.8%
statewide
Has Worked with Blandin Foundation
No
Has Received MN Grant(s)
Yes
2019: Arvig (Loretel Systems, Inc.) – Cormorant Lakes Area Project – GRANT $430,780
Government Districts
U.S. Congress: CD 7
MN Senate: 04
MN House: 04A, 04B