Table of goal data by year
Year
25/3 Mbps
100/20 Mbps
2020
#4 of 87
99.74%
#22 of 87
89.32%
2019
#4 of 87
99.74%
#18 of 87
89.3%
2018
#5 of 87
99.58%
#13 of 87
89.3%
2017
#4 of 87
99.58%
#23 of 87
73.41%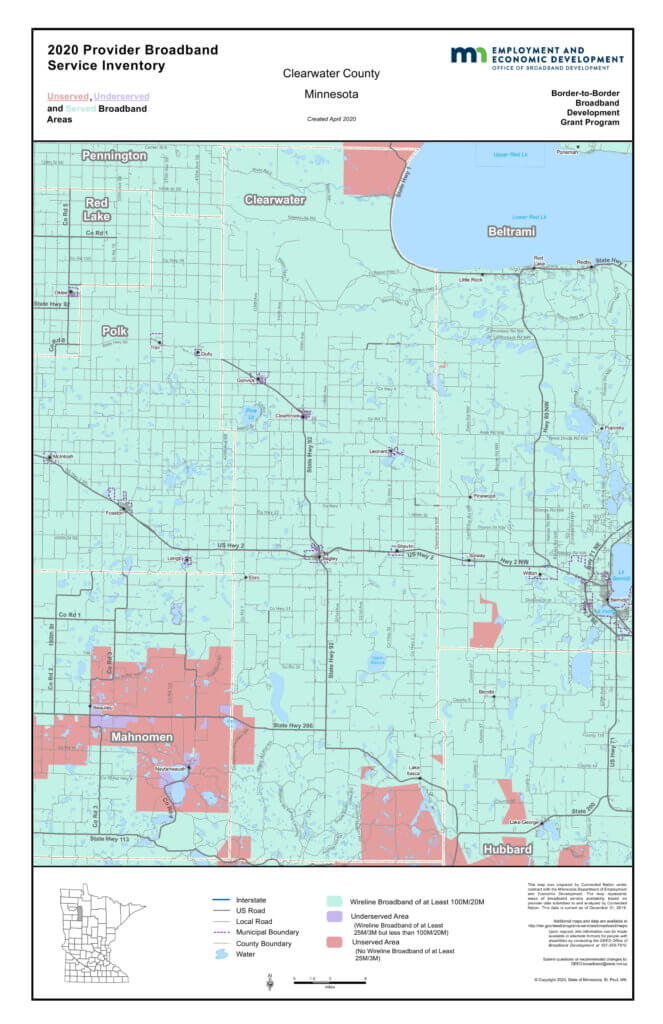 Rank: 22 (out of 87) for access to 100/20 megabits per second (Mbps)
Clearwater County seems to have benefited from a Garden Valley Telephone Company upgrade in 2018. At that time, they look poised to meet the 2026 speed goals but not much has happened since.
AT&T launched a new FirstNet cell site in Clearwater County in 2020. That cell site may have spurred some improvements, or it may have taken advantage of existing infrastructure. The mapping available precedes the cell site announcement so it's difficult to tell. But it seems likely that AT&T would include a local infrastructure upgrade, which we may see reflected in next year's map.
What we learned in the past:
Clearwater has been well poised for broadband for several years, but there has been little improvement in the last couple years. There is almost ubiquitous coverage for 25/3 Mbps access, but they need more to reach the 2026 goals. In 2018, Garden Valley Telephone Company received a $20 million loan from the USDA to deploy fiber in Polk, Clearwater, Pennington, Marshall and Red Lake counties. That may be the leap the county needs to close the gap for the 2026 goal.
Last year, we saw that much of the County is served by one large national provider. That may be a bottleneck to better access in those areas, because as we noted last year, lack of competition can impact the drive for improvement.
Update from 2020:
AT&T launched a new FirstNet cell site in Clearwater County.
Find more articles on broadband in Clearwater County.
Households with Device Access
Computer
80.8%
90.3%
statewide
Desktop or Laptop
66.3%
81.1%
statewide
Smartphone
61.0%
76.5%
statewide
Tablet
47.4%
59.3%
statewide
Has Worked with Blandin Foundation
No
Has Received MN Grant(s)
No
Government Districts
U.S. Congress: CD 7
MN Senate: 02
MN House: 02A, 02B
Overlapping MN Reservations