Table of goal data by year

| Year | Rank | 100/20 Mbps |
| --- | --- | --- |
| 2022 | #22 of 87 | 90.95% |
| 2021 | #16 of 87 | 94.5% |
| 2020 | #14 of 87 | 94.5% |
| 2019 | #13 of 87 | 94.5% |
| 2018 | #10 of 87 | 94.5% |
| 2017 | #12 of 87 | 94.46% |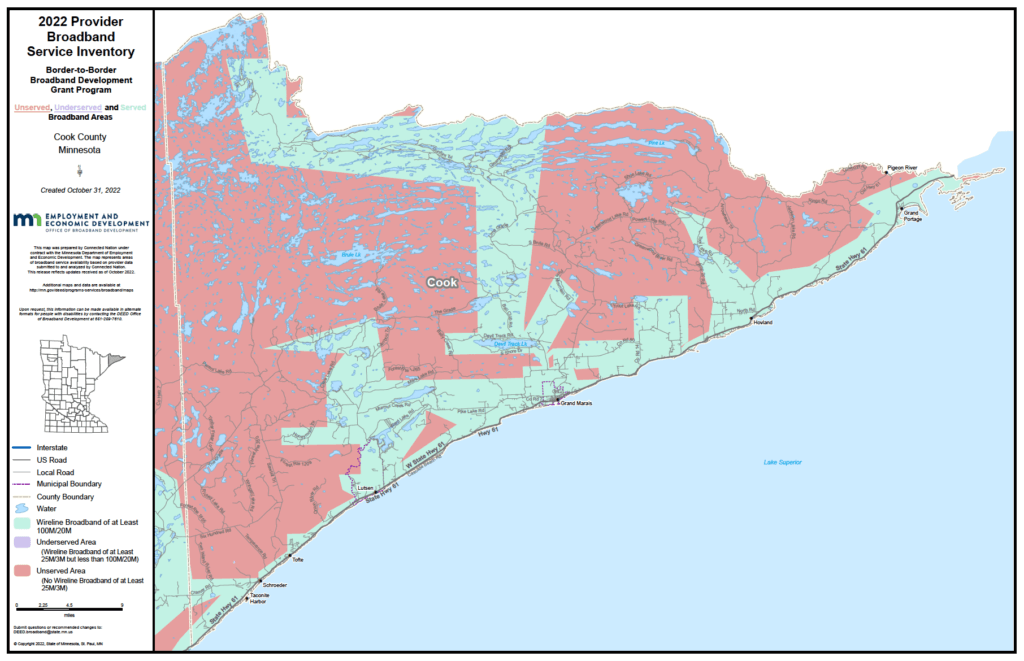 Rank: 22 (out of 87) for access to 100/20 megabits per second (Mbps)
Cook County ranks 22 for broadband access and 29 for digital equity out of 87 counties. Cook County was stalled at 94.5 percent coverage to broadband of 100 Mbps down and 20 up for years but access has dipped in the last year to 90 percent. That is likely due to increase granularity of reporting. They have 537 households without access to broadband at that speed. Estimates indicate that it will cost $5 million to get to ubiquitous broadband in the county.
Cook County had almost 95 percent broadband coverage at speeds of 100/20 Mbps since we started tracking progress, thanks to a federal ARRA funding in 2010. Cook County has been involved with Blandin programs and the community has been engaged.
AT&T has been building FirstNet cells sites in Cook County over the last few years.
Last summer (2022), Cook County reported that a fiber cut took down internet and phone services in the county. It was a reminder that communities need speed but they also need reliability and redundancy.
Cook County's code has been shifted from green to yellow because they have been stalled for so long and there hasn't been a demonstration of working on the getting to the last 500+ homes.
Digital Equity:
Cook County ranks 29 out of 87 for digital equity. (See full Digital Equity Profile)
Cook County ranks 16 out of 87 for computer ownership. 94.1 percent of homes have a computer of device as compared to statewide ownership of 95.5 percent.
Households with Device Access
A Device
89.4%
95.5%
statewide
Desktop or Laptop
82.6%
83.2%
statewide
Smartphone
64.2%
90.1%
statewide
Tablet
53.0%
65.8%
statewide
Has Received MN Grant(s)
Yes
2010: Cook County formed a partnership with Arrowhead Electric Cooperative, which applied for and was awarded over $16 million in federal stimulus grants and low interest loans to build a fiber-to-the-home broadband network throughout Cook County.
In addition, Cook County awarded Arrowhead Cooperative a $4 million grant from the 1% sales tax fund.
Government Districts
U.S. Congress: CD 8
MN Senate: 03
MN House: 03A
Overlapping MN Reservations