Table of goal data by year
Year
25/3 Mbps
100/20 Mbps
2020
#18 of 87
94.5%
#14 of 87
94.5%
2019
#12 of 87
98.8%
#13 of 87
94.5%
2018
#18 of 87
94.5%
#10 of 87
94.5%
2017
#23 of 87
94.5%
#12 of 87
94.46%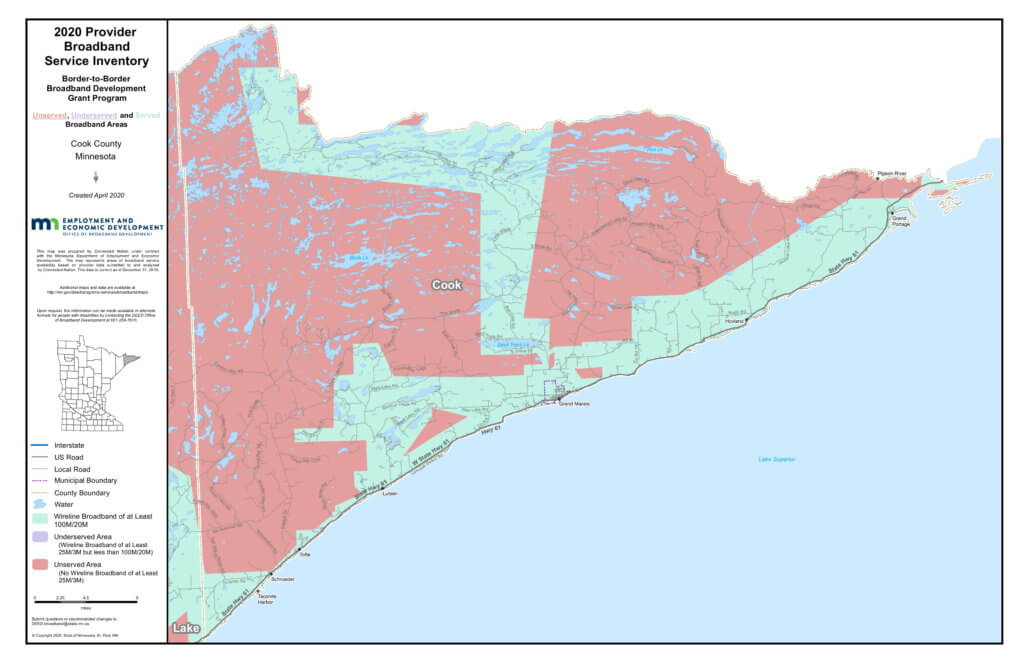 Rank: 14 (out of 87) for access to 100/20 megabits per second (Mbps)
Cook County has had almost 95 percent broadband coverage at speeds of 100/20 Mbps since we started tracking progress. Despite being so close to the prize, they are dropping to a yellow status, because without renewed attention on broadband expansion, reaching the state goal won't happen.
What we learned in the past:
Cook County suffered for years because all telecommunications depended on a single fiber line. In 2008, dial-up was still the only choice for many residents. A grant from Blandin Foundation and a matching contribution from the County, along with additional support from Arrowhead Electric Coop, funded a feasibility study to examine the problem and potential solutions.
Based on the results of the feasibility study, the Cook County Board of Commissioners took up the idea of developing a fiber network. The Board passed an ordinance in 2009 declaring that a broadband network was in the best interests of the County and created the Fiber Optic Network Commission. Cook County formed a partnership with Arrowhead Electric Cooperative, which applied for and was awarded over $16 million in federal stimulus grants and low interest loans to build a fiber-to-the-home broadband network throughout Cook County.
In addition, Cook County awarded Arrowhead Cooperative a $4 million grant from the 1% sales tax fund.
Update from 2020:
Cook County was declared a Telecommuter Forward community, which indicates an interest in promoting broadband use as well as deployment. Cook County also has a passionate champion for online communication, Anne Braatas. She has been working with kids (grade 4-12) on online marketing and communications projects.
Find more articles on broadband in Cook County.
Households with Device Access
Computer
89.4%
90.3%
statewide
Desktop or Laptop
82.6%
81.1%
statewide
Smartphone
64.2%
76.5%
statewide
Tablet
53.0%
59.3%
statewide
Has Received MN Grant(s)
No
Government Districts
U.S. Congress: CD 8
MN Senate: 03
MN House: 03A
Overlapping MN Reservations