Table of goal data by year

| Year | Rank | 100/20 Mbps |
| --- | --- | --- |
| 2022 | #72 of 87 | 67.02% |
| 2021 | #66 of 87 | 67.2% |
| 2020 | #63 of 87 | 66.67% |
| 2019 | #59 of 87 | 66.67% |
| 2018 | #38 of 87 | 66.34% |
| 2017 | #73 of 87 | 19.24% |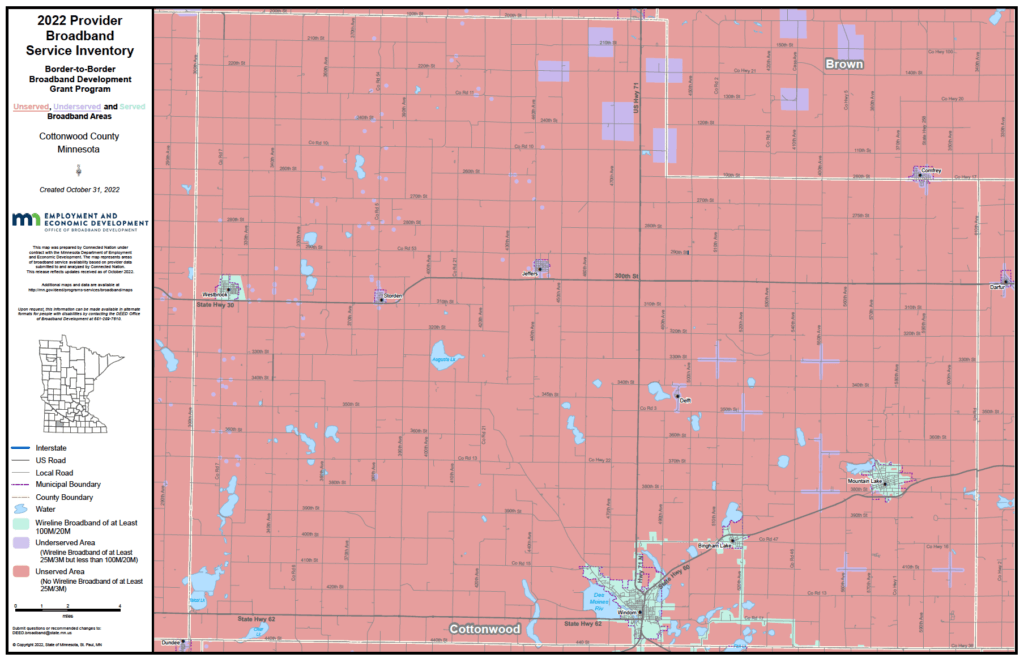 Rank: 72 (out of 87) for access to 100/20 megabits per second (Mbps)
Cottonwood County ranks 72 for broadband access and 76 for digital equity out of 87 counties. Cottonwood County has been stalled at 67 percent coverage to broadband of 100 Mbps down and 20 up since 2018. They have 1699 households without access to broadband at that speed. Estimates indicate that it will cost $15.8 million to get to ubiquitous broadband in the county.
Windom, the county seat of Cottonwood County, has had an enviable municipal broadband network since 2004. Folks in Windom are well served. But outside of Windom, connections are mixed.
In December 2021, Federated Rural Electric acquired a wireless internet company with a promise to expand access and pursue grants in Jackson, Cottonwood, Nobles, Martin, Murray and Brown Counties.
Cottonwood County maintains their red code because they have a big gap to close to get to their goal and they have been stuck in the same place since 2018.
Digital Equity:
Cottonwood County ranks 76 out of 87 for digital equity. (See full Digital Equity Profile)
Cottonwood County ranks 24 out of 87 for computer ownership. 93.1 percent of homes have a computer of device as compared to statewide ownership of 95.5 percent.
Households with Device Access
A Device
83.1%
95.5%
statewide
Desktop or Laptop
70.8%
83.2%
statewide
Smartphone
66.4%
90.1%
statewide
Tablet
45.9%
65.8%
statewide
Has Received MN Grant(s)
Yes
2016 – WOODSTOCK TELEPHONE WESTBROOK – GRANT: $412,391
2015 – MVTV Wireless Middle Mile – Grant award: $808,080
2010 – ARRA funding for City of Windom – SWMBG will build FTTP (Fiber to the Premise) infrastructure to eight rural communities in Southwestern Minnesota.
Government Districts
U.S. Congress: CD 7
MN Senate: 21
MN House: 21A, 21B