Table of goal data by year
Year
25/3 Mbps
100/20 Mbps
2020
#72 of 87
72.79%
#63 of 87
66.67%
2019
#68 of 87
74.17%
#59 of 87
66.67%
2018
#70 of 87
67.89%
#38 of 87
66.34%
2017
#69 of 87
60.52%
#73 of 87
19.24%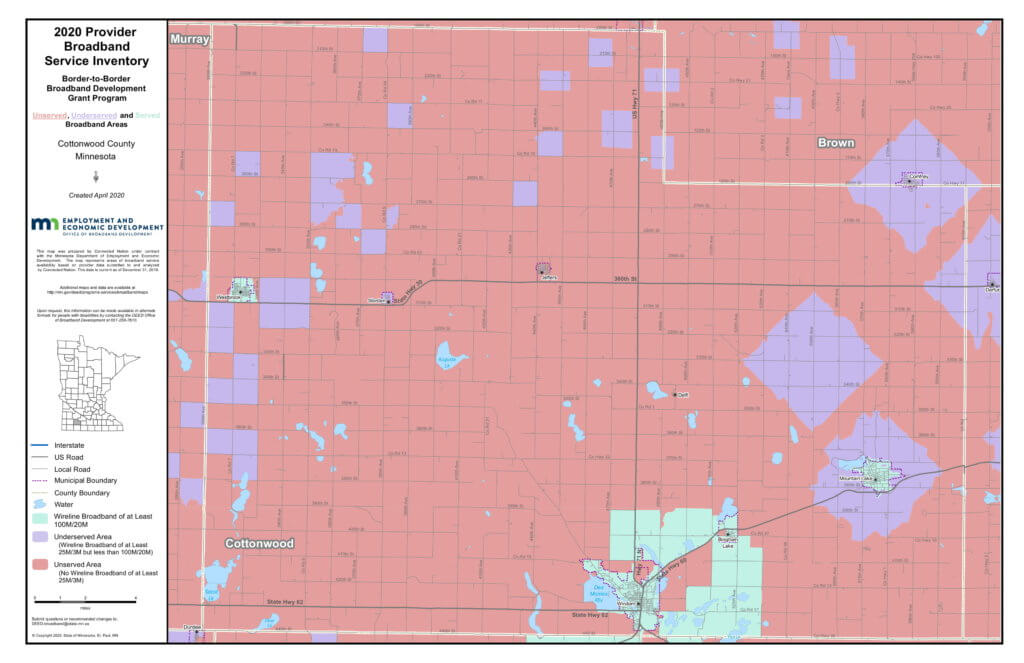 Rank: 62 (out of 87) for access to 100/20 megabits per second (Mbps)
Windom, the county seat of Cottonwood County, has had an enviable municipal broadband network since 2004. Folks in Windom are well served. But outside of Windom, connections are mixed. The terrain does not suit fixed wireless solutions. There are remote areas and areas with lower population density. These areas are unlikely to get service without community engagement and intervention.
What we learned in the past:
Windom is the county seat of Cottonwood County. They have a long history with broadband. In 2004, Windom voted in favor of a municipal network. That gave birth to Windomnet, which is still operating.  The Institute for Local Self Reliance has estimated a yearly community benefit from WindomNet of over $400,000!
Cottonwood County (or Windom) has worked with the Blandin Foundation. They have benefited from two MN broadband grants:
2016 – WOODSTOCK TELEPHONE WESTBROOK – GRANT: $412,391
2015 – MVTV Wireless Middle Mile – Grant award: $808,080
In 2018 they benefited from a partnership between SDN Communications and the Southwest West Central (SWWC) Service Cooperative building a fiber-based internet service that will connect more than 30 school districts, including Cottonwood.
Update from 2020:
In December 2019, Senator Klobuchar visited Windom to talk about broadband and other issues. The discussion highlighted the issue in Cottonwood- primarily, Windon is well served but surrounding rural areas are not. One attendee described his situation. Wireless doesn't work well for him, because the line of sight is difficult to find or maintain. There were two providers he could choose. He elected to go with 10 Mbps connection but only after keeping a 1.5 Mbps connection with the other provider because that provider was upgrading to fiber. Unfortunately this gentleman lives right outside of the territory served by that fiber. It's not a unique story; location is everything in some communities.
Find more articles on broadband in Cottonwood County.
Households with Device Access
Computer
83.1%
90.3%
statewide
Desktop or Laptop
70.8%
81.1%
statewide
Smartphone
66.4%
76.5%
statewide
Tablet
45.9%
59.3%
statewide
Has Received MN Grant(s)
Yes
Government Districts
U.S. Congress: CD 1, CD 7
MN Senate: 22
MN House: 22B