Table of goal data by year
Year
25/3 Mbps
100/20 Mbps
2020
#25 of 87
90.61%
#26 of 87
86.6%
2019
#27 of 87
92.84%
#22 of 87
88.04%
2018
#25 of 87
92.29%
#61 of 87
41.66%
2017
#31 of 87
87.78%
#63 of 87
33.13%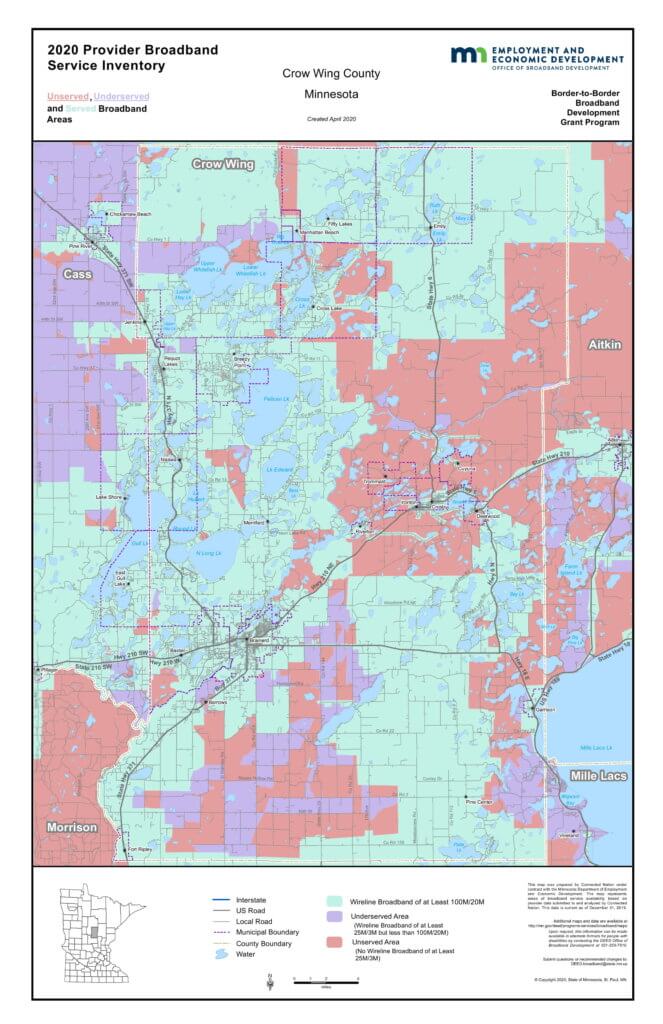 Rank: 26 (out of 87) for access to 100/20 megabits per second (Mbps)
Crow Wing saw a nice upgrade to broadband in 2019; the level has remained the same, and actually dipped a little in the last year. But the county has recently decided to invest $1.5 million of CARES Act funding in broadband expansion with local provider, CTC. CARES projects must be completed by December 1, 2020 so they will see improvements soon. CTC also received funding in the last round of Border to Border grants that will benefit Crow Wing County as well.
What we learned in the past:
Crow Wing County was one of the communities studied  as part of Blandin Foundation's 2017 Measuring Community ROI report. We found that $15,123,450 had been invested in broadband in the area. Using formulas devised to measure the impact of broadband access, Crow Wing has the potential to realize from this investment:
A combined household economic benefit of broadband of $67,412,150 annually
A combined increase in residential real estate value of $214,662,149
Included in the funding noted above, Crow Wing has benefited from three MN broadband grants:
2016 – TDS TELECOM CASS & CROW WING COUNTIES — GRANT: $3,000,000
2015 – Consolidated Telecommunications Company – Fort Ripley Phase II
Grant award: $759,525
2014 – Consolidated Telephone Cooperative, Region 5 Virtual Highway Project – Amount $2 million
Update from 2020:
Recently, Crow Wing County has approved $1.5 million in CARES Act funding for broadband expansion through broadband provider CTC.
CTC also received funding in the last round of Border to Border grants:
CTC (Consolidated Telephone Company) – Fort Ripley/Executive Acres Project – GRANT $830,587
This last mile project will upgrade approximately 279 unserved and 120 underserved locations in Morrison and Crow Wing Counties. A funding partnership with the State of Minnesota, SourceWell, IronFire Inc., Rub My Rack BBQ LLC, and CTC will help to bring reliable high-speed fiber internet services to several unserved and underserved areas within north central Minnesota. The new services will provide residents and businesses with internet speeds of 1Gbps download and upload, exceeding the Minnesota 2026 speed goal. Building a fiber-to-the-premise network that provides advanced, high-speed broadband services to households, businesses and farms in the proposed grant area will enable students to better access educational resources, families to communicate with loved ones who may be homebound or deployed by the military, businesses to grow and thrive, aging residents to live longer and healthier lives, workers to telecommute and be more productive employees. The broadband network will stimulate a more robust local area economy.
Total eligible cost is $1,661,175
Local match is $830,588
Find more articles on broadband in Crow Wing County.
Households with Device Access
Computer
88.4%
90.3%
statewide
Desktop or Laptop
77.4%
81.1%
statewide
Smartphone
73.3%
76.5%
statewide
Tablet
56.1%
59.3%
statewide
Has Received MN Grant(s)
Yes
Government Districts
U.S. Congress: CD 8
MN Senate: 10
MN House: 10A, 10B