Table of goal data by year

| Year | Rank | 100/20 Mbps |
| --- | --- | --- |
| 2021 | #30 of 87 | 86.38% |
| 2020 | #26 of 87 | 86.6% |
| 2019 | #22 of 87 | 88.04% |
| 2018 | #61 of 87 | 41.66% |
| 2017 | #63 of 87 | 33.13% |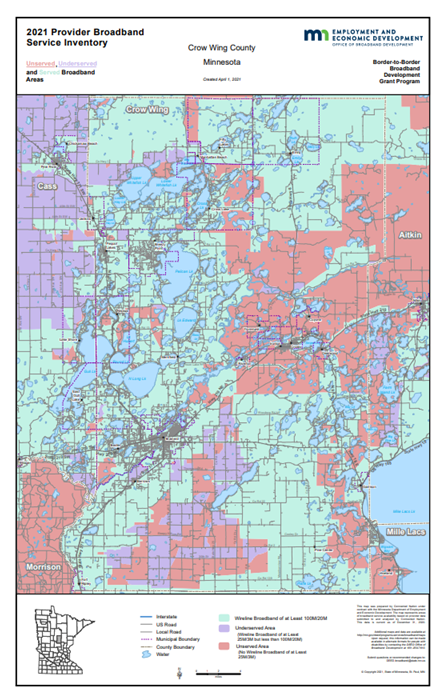 Rank: 30 (out of 87) for access to 100/20 megabits per second (Mbps)
Crow Wing saw a nice upgrade to broadband in 2019; the coverage has remained stagnant since then. But the county decided to invest $1.5 million of CARES Act funding in broadband expansion with local provider, CTC last year. And CTC received funding in the last round of Border to Border grants. It appears as if neither of those had an impact on the last mapping effort so hopefully we sill see it in the next.
In May, TDS announced plans to install about 60 miles of fiber between Cass and Crow Wing counties by the end of the summer (2021). In August, Crow Wing County was awarded $4,495,340 for broadband improvement from the MN Department of Employment and Economic Development (DEED) from the Small Cities Coronavirus Community Development Block Grant Program. Also projected allocation of American Recovery Project ARP funds in Crow Wing is $12,617,017; broadband is one possible use.
Crow Wing County will benefit from 2 MN State Grants awarded in 2021:
Consolidated Telephone Company (CTC) – Stark-Ross Lake Area – GRANT $350,805
This last mile project will serve approximately 180 unserved locations in a portion of Ross Lake Township in Crow Wing County.
Crosslake Communications – O'Brien/Goodrich Lake Fiber Project – GRANT $618,970
This last mile O'Brien/Goodrich Lake Fiber Project will serve approximately 232 unserved households in Crow Wing County.
With an influx of actual and potential funding and a couple of engaged providers, Crow Wing get code green.
Find more articles on broadband in Crow Wing County. (http://tinyurl.com/zechgaw)
Households with Device Access
Computer
90.3%
93.6%
statewide
Desktop or Laptop
77.8%
80.6%
statewide
Smartphone
5.9%
7.7%
statewide
Tablet
59.6%
63.8%
statewide
Has Received MN Grant(s)
Yes
2016 – TDS TELECOM CASS & CROW WING COUNTIES — GRANT: $3,000,000
2015 – Consolidated Telecommunications Company – Fort Ripley Phase II
Grant award: $759,525
2014 – Consolidated Telephone Cooperative, Region 5 Virtual Highway Project – Amount $2 million
2020: CTC (Consolidated Telephone Company) – Fort Ripley/Executive Acres Project – GRANT $830,587
Government Districts
U.S. Congress: CD 8
MN Senate: 10
MN House: 10A, 10B