Table of goal data by year

| Year | Rank | 100/20 Mbps |
| --- | --- | --- |
| 2022 | #28 of 87 | 87.51% |
| 2021 | #30 of 87 | 86.38% |
| 2020 | #26 of 87 | 86.6% |
| 2019 | #22 of 87 | 88.04% |
| 2018 | #61 of 87 | 41.66% |
| 2017 | #63 of 87 | 33.13% |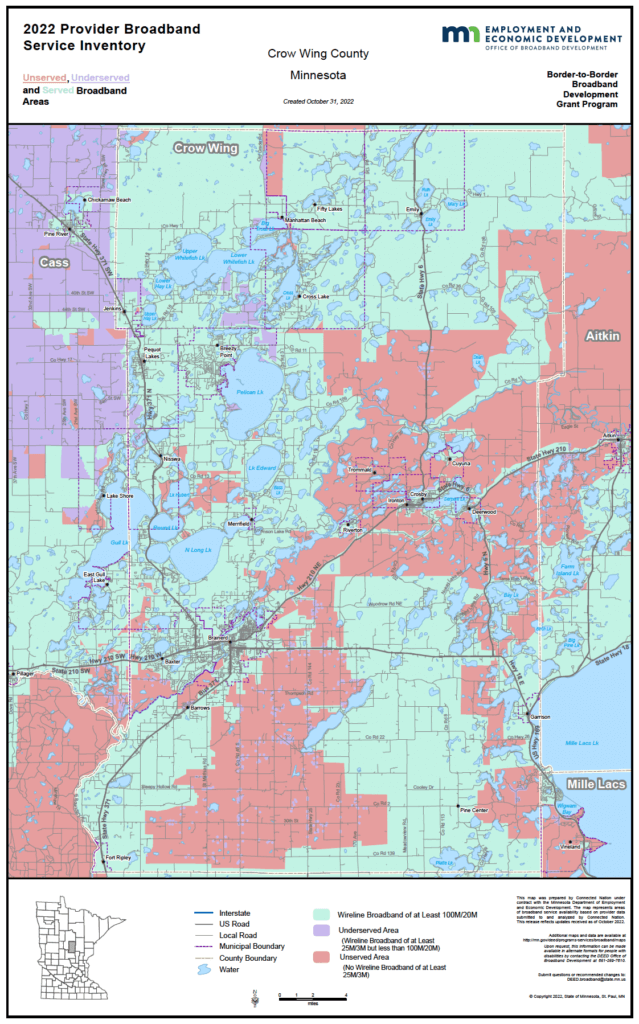 Rank: 28 (out of 87) for access to 100/20 megabits per second (Mbps)
Crow Wing County ranks 28 for broadband access and 22 for digital equity out of 87 counties. They have hovered around 87 percent coverage to broadband of 100 Mbps down and 20 up since 2018. They have 5192 households without access to broadband at that speed. Estimates indicate that it will cost $48.2 million to get to ubiquitous broadband in the county.
Crow Wing will benefit from a border to border award announced in December 2022:
Tri-Co Technologies, LLC dba Crosslake Communications, $343,552.00
Crow Wing County has shown an interest in hiring support to deploy better broadband and in working with a local provider to find a way to deploy broadband.
Crow Wing County is getting a skeptical green code; they have been stuck at less than 90 percent since 2019 but the county and a local provider have shown a greater interest in deploying broadband in the last year and that could propel them to get ubiquitous broadband.
Digital Equity:
Crow Wing County ranks 22 out of 87 for digital equity. (See full Digital Equity Profile)
Crow Wing County ranks 12 out of 87 for computer ownership. 95.4percent of homes have a computer of device as compared to statewide ownership of 95.5 percent.
Households with Device Access
A Device
88.4%
95.5%
statewide
Desktop or Laptop
77.4%
83.2%
statewide
Smartphone
73.3%
90.1%
statewide
Tablet
56.1%
65.8%
statewide
Has Received MN Grant(s)
Yes
2014 – Consolidated Telephone Cooperative, Region 5 Virtual Highway Project – Amount $2 million
2015 – Consolidated Telecommunications Company – Fort Ripley Phase II
Grant award: $759,525
2016 – TDS TELECOM CASS & CROW WING COUNTIES — GRANT: $3,000,000
2020 – CTC (Consolidated Telephone Company) – Fort Ripley/Executive Acres Project – GRANT $830,587
Consolidated Telephone Company (CTC) – Stark-Ross Lake Area – GRANT $350,805 This last mile project will serve approximately 180 unserved locations in a portion of Ross Lake Township in Crow Wing County.
Crosslake Communications – O'Brien/Goodrich Lake Fiber Project – GRANT $618,970 This last mile O'Brien/Goodrich Lake Fiber Project will serve approximately 232 unserved households in Crow Wing County.
Government Districts
U.S. Congress: CD 8
MN Senate: 06, 10
MN House: 06A, 06B, 10A