Table of goal data by year

| Year | Rank | 100/20 Mbps |
| --- | --- | --- |
| 2022 | #35 of 87 | 84.2% |
| 2021 | #41 of 87 | 80.62% |
| 2020 | #44 of 87 | 77.37% |
| 2019 | #42 of 87 | 77.08% |
| 2018 | #26 of 87 | 74.59% |
| 2017 | #10 of 87 | 94.9% |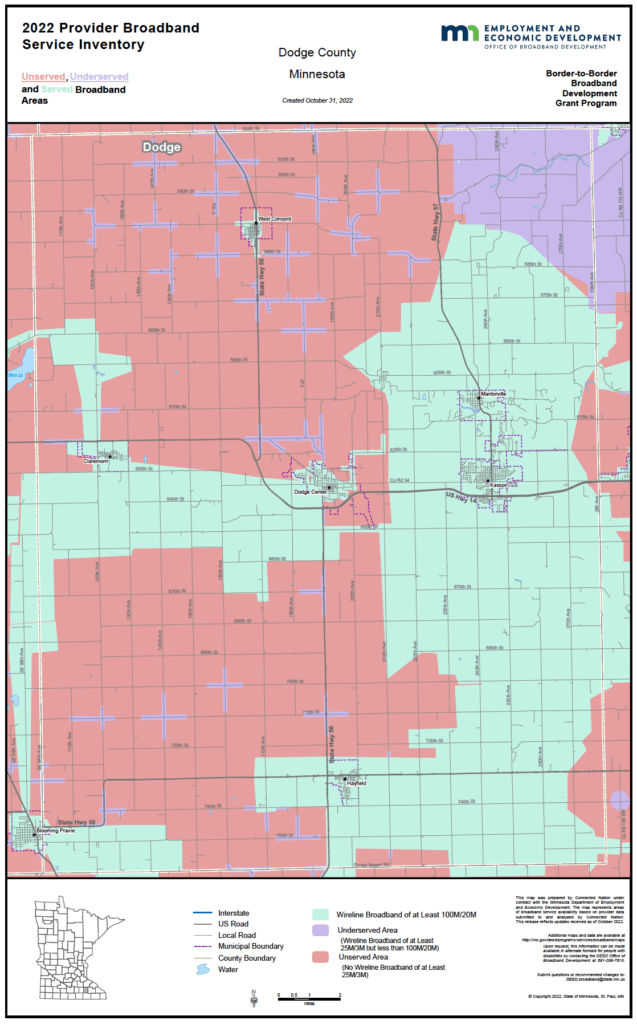 Rank: 35 (out of 87) for access to 100/20 megabits per second (Mbps)
Dodge County has held steady at about 75 percentage coverage to 100/20 Mbps broadband since 2018.
MidCo is extending fiber to parts of Dodge County. In August, City of Dodge Center was awarded $3,142,747 for broadband improvement from the MN Department of Employment and Economic Development (DEED) from the Small Cities Coronavirus Community Development Block Grant Program. Also projected allocation of American Recovery Project ARP funds in Dodge is $4,060,020; broadband is one possible use.
Dodge County will benefit from 2 MN State Grants awarded in 2021:
KMTelecom – Rock Dell Northwest Fiber Build – GRANT $385,173 This last mile project will serve approximately 125 unserved locations in the rural Ashland and Vernon townships in Dodge County and Salem Township in Olmsted County. In a funding partnership with the State of Minnesota, KMTelecom will improve unserved levels to 1 Gbps up and 1 Gbps down, exceeding the 2022 and 2026 state speed goals and enabling rural customers to have adequate online access to education, healthcare and work. This network will also allow the farming community to increase their productivity and have access to the latest farming technologies.
KMTelecom – Rock Dell Southwest Fiber Build – GRANT $404,709 This last mile project will serve approximately 96 unserved households, 70 farms and five unserved businesses in rural Vernon Township in Dodge County and Sargeant Township in Mower County.
With an influx of funding and enough interest in broadband to apply for the MN Small Cities Grant, Dodge might be setting themselves up for improvement and that is why they get a yellow code.
Digital Equity:
Dodge County ranks 9 out of 87 for digital equity. (See full Digital Equity Profile)
Dodge County ranks 21 out of 87 for computer ownership. 93.3 percent of homes have a computer of device as compared to statewide ownership of 95.5 percent.
Households with Device Access
A Device
90.8%
95.5%
statewide
Desktop or Laptop
83.9%
83.2%
statewide
Smartphone
74.5%
90.1%
statewide
Tablet
61.0%
65.8%
statewide
Has Worked with Blandin Foundation
No
Has Received MN Grant(s)
Yes
2017 – KMTelecom – Rural Kasson Fiber Build – GRANT $606,108
2016 – KMTELECOM RURAL MANTORVILLE – GRANT: $764,663
Government Districts
U.S. Congress: CD 1
MN Senate: 24
MN House: 24A