Table of goal data by year
Year
25/3 Mbps
100/20 Mbps
2020
#45 of 87
84.02%
#44 of 87
77.37%
2019
#50 of 87
82.78%
#42 of 87
77.08%
2018
#54 of 87
76.4%
#26 of 87
74.59%
2017
#6 of 87
99.37%
#10 of 87
94.9%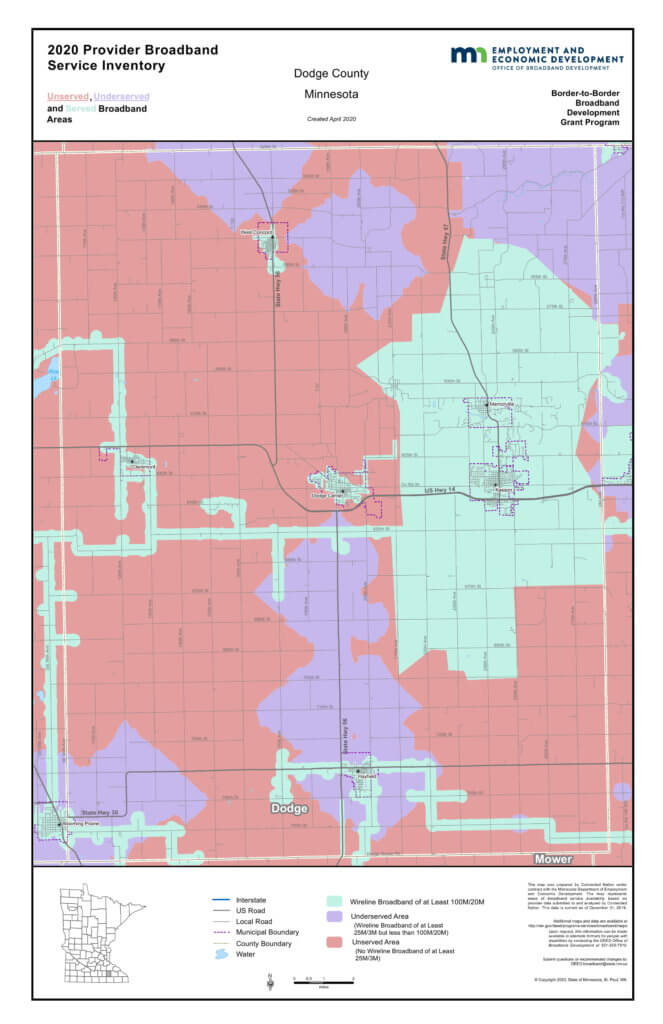 Rank: 43 (out of 87) for access to 100/20 megabits per second (Mbps)
Dodge County has held steady at about 75 percentage coverage to 100/20 Mbps broadband since 2018. Grants awarded in 2017 and 2018 likely helped them get to that level but there's much recent activity. While one of their broadband providers was acquired recently, and that might mean expansion, it's more likely that the community will need to get active and engaged to see improvements.
What we learned in the past:
Dodge County benefited from two MN broadband grants:
2017 – KMTelecom – Rural Kasson Fiber Build – GRANT $606,108
2016 – KMTELECOM RURAL MANTORVILLE – GRANT: $764,663
Update from 2020:
Part of Dodge County was served by Jaguar, which was acquired by MetroNet in July (2020). MetroNet claims they will invest $150 million to grow their Minnesota market.
Find more articles on broadband in Dodge County.
Households with Device Access
Computer
90.8%
90.3%
statewide
Desktop or Laptop
83.9%
81.1%
statewide
Smartphone
74.5%
76.5%
statewide
Tablet
61.0%
59.3%
statewide
Has Worked with Blandin Foundation
No
Has Received MN Grant(s)
Yes
Government Districts
U.S. Congress: CD 1
MN Senate: 21, 24, 25, 27
MN House: 21B, 24B, 25A, 27A, 27B