Table of goal data by year
Year
25/3 Mbps
100/20 Mbps
2020
#56 of 87
82.1%
#83 of 87
40.56%
2019
#62 of 87
78.31%
#77 of 87
39.2%
2018
#48 of 87
78.17%
#60 of 87
42.28%
2017
#40 of 87
81.77%
#44 of 87
49.13%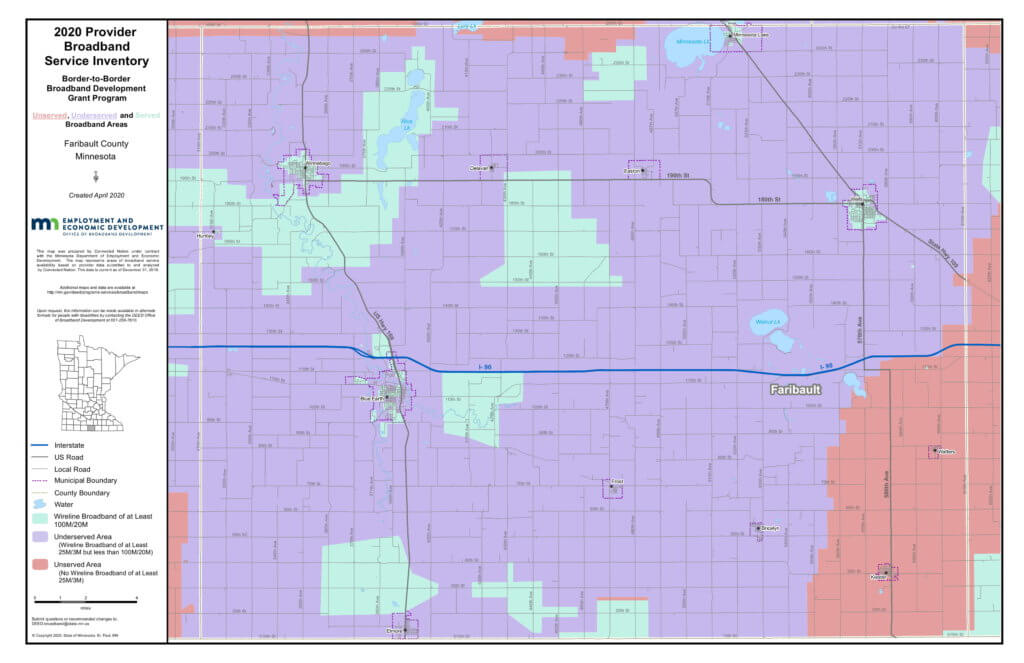 Rank: 82 (out of 87) for access to 100/20 megabits per second (Mbps)
Faribault County will benefit from a Border to Border award announced in the 2019 round, but it is not likely to get them to ubiquitous coverage. They have providers in the area that are engaged but they are still hovering at 40 percent access.
What we learned in the past:
Faribault County has benefited from MN broadband grants:
2017 – BEVCOMM (Easton Telephone Company) – Delavan SE Rural Project – GRANT $220,350
2016 – BLUE EARTH VALLEY TELEPHONE CO. (DBA BEVCOMM) RURAL WINNEBAGO – GRANT:  $152,828
2015 – BEVCOMM Blue Earth Valley Telephone – Rural Winnebago Fiber-to-the-Premises Project – Grant award: $142,690
An update I received from a provider last year…
Faribault County is mostly served by BEVCOMM and Mediacom. BEVCOMM is a rural ILEC that is not covered by CAF 2 funding, but has recently opted to accept ACAM model support, which will replace rural High Cost USF support.
BEVCOMM is a motivated local provider, making a concerted effort to serve the area's broadband needs. It has received two Border to Border broadband grants in the last two years in Faribault County, and another 4 grants in other rural areas it serves in Freeborn, Martin and LeSueur counties. The local match for these grants was entirely funded by BEVCOMM, without any local city, township or county funds.
Update from 2020:
Faribault County stands to benefit from a Border to Border grants awarded in the last round:
BEVCOMM (Blue Earth Valley Telephone Company & Easton Telephone Company) – Rural Faribault County Project – GRANT: $579,781
This last mile project will upgrade approximately 112 unserved and six underserved households, 50 unserved farms, and eight unserved businesses in areas of Faribault and Martin Counties. In a funding partnership with the State of Minnesota and Faribault County Economic Development Authority, BEVCOMM will improve broadband service levels up to 1 Gbps download and 1 Gbps upload, exceeding the 2022 and 2026 state speed goals. Sustainable broadband adoption will transform these unserved areas into highly-productive rural communities.
Total eligible project cost is $1,449,451
Local match is $869,670
BEVCOMM received CARES Act funding from the County for broadband expansion.
We also saw increased broadband use in the form of Neonatal telemedicine.
Find more articles on broadband in Faribault County.
Households with Device Access
Computer
87.6%
90.3%
statewide
Desktop or Laptop
79.4%
81.1%
statewide
Smartphone
71.9%
76.5%
statewide
Tablet
55.3%
59.3%
statewide
Has Worked with Blandin Foundation
Yes
Has Received MN Grant(s)
No
Government Districts
U.S. Congress: CD 1
MN Senate: 23, 27
MN House: 23A, 27A