Table of goal data by year
Year
25/3 Mbps
100/20 Mbps
2019
#62 of 87
78.31%
#77 of 87
39.2%
2018
#48 of 87
78.17%
#60 of 87
42.28%
2017
#40 of 87
81.77%
#44 of 87
49.13%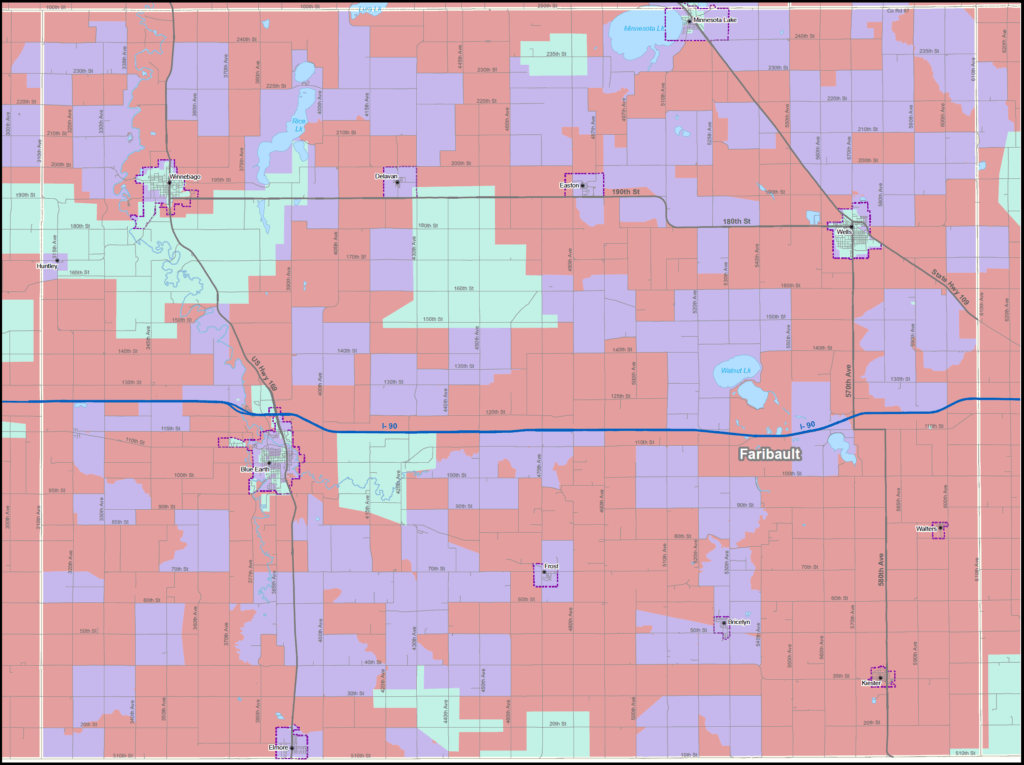 Rank: 77 (out of 87) for broadband speeds of 100/20 megabits per second (Mbps)
Faribault is not on track to meet either the 2022 or 2026 speeds goals. It looks like there was a dip in access to 100/20 Mbps after 2017; that is likely because in 2017 100/20 Mbps wireless access was included with wired. Now the maps track wired only. Regardless, they are not poised to meet speed goals.
Faribault was one of the few counties in Minnesota where the broadband was deemed non-competitive for business by the FCC. In 2018, Faribault County hosted a national broadband listening session.
The county has benefited from Minnesota broadband grants:
2017 – BEVCOMM (Easton Telephone Company) – Delavan SE Rural Project – GRANT $220,350
Serving 25 unserved households and 30 unserved businesses in the Delavan SE Rural Project located in Faribault County with access exceeding the 2022 and 2026 state speed goals.
2016 – BLUE EARTH VALLEY TELEPHONE CO. (DBA BEVCOMM) RURAL WINNEBAGO – GRANT:  $152,828
Serving 18 unserved households (including farms), 8 unserved businesses, 2 underserved households, and 3 underserved businesses in the rural Winnebago area in Faribault County in Southern Minnesota.
2015 – BEVCOMM Blue Earth Valley Telephone – Rural Winnebago Fiber-to-the-Premises Project
Grant award: $142,690
Providing state speed goal broadband service and above to 30 unserved households and farms in rural Winnebago, in Faribault County in south-central Minnesota.
Last year, a local provider offered this update:
Faribault County is mostly served by BEVCOMM and Mediacom. BEVCOMM is a rural ILEC that is not covered by CAF 2 funding, but has recently opted to accept ACAM model support, which will replace rural High Cost USF support.

BEVCOMM is a motivated local provider, making a concerted effort to serve the area's broadband needs. It has received two Border to Border broadband grants in the last two years in Faribault County, and another 4 grants in other rural areas it serves in Freeborn, Martin and LeSueur counties. The local match for these grants was entirely funded by BEVCOMM, without any local city, township or county funds.
The local paper has been reporting on broadband opportunities. It will be interesting to see if they apply for grants this year. That would clearly help them and they need a concerted effort to improve the odds at meeting the state goals.
Faribault County could benefit from future grants. In 2019, BEVCOMM applied to upgrade service in Faribault. (That doesn't mean they will get the grant; they have only applied.)
Find more articles on broadband in Faribault County.
Has Worked with Blandin Foundation
Yes
Has Received MN Grant(s)
No
Government Districts
U.S. Congress: CD 1
MN Senate: 23, 27
MN House: 23A, 27A