Table of goal data by year

| Year | Rank | 100/20 Mbps |
| --- | --- | --- |
| 2022 | #62 of 87 | 72.68% |
| 2021 | #84 of 87 | 43.95% |
| 2020 | #83 of 87 | 40.56% |
| 2019 | #77 of 87 | 39.2% |
| 2018 | #60 of 87 | 42.28% |
| 2017 | #44 of 87 | 49.13% |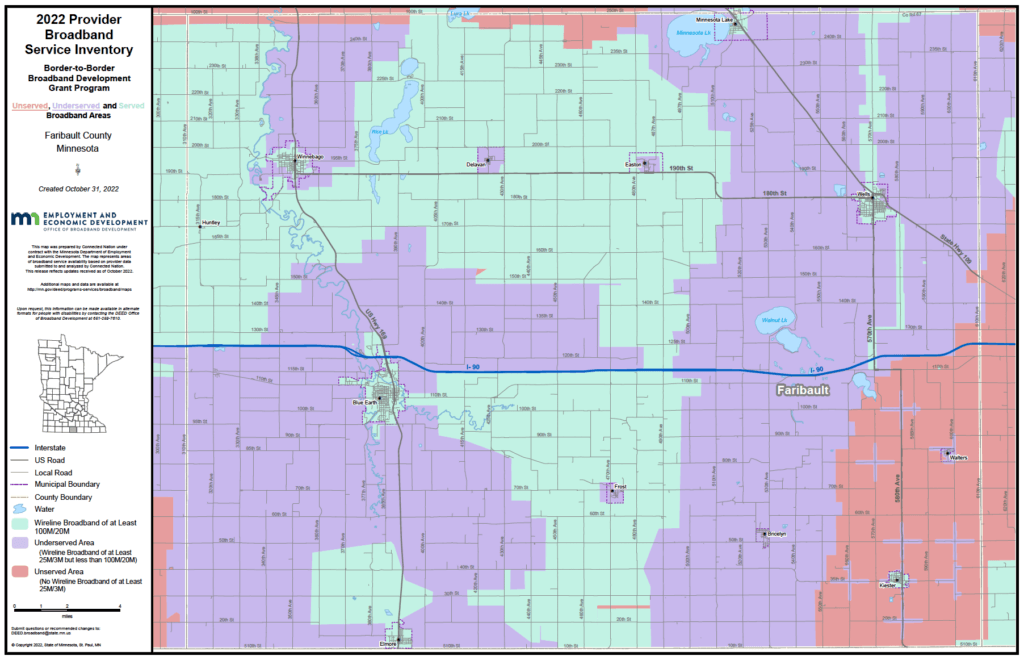 Rank: 62 (out of 87) for access to 100/20 megabits per second (Mbps)
Faribault County ranks 62 for broadband access and 57 for digital equity out of 87 counties. Faribault got traction in 2022 with an increase from 44 to 73 percent coverage to broadband of 100 Mbps down and 20 up. They have 1889 households without access to broadband at that speed. Estimates indicate that it will cost $17.6 million to get to ubiquitous broadband in the county.
Faribault County will benefit from a border to border grant that was announced in December 2022:
Blue Earth Valley Telephone Co., dba Bevcomm and Cannon Valley Telecom, Inc.,dba Bevcomm, $1,444,030.00
The county has been focused on improving better broadband as seen in their discussion of using CARES money on broadband. They have seen a huge change in the last year and the most recent grant is likely to continue to move the needle. In fact, they saw the greatest increase in county ranking this year! Up 22 places! It's because of this renewed energy that Faribault's code has changed from red to yellow.
Digital Equity:
Faribault County ranks 57 out of 87 for digital equity. (See full Digital Equity Profile)
Faribault County ranks 72 out of 87 for computer ownership. 88.1 percent of homes have a computer of device as compared to statewide ownership of 95.5 percent.
Households with Device Access
A Device
82.1%
95.5%
statewide
Desktop or Laptop
71.0%
83.2%
statewide
Smartphone
64.0%
90.1%
statewide
Tablet
43.5%
65.8%
statewide
Has Worked with Blandin Foundation
Yes
Has Received MN Grant(s)
Yes
2017 – BEVCOMM (Easton Telephone Company) – Delavan SE Rural Project – GRANT $220,350
2016 – BLUE EARTH VALLEY TELEPHONE CO. (DBA BEVCOMM) RURAL WINNEBAGO – GRANT:  $152,828
2015 – BEVCOMM Blue Earth Valley Telephone – Rural Winnebago Fiber-to-the-Premises Project – Grant award: $142,690
BEVCOMM (Blue Earth Valley Telephone Company & Easton Telephone Company) – Rural Faribault County Project – GRANT: $579,781
BEVCOMM received CARES Act funding from the County for broadband expansion.
Government Districts
U.S. Congress: CD 1
MN Senate: 22, 23
MN House: 22A, 23A