Table of goal data by year

| Year | Rank | 100/20 Mbps |
| --- | --- | --- |
| 2022 | #75 of 87 | 64.95% |
| 2021 | #74 of 87 | 56.36% |
| 2020 | #76 of 87 | 53.47% |
| 2019 | #70 of 87 | 50.3% |
| 2018 | #58 of 87 | 44.19% |
| 2017 | #52 of 87 | 44.11% |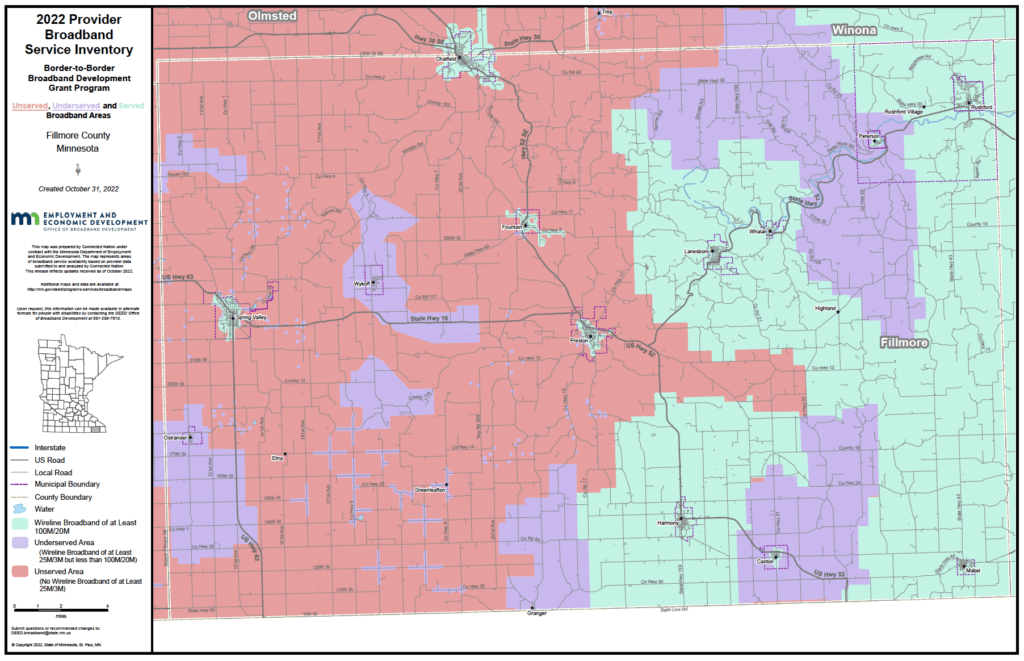 Rank: 75 (out of 87) for access to 100/20 megabits per second (Mbps)
Fillmore County ranks 75 for broadband access and 59 for digital equity out of 87 counties. Fillmore had a nice increase of broadband in 2022 from 56 percent in 2021 to 65 percent coverage to broadband of 100 Mbps down and 20 up in 2022. They have 3359 households without access to broadband at that speed. Estimates indicate that it will cost $31.2 million to get to ubiquitous broadband in the county.
Fillmore County will benefit from a border to border grant announced in December 2022:
Harmony Telephone Company, $1,129,740.00
They benefited in 2022 with expansion from Mediacom (in Wykoff) and Harmony (in Harmony).
It's great to see Fillmore quicken their pace but they still have a long way to go. One strange and negative report might help them build a case of need at a time when telling a compelling story might help garner federal funding. In its 2022 report , March of Dimes calls Fillmore County a maternity care desert, defined as having zero hospitals or birth centers offering obstetric (OB) care and zero OB/GYN physicians or certified nurse midwives based in the county. Telehealth is being offered as a solution to the maternal care desert and story pushes them into a generous yellow code moving forward.
Digital Equity:
Fillmore County ranks 59 out of 87 for digital equity. (See full Digital Equity Profile)
Fillmore County ranks 68 out of 87 for computer ownership. 88.4 percent of homes have a computer of device as compared to statewide ownership of 95.5 percent.
Households with Device Access
A Device
83.6%
95.5%
statewide
Desktop or Laptop
74.3%
83.2%
statewide
Smartphone
65.9%
90.1%
statewide
Tablet
51.1%
65.8%
statewide
Has Worked with Blandin Foundation
No
Has Received MN Grant(s)
Yes
2017 – Rushford Village/Rural Rushford Fiber Build – Grant $2,011,628
2017 – Mediacom Minnesota LLC – Fountain 2018 Broadband Build – GRANT $202,125
2016 – ACENTEK RURAL LANESBORO FIBER BUILD – GRANT: $1,777,936
2020 – Harmony Telephone received a USDA ReConnect award to better serve Fillmore County. They received a $2.7 million ReConnect Program loan and a $2.7 million ReConnect Program grant.
AcenTek – Rural Peterson Exchange FTTH – GRANT $1,492,096 This last mile project will serve 214 unserved households, 18 unserved businesses, 88 unserved farms, and two unserved community anchor institutions as well as 47 underserved households and five underserved businesses in areas of Fillmore and Winona counties. In a funding partnership with the State of Minnesota and Fillmore County EDA, AcenTek will improve these 374 locations' broadband levels up to 1 Gbps download and 100 Mbps upload.
MiBroadband, LLC – Rural Preston FTTP – GRANT $1,173,330 The Rural Preston fiber-to-the-premises (FTTP) project will serve 231 unserved and 26 underserved locations in the rural portions of southern Fillmore County.
Government Districts
U.S. Congress: CD 1
MN Senate: 26
MN House: 26B