Table of goal data by year
Year
25/3 Mbps
100/20 Mbps
2020
#81 of 87
61.52%
#76 of 87
53.47%
2019
#85 of 87
57.89%
#70 of 87
50.3%
2018
#86 of 87
45.02%
#58 of 87
44.19%
2017
#72 of 87
59%
#52 of 87
44.11%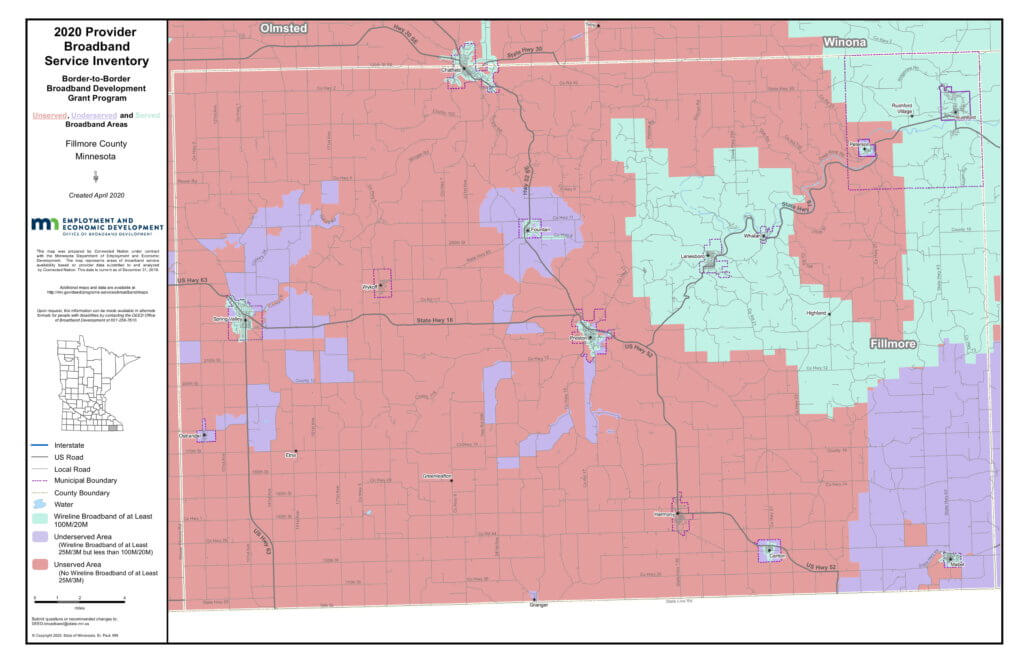 Rank: 75 (out of 87) for access to 100/20 megabits per second (Mbps)
Fillmore County has been hovering around 50 percent access to 100/20 Mbps broadband since we began tracking progress. Earlier this year they received a $5.4 million award from the USDA, which should be able to put them on a better track to ubiquitous access to 100/20 Mbps. Unfortunately, COVID has stalled that effort but they are still moving forward. Luckily for the community, a fixed wireless provider (MiBroadband) had also stepped up to provide service that can be deployed more quickly.
What we learned in the past:
Fillmore has benefited from three MN broadband grants:
2017 – Rushford Village/Rural Rushford Fiber Build – Grant $2,011,628
2017 – Mediacom Minnesota LLC – Fountain 2018 Broadband Build – GRANT $202,125
2016 – ACENTEK RURAL LANESBORO FIBER BUILD – GRANT: $1,777,936
Update from 2020:
Late last year (Nov 2019), MiBroadband launched fixed wireless service to Fountain, Peterson and Spring Valley in Fillmore County. In January (2020), Harmony Telephone received a USDA ReConnect award to better serve Fillmore County. They received a $2.7 million ReConnect Program loan and a $2.7 million ReConnect Program grant to construct a fiber-to-the-premises (FTTP) network to connect 577 households, a health care center and a critical community facility spread over 143 square miles in several counties bordering southern Minnesota and northern Iowa. Unfortunately, COVID has stalled some of those plans, which means residents were able to take advantage of MiBroadband, while Harmony continues to work on fiber.
Find more articles on broadband in Fillmore County.
Households with Device Access
Computer
83.6%
90.3%
statewide
Desktop or Laptop
74.3%
81.1%
statewide
Smartphone
65.9%
76.5%
statewide
Tablet
51.1%
59.3%
statewide
Has Worked with Blandin Foundation
No
Has Received MN Grant(s)
Yes
Government Districts
U.S. Congress: CD 1
MN Senate: 28
MN House: 28B