Table of goal data by year

| Year | Rank | 100/20 Mbps |
| --- | --- | --- |
| 2021 | #74 of 87 | 56.36% |
| 2020 | #76 of 87 | 53.47% |
| 2019 | #70 of 87 | 50.3% |
| 2018 | #58 of 87 | 44.19% |
| 2017 | #52 of 87 | 44.11% |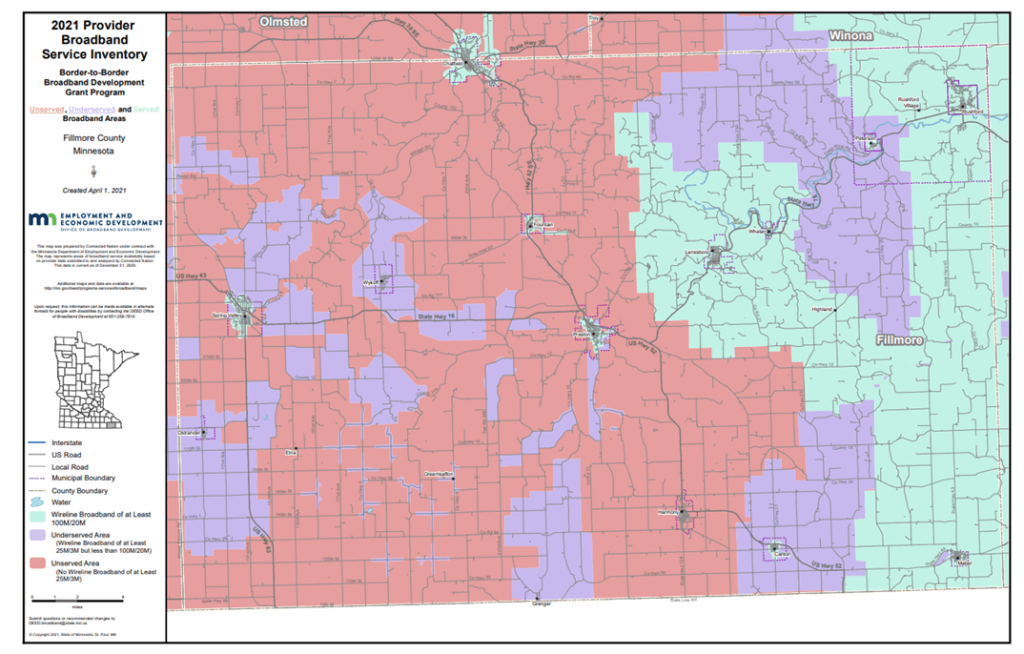 Rank: 75 (out of 87) for access to 100/20 megabits per second (Mbps)
Fillmore County has been hovering around 50 percent access to 100/20 Mbps broadband since we began tracking progress.
Last year they received a $5.4 million award from the USDA, which should be able to put them on a better track to ubiquitous access to 100/20 Mbps. COVID stalled that effort but a fixed wireless provider (MiBroadband) had also stepped up to provide service that can be deployed more quickly. One strange issue is that now that they are well served at the slower speed of 25/3, which means many residents may be complacent, but it does not build for the future or attract new people of business. Hopefully the ReConnect is back on track.
AT&T has built a FirstNet tower in the area. Projected allocation of American Recovery Project ARP funds in Fillmore is $4,085,815; broadband is one possible use.
Fillmore County will benefit from a few MN State Grants awarded in 2021:
AcenTek – Rural Peterson Exchange FTTH – GRANT $1,492,096
This last mile project will serve 214 unserved households, 18 unserved businesses, 88 unserved farms, and two unserved community anchor institutions as well as 47 underserved households and five underserved businesses in areas of Fillmore and Winona counties. In a funding partnership with the State of Minnesota and Fillmore County EDA, AcenTek will improve these 374 locations' broadband levels up to 1 Gbps download and 100 Mbps upload.
MiBroadband, LLC – Rural Preston FTTP – GRANT $1,173,330
The Rural Preston fiber-to-the-premises (FTTP) project will serve 231 unserved and 26 underserved locations in the rural portions of southern Fillmore County.
Hopefully the ReConnect will get on track and the influx of money will spur improved broadband but at this point the community needs to get engaged; that is why they maintain a code red.
Find more articles on broadband in Fillmore County. (http://tinyurl.com/hxe6jal)
Households with Device Access
Computer
85.4%
93.6%
statewide
Desktop or Laptop
74.6%
80.6%
statewide
Smartphone
5.4%
7.7%
statewide
Tablet
53.4%
63.8%
statewide
Has Worked with Blandin Foundation
No
Has Received MN Grant(s)
Yes
2017 – Rushford Village/Rural Rushford Fiber Build – Grant $2,011,628
2017 – Mediacom Minnesota LLC – Fountain 2018 Broadband Build – GRANT $202,125
2016 – ACENTEK RURAL LANESBORO FIBER BUILD – GRANT: $1,777,936
(2020), Harmony Telephone received a USDA ReConnect award to better serve Fillmore County. They received a $2.7 million ReConnect Program loan and a $2.7 million ReConnect Program grant.
Government Districts
U.S. Congress: CD 1
MN Senate: 28
MN House: 28B