Table of goal data by year
Year
25/3 Mbps
100/20 Mbps
2020
#34 of 87
87.94%
#27 of 87
84.51%
2019
#39 of 87
87.92%
#25 of 87
83.88%
2018
#39 of 87
84.31%
#71 of 87
34.18%
2017
#5 of 87
99.44%
#11 of 87
94.59%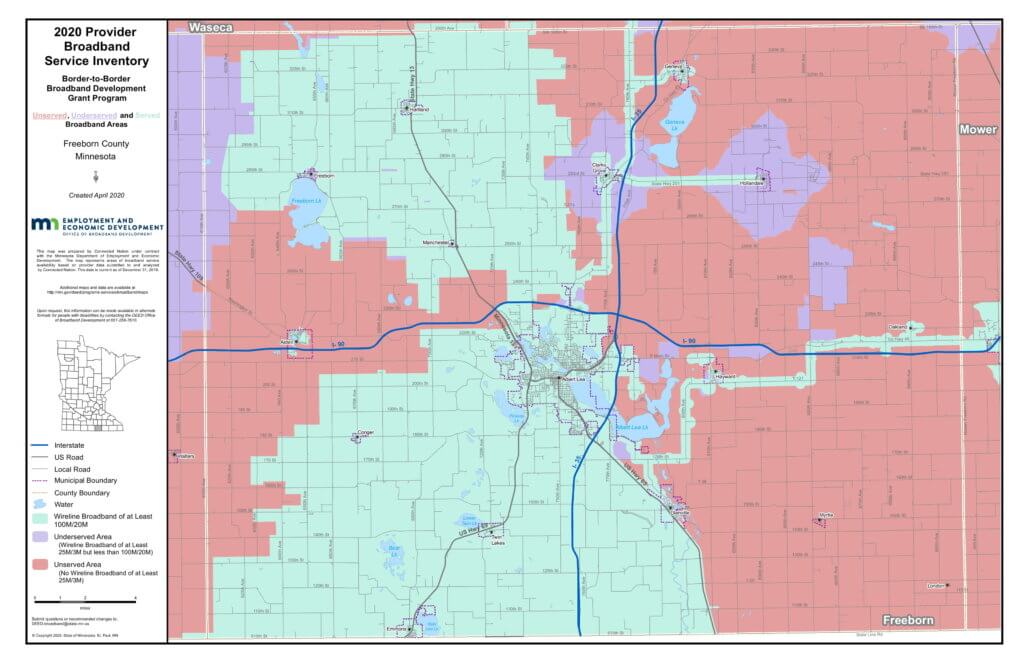 Rank: 27 (out of 87) for access to 100/20 megabits per second (Mbps)
Freeborn County's broadband upgrade and expansion seems to have stalled. There is a recent change in a local provider; another provider getting some ongoing financial support but otherwise little seems to be brewing on the horizon. To meet the State speed goals, the community may need to become more active.
What we learned in the past:
Freeborn has benefited from three MN broadband grants:
2017 – BEVCOMM (Cannon Valley Telephone) – Freeborn Southwest Rural Final – GRANT $122,460
2016 – CANNON VALLEY TELECOM, INC. (DBA BEVCOMM) RURAL FREEBORN – GRANT:  $150,700
2015 – BEVCOMM Cannon Valley Telecom – Rural Freeborn Fiber-to-the-Premises Project – Grant award: $149,625
Freeborn is also getting almost $2 million in FCC funding but that is over the next 10 years.
Update from 2020:
Part of Freeborn County was served by Jaguar, which was acquired by MetroNet in July (2020). MetroNet claims they will invest $150 million to grow their Minnesota market.
The DHS/MNIT owned-and-operated telepresence network provides secure, encrypted, HIPAA compliant connections to over 6,000 users South Central Minnesota. Spurred by COVID, Freeborn is one of several counties that have agree to extend use of the network to serve more people via telepresense, which indicates an interest in expanding use of broadband as well as deployment.
Find more articles on broadband in Freeborn County.
Households with Device Access
Computer
85.1%
90.3%
statewide
Desktop or Laptop
71.2%
81.1%
statewide
Smartphone
66.2%
76.5%
statewide
Tablet
52.6%
59.3%
statewide
Has Worked with Blandin Foundation
No
Has Received MN Grant(s)
No
Government Districts
U.S. Congress: CD 1
MN Senate: 27
MN House: 27A, 27B