Table of goal data by year
Year
25/3 Mbps
100/20 Mbps
2020
#47 of 87
83.9%
#47 of 87
75.15%
2019
#59 of 87
79.44%
#36 of 87
79.44%
2018
#52 of 87
77.1%
#47 of 87
55.99%
2017
#34 of 87
87.46%
#34 of 87
60.33%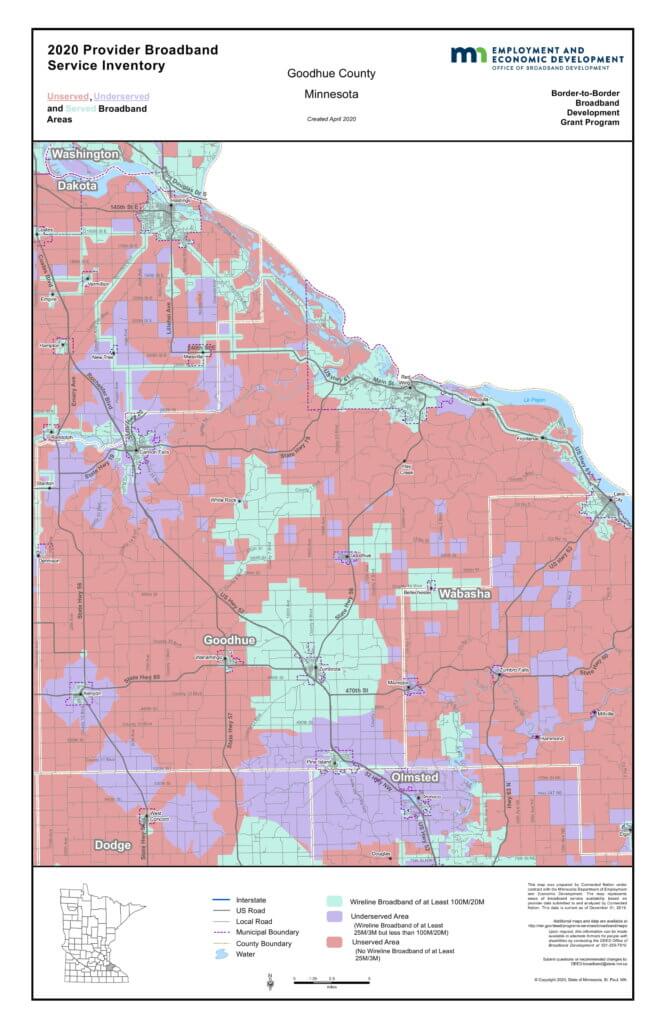 Rank: 27 (out of 87) for access to 100/20 megabits per second (Mbps)
With Red Wing Ignite, an organization that strives to help the community make the best use of broadband, located in Goodhue, they have some of the best broadband availability and adoption efforts around. Cannon Falls is heading in that direction too, with their participation in the Blandin Broadband Communities (BBC). But there are still areas without access to 100/20 Mbps.
They are in line to benefit from a Border to Border award made in the last round of grants, that will help.
What we learned in the past:
Goodhue has benefited from several MN broadband grants:
2017 – Midco (Midcontinent Communications) – Wanamingo – GRANT $768,600
2017 – New Ulm Telecom, Inc. – White Rock Rural East FTTP – GRANT $411,704
2016 – NEW ULM TELECOM, INC. GOODHUE-BELLECHESTER – GRANT: $ 332,328
2015 – New Ulm Telecom Goodhue Fiber Project – Grant award: $115,934
Last year, Goodhue was part of Blandin Foundation's report on the community return on public investment in broadband. Using formulas devised to measure impact of broadband access, Goodhue has the potential to realize:
Using formulas devised to measure impact of broadband access, Goodhue has the potential to realize:
A combined household economic benefit of broadband of $32,774,600
A combined increase in residential real estate value of $104,825,572 annually
Update from 2020:
Red Wing has always been a broadband hotbed in Goodhue County but Cannon Falls joined in the broadband adoption world by becoming a Blanidn Broadband Community.
Goodhue stands to benefit from a project awarded a Border to Border grant in the last round:
BEVCOMM (Pine Island Telephone Company) – NE Pine Island Fiber Project Phase I – GRANT $222,222
This last mile project will upgrade approximately 54 unserved households, eight unserved farms, 14 unserved businesses, and one underserved household in areas of Pine Island and New Haven Townships in Goodhue County, and a small portion in Olmsted County. In a funding partnership with the State of Minnesota and Goodhue County Economic Development Authority, BEVCOMM will improve broadband service levels up to 1 Gbps download and 1 Gbps upload, exceeding the 2022 and 2026 state speed goals. The use and development of broadband will provide various home-based business options, stimulate economic growth, innovation, and investment. Education, health care, agriculture, energy efficiency, and public safety will improve with high-speed Internet access.
Total eligible project cost is $634,920
Local match is $412,698
Find more articles on broadband in Goodhue County.
Households with Device Access
Computer
88.9%
90.3%
statewide
Desktop or Laptop
77.4%
81.1%
statewide
Smartphone
73.1%
76.5%
statewide
Tablet
58.8%
59.3%
statewide
Has Received MN Grant(s)
Yes
Government Districts
U.S. Congress: CD 2
MN Senate: 21, 58
MN House: 21A, 21B, 58B
Overlapping MN Reservations