Table of goal data by year

| Year | Rank | 100/20 Mbps |
| --- | --- | --- |
| 2022 | #47 of 87 | 78.56% |
| 2021 | #48 of 87 | 76.09% |
| 2020 | #47 of 87 | 75.15% |
| 2019 | #36 of 87 | 79.44% |
| 2018 | #47 of 87 | 55.99% |
| 2017 | #34 of 87 | 60.33% |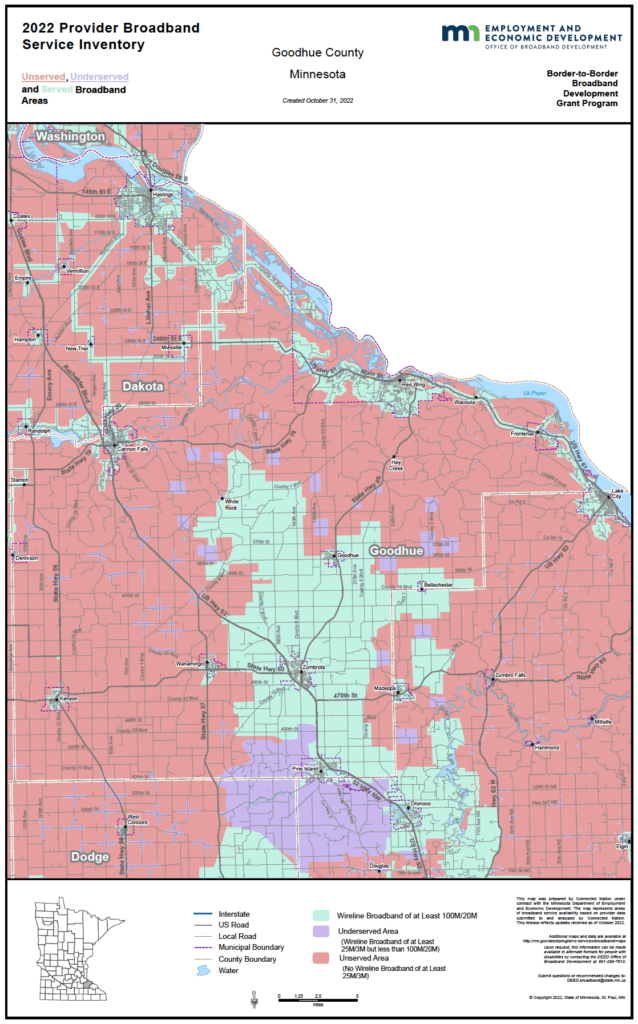 Rank: 47 (out of 87) for access to 100/20 megabits per second (Mbps)
Goodhue County ranks 47 for broadband access and 11 for digital equity out of 87 counties. They have seen incremental progress over the last three years leading to 78.56 percent coverage to broadband of 100 Mbps down and 20 up in 2022. They have 4473 households without access to broadband at that speed. Estimates indicate that it will cost $41.6 million to get to ubiquitous broadband in the county.
Goodhue will benefit from federal funding announced in March 2022:
Goodhue County should also benefit from a $4 million grant Red Wing Ignite received to encourage broadband-based entrepreneurship and innovation. It won't necessarily build broadband but it should increase demand.
Rural Goodhue County been lagging behind Red Wing, a hotspot of gigabit access for too long, which is how they find themselves in code red. Progress is being made but it's still slow going, especially for a county with such a high ranking (11) for digital equity.
Digital Equity:
Goodhue County ranks 11 out of 87 for digital equity. (See full Digital Equity Profile)
Goodhue County ranks 38 out of 87 for computer ownership. 91.4 percent of homes have a computer of device as compared to statewide ownership of 95.5 percent.
Households with Device Access
A Device
88.9%
95.5%
statewide
Desktop or Laptop
77.4%
83.2%
statewide
Smartphone
73.1%
90.1%
statewide
Tablet
58.8%
65.8%
statewide
Has Received MN Grant(s)
Yes
2017 – Midco (Midcontinent Communications) – Wanamingo – GRANT $768,600
2017 – New Ulm Telecom, Inc. – White Rock Rural East FTTP – GRANT $411,704
2016 – NEW ULM TELECOM, INC. GOODHUE-BELLECHESTER – GRANT: $ 332,328
2015 – New Ulm Telecom Goodhue Fiber Project – Grant award: $115,934
BEVCOMM (Pine Island Telephone Company) – NE Pine Island Fiber Project Phase I – GRANT $222,222
Nuvera Communications, Inc. – Goodhue Welch FTTP – GRANT $340,790 This last mile project south of Welch will serve 100 unserved and 15 underserved locations in Goodhue County.
Nuvera Communications, Inc. – Goodhue West FTTP – GRANT $532,232 – This last mile project will serve 148 unserved and two underserved locations in Goodhue, Zumbrota, Minneola, and Belle Creek townships in Goodhue County and Chester Township in Wabasha County.
Government Districts
U.S. Congress: CD 1
MN Senate: 19, 20, 58
MN House: 16A, 20A, 20B, 58B
Overlapping MN Reservations