Table of goal data by year
Year
25/3 Mbps
100/20 Mbps
2020
#9 of 87
99.4%
#6 of 87
98.97%
2019
#8 of 87
99.39%
#4 of 87
98.94%
2018
#8 of 87
99.18%
#3 of 87
98.97%
2017
#10 of 87
99.16%
#4 of 87
98.57%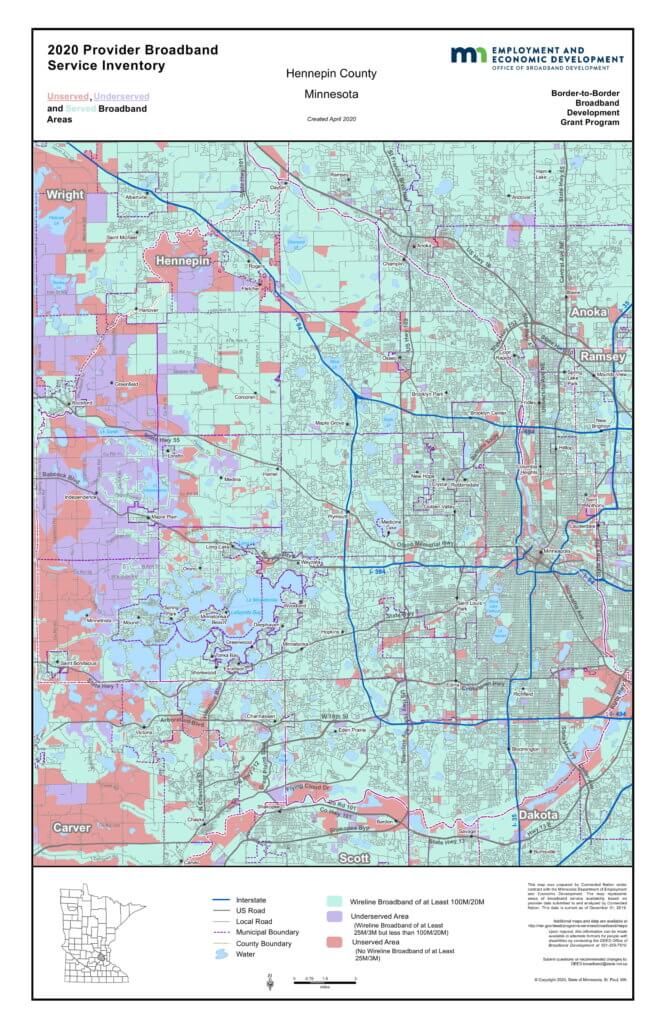 Rank: 6 (out of 87) for access to 100/20 megabits per second (Mbps)
Hennepin County is poised to meet the 2026 speed goals because they have the population density that makes an easy business case for providers to want to serve the area. Although it's worth noting that, while their coverage hasn't changed in the last few years, their ranking has dropped, which means rural counties are surpassing them.
In Hennepin County, affordability and access to a device seems to be a bigger issue than availability.
What we learned in the past:
Hennepin County has the distinct advantage of high population density, which makes for an easier business case to serve than some of the more rural counties.
Hennepin County has benefited from one MN state grant…
2017 – Mediacom Minnesota LLC – Medina 2018 Broadband Build – GRANT $62,219
Update from 2020:
Hennepin County is well served with broadband but affordability and access to devices have become greater issue, or at least received more attention with COVID restrictions. To help meet the needs of low income households, ConnectMN provided grants to help get computers and connecitivity into the hands of students who need it; several recipients were in Hennepin County.
Find more articles on broadband in Hennepin County.
Households with Device Access
Computer
92.6%
90.3%
statewide
Desktop or Laptop
85.8%
81.1%
statewide
Smartphone
80.8%
76.5%
statewide
Tablet
62.3%
59.3%
statewide
Has Worked with Blandin Foundation
No
Has Received MN Grant(s)
Yes
Government Districts
U.S. Congress: CD 4, CD 5, CD 6
MN Senate: 29, 30, 33, 34, 36, 40, 41, 44, 45, 46, 48, 49, 50, 59, 60, 61, 62, 63
MN House: 29A, 30B, 33A, 33B, 34A, 34B, 36A, 36B, 40A, 40B, 41B, 44A, 44B, 45A, 45B, 46A, 46B, 48A, 48B, 49A, 49B, 50A, 50B, 59A, 60A, 60B, 61A, 61B, 62A, 62B, 63A, 63B, 59B