Table of goal data by year
Year
25/3 Mbps
100/20 Mbps
2019
#8 of 87
99.39%
#4 of 87
98.94%
2018
#8 of 87
99.18%
#3 of 87
98.97%
2017
#10 of 87
99.16%
#4 of 87
98.57%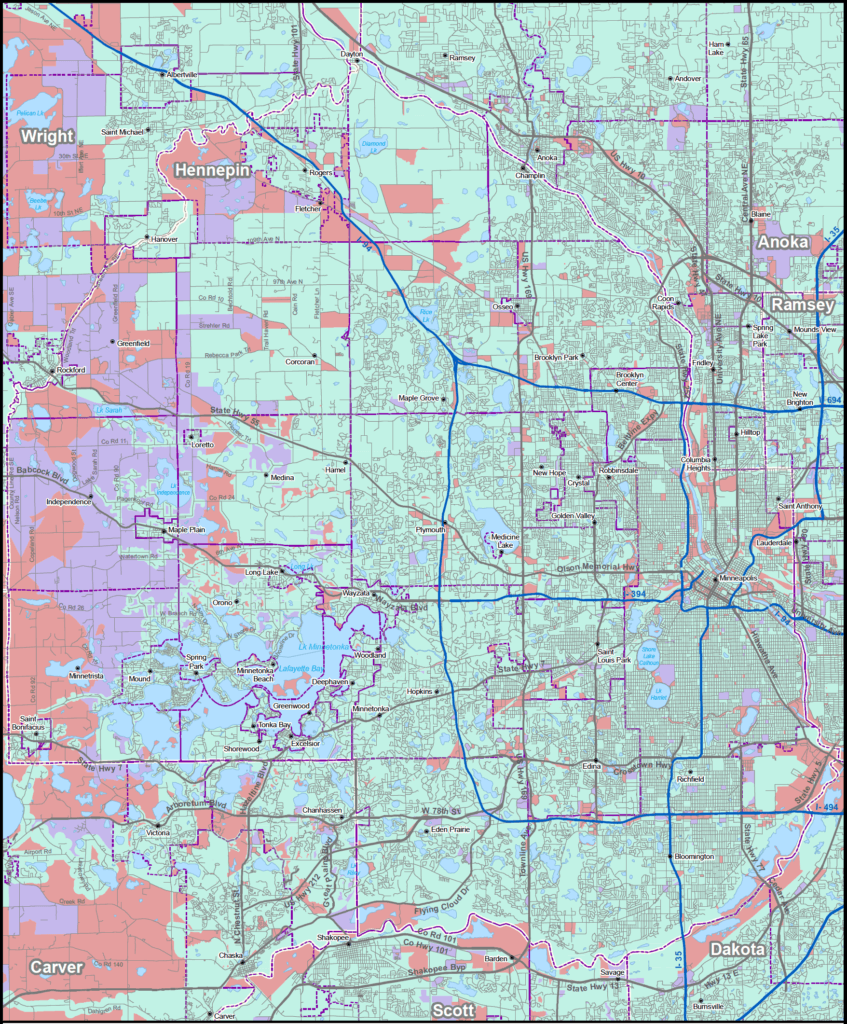 Rank: 4 (out of 87) for broadband access to 100/20 megabits per second (Mbps)
Hennepin County is poised to make the 2022 and 2026 state broadband speed goals.
Hennepin County has the distinct advantage of high population density, which makes for an easier business case to serve than some of the more rural counties. In 2018, Hennepin County was home to the Superbowl and subsequently received a tech facelift for the US Bank Stadium and increased 5G access for much of the Twin Cities.
Hennepin County has benefited from one state grant:
2017 – Mediacom Minnesota LLC – Medina 2018 Broadband Build – GRANT $62,219
Serving 22 underserved households and 12 underserved businesses with service exceeding the 2022 state speed goal of 25 Mbps down and 3 Mbps up.
While Hennepin County does enjoy great access, like all Minnesota counties, they do struggle with affordability for all users. Some providers approach that with subsidized access and some simply charge lower prices.
Hennepin County could benefit from future grants. In 2019, Mediacom applied to upgrade service in Hennepin. (That doesn't mean they will get the grant; they have only applied.)
Find more articles on broadband in Hennepin County.
Has Worked with Blandin Foundation
No
Has Received MN Grant(s)
Yes
Government Districts
U.S. Congress: CD 4, CD 5, CD 6
MN Senate: 29, 30, 33, 34, 36, 40, 41, 44, 45, 46, 48, 49, 50, 59, 60, 61, 62, 63
MN House: 29A, 30B, 33A, 33B, 34A, 34B, 36A, 36B, 40A, 40B, 41B, 44A, 44B, 45A, 45B, 46A, 46B, 48A, 48B, 49A, 49B, 50A, 50B, 59A, 60A, 60B, 61A, 61B, 62A, 62B, 63A, 63B, 59B