Table of goal data by year
Year
25/3 Mbps
100/20 Mbps
2020
#67 of 87
77.1%
#58 of 87
69.66%
2019
#71 of 87
72.94%
#57 of 87
67.81%
2018
#65 of 87
71.29%
#37 of 87
66.63%
2017
#54 of 87
72.23%
#30 of 87
65.08%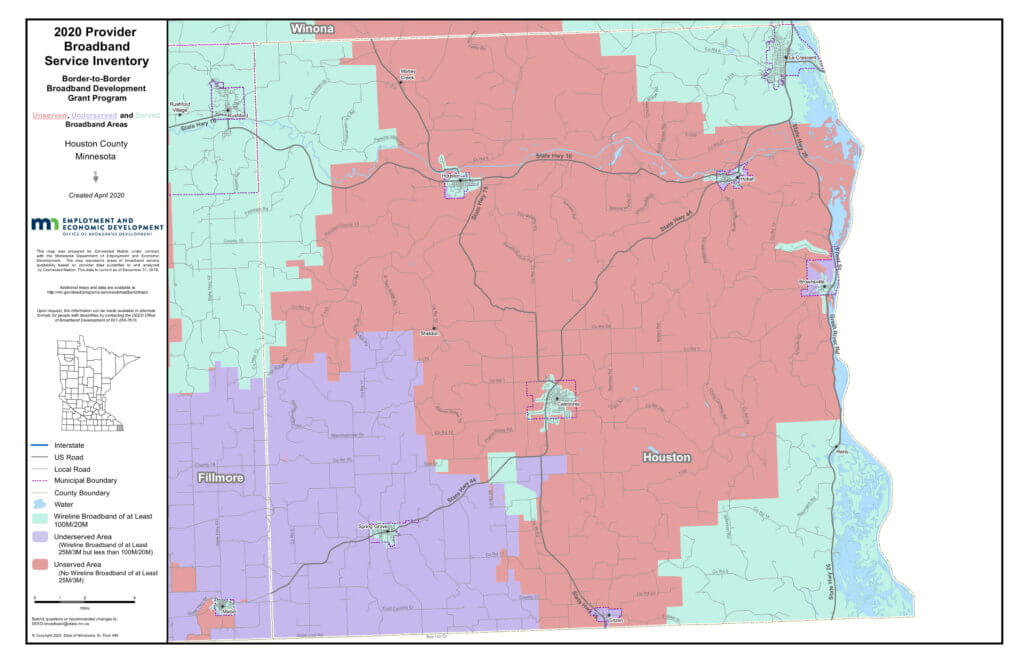 Rank: 57 (out of 87) for access to 100/20 megabits per second (Mbps)
Houston County broadband coverage has not changed much since we started tracking. They have been stalled at 65-70 percent access for four years. However, they will benefit from a Border to Border grant awarded to AcenTek in the last round of grants.
What we learned in the past:
Houston County has shown an interest in better broadband. In 2017, a project that sought state funding, but they didn't get it.
Update from 2020:
Houston County will benefit from a Border to Border grant awarded in 2019.
2019: AcenTek – Rural Houston Exchange FTTH – GRANT $2,895,318
This last mile project will upgrade approximately 485 unserved and 424 underserved locations in areas of Houston and Winona Counties. In a funding partnership with the State of Minnesota and Houston County, AcenTek will improve broadband service levels up to 1 Gbps download and 1 Gbps upload, exceeding the 2022 and 2026 state speed goals. These investments will bring the benefits of high speed broadband to the many farms in the project area, enable employees in healthcare to work remotely, and allow students to be more successful.
Total eligible project cost is $9,651,059
Local match is $6,755,741
Find more articles on broadband in Houston County.
Households with Device Access
Computer
86.4%
90.3%
statewide
Desktop or Laptop
78.2%
81.1%
statewide
Smartphone
65.5%
76.5%
statewide
Tablet
51.7%
59.3%
statewide
Has Worked with Blandin Foundation
No
Has Received MN Grant(s)
No
Government Districts
U.S. Congress: CD 1
MN Senate: 28
MN House: 28B