Table of goal data by year

| Year | Rank | 100/20 Mbps |
| --- | --- | --- |
| 2022 | #38 of 87 | 82.98% |
| 2021 | #51 of 87 | 75.26% |
| 2020 | #58 of 87 | 69.66% |
| 2019 | #57 of 87 | 67.81% |
| 2018 | #37 of 87 | 66.63% |
| 2017 | #30 of 87 | 65.08% |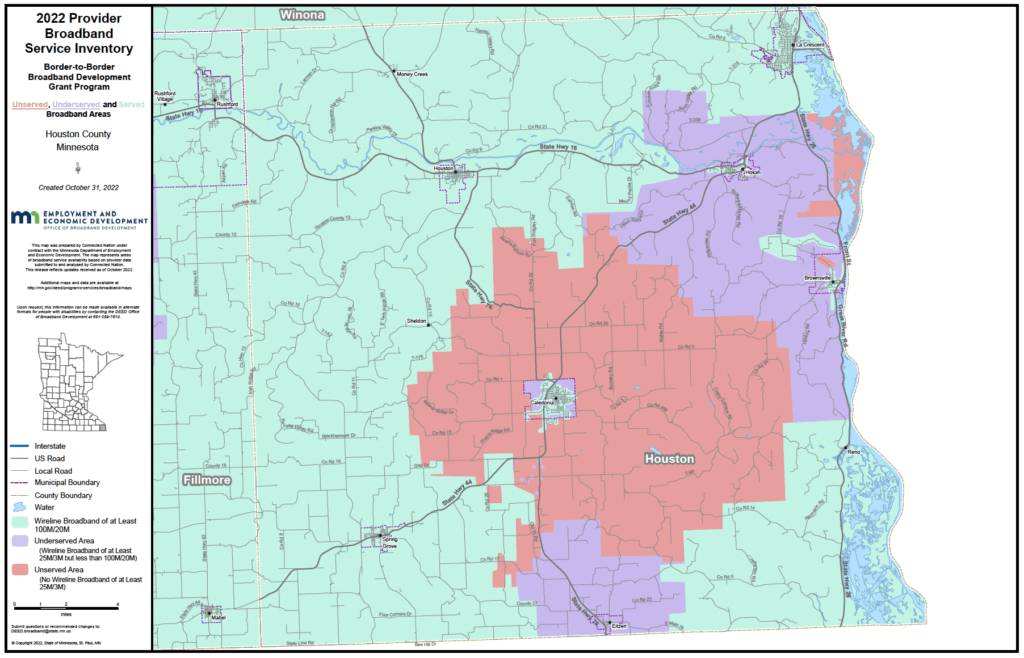 Rank: 38 (out of 87) for access to 100/20 megabits per second (Mbps)
Houston County ranks 38 for broadband access and 19 for digital equity out of 87 counties. They have seen incremental improvement since we started tracking it; in the last three years they have great gotten traction with a 82.98 percent coverage to broadband of 100 Mbps down and 20 up in 2022. They have 1486 households without access to broadband at that speed. Estimates indicate that it will cost $13.8 million to get to ubiquitous broadband in the county.
Houston will benefit from a ReConnet grant announced in September 2022:
The investment, provided through the U.S Department of Agriculture (USDA)'s ReConnect program, will help connect over 6,000 people, 150 businesses, and 680 farms across Freeborn, Morrison, Stearns, Houston, and Todd counties.
Houston County broadband has improved incrementally in the last year, likely due to a MN State Broadband grant with AcenTek in 2019.
They have seen improvement. In fact, they saw the fifth greatest increase in county ranking this year! Up 13 places! But without receiving a grant last year and a history of not much change, it seems unlikely that they will get to ubiquitous broadband but their improvement has earned them a code yellow.
Digital Equity:
Houston County ranks 19 out of 87 for digital equity. (See full Digital Equity Profile)
Houston County ranks 53 out of 87 for computer ownership. 90.2 percent of homes have a computer of device as compared to statewide ownership of 95.5 percent.
Households with Device Access
A Device
86.4%
95.5%
statewide
Desktop or Laptop
78.2%
83.2%
statewide
Smartphone
65.5%
90.1%
statewide
Tablet
51.7%
65.8%
statewide
Has Worked with Blandin Foundation
No
Has Received MN Grant(s)
Yes
2019: AcenTek – Rural Houston Exchange FTTH – GRANT $2,895,318
Government Districts
U.S. Congress: CD 1
MN Senate: 26
MN House: 26B