Table of goal data by year

| Year | Rank | 100/20 Mbps |
| --- | --- | --- |
| 2022 | #82 of 87 | 50.09% |
| 2021 | #81 of 87 | 50.21% |
| 2020 | #81 of 87 | 48.63% |
| 2019 | #72 of 87 | 48.05% |
| 2018 | #45 of 87 | 56.62% |
| 2017 | #43 of 87 | 49.29% |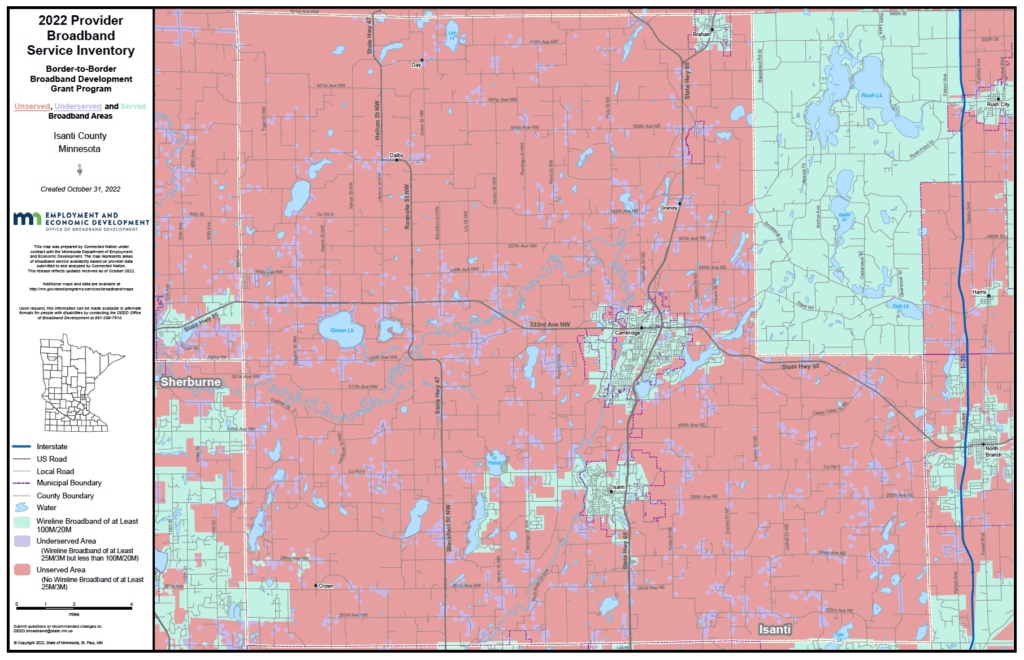 Rank: 82 (out of 87) for access to 100/20 megabits per second (Mbps)
Isanti County ranks 82 for broadband access and 45 for digital equity out of 87 counties. They have been hovering at about 50 percent coverage to broadband of 100 Mbps down and 20 up since 2017. They have 8260 households without access to broadband at that speed. Estimates indicate that it will cost $76.8 million to get to ubiquitous broadband in the county.
For the first time, Isanti County will benefit from a border to border grant announced in December 2022:
Midcontinent Communications, $1,647,321.00
Isanti County is served by one large national provider. That may be a bottleneck to better access in those areas, because aslack of competition can impact the drive for improvement.
We don't hear much from Isanti and that is why they maintain their red code. To see improvement, they will likely need to come together as a community to seek better broadband.
Digital Equity:
Isanti County ranks 45 out of 87 for digital equity. (See full Digital Equity Profile)
Isanti County ranks 26 out of 87 for computer ownership. 92.9 percent of homes have a computer of device as compared to statewide ownership of 95.5 percent.
Households with Device Access
A Device
88.3%
95.5%
statewide
Desktop or Laptop
79.5%
83.2%
statewide
Smartphone
74.4%
90.1%
statewide
Tablet
59.0%
65.8%
statewide
Has Worked with Blandin Foundation
Yes
Has Received MN Grant(s)
Yes
Government Districts
U.S. Congress: CD 8
MN Senate: 10, 27, 28, 31
MN House: 10B, 27B, 28A, 31B