Table of goal data by year

| Year | Rank | 100/20 Mbps |
| --- | --- | --- |
| 2022 | #76 of 87 | 61.98% |
| 2021 | #65 of 87 | 68.84% |
| 2020 | #59 of 87 | 68.84% |
| 2019 | #55 of 87 | 68.84% |
| 2018 | #33 of 87 | 68.79% |
| 2017 | #26 of 87 | 68.9% |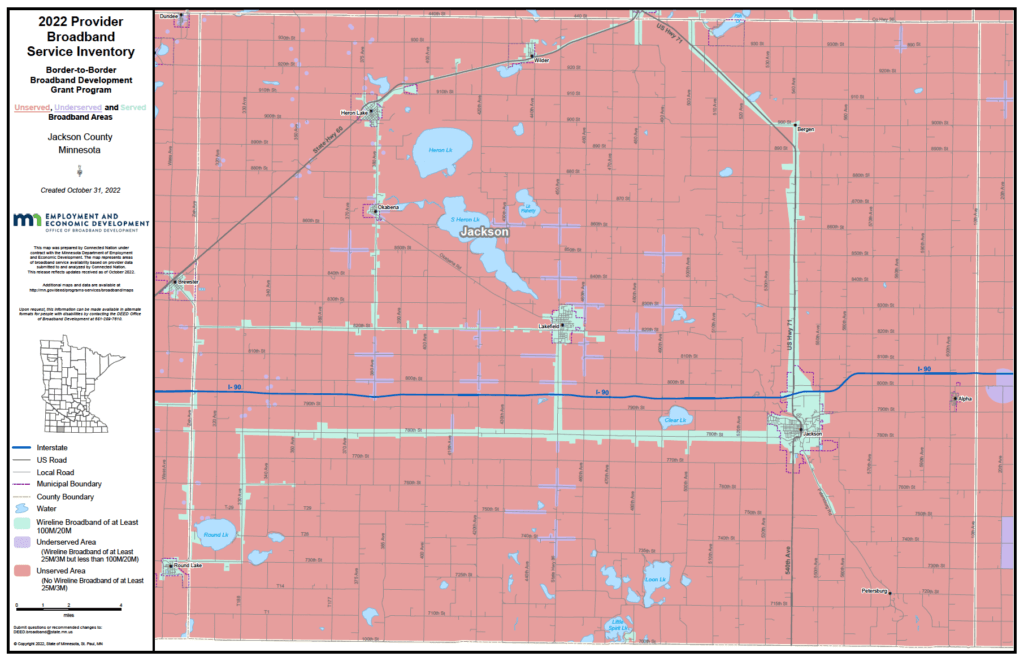 Rank: 76 (out of 87) for access to 100/20 megabits per second (Mbps)
Jackson County ranks 76 for broadband access and 36 for digital equity out of 87 counties. They hovered at 68 percent coverage to broadband of 100 Mbps down and 20 up from 2017 to 2021 but saw a decrease in the last year to 61.98, which may reflect an increase in granularity of reporting. They have 1860 households without access to broadband at that speed. Estimates indicate that it will cost $17.3 million to get to ubiquitous broadband in the county.
Last winter (Feb 2022), Jackson County heard about Federated Rural Electric's plans to expand broadband in the county. It's not a definite step but it's a step in the right direction. But they lack of other evidence of progress keeps them at code red. Also, they saw the one of greatest drops in broadband ranking – down 11 spots.
Digital Equity:
Jackson County ranks 36 out of 87 for digital equity. (See full Digital Equity Profile)
Jackson County ranks 49 out of 87 for computer ownership. 90.5 percent of homes have a computer of device as compared to statewide ownership of 95.5 percent.
Households with Device Access
A Device
85.6%
95.5%
statewide
Desktop or Laptop
76.3%
83.2%
statewide
Smartphone
68.5%
90.1%
statewide
Tablet
54.0%
65.8%
statewide
Has Worked with Blandin Foundation
Yes
Has Received MN Grant(s)
Yes
In 2010, Southwest Minnesota Broadband Services (SMBS) received ARRA funds to deploy fiber to the home in Jackson and other counties. Through SMBS, Jackson County was also part of the Blandin Broadband Communities initiative in 2015-2016
2015 – MVTV Wireless Middle Mile – Grant award: $808,080
There is a matrix of Minnesota broadband adoption projects; it includes projects from this area.
Government Districts
U.S. Congress: CD 1
MN Senate: 21
MN House: 21B