Table of goal data by year

| Year | Rank | 100/20 Mbps |
| --- | --- | --- |
| 2022 | #69 of 87 | 68.18% |
| 2021 | #53 of 87 | 74.82% |
| 2020 | #49 of 87 | 73.78% |
| 2019 | #48 of 87 | 72.89% |
| 2018 | #86 of 87 | 10.64% |
| 2017 | #79 of 87 | 8.14% |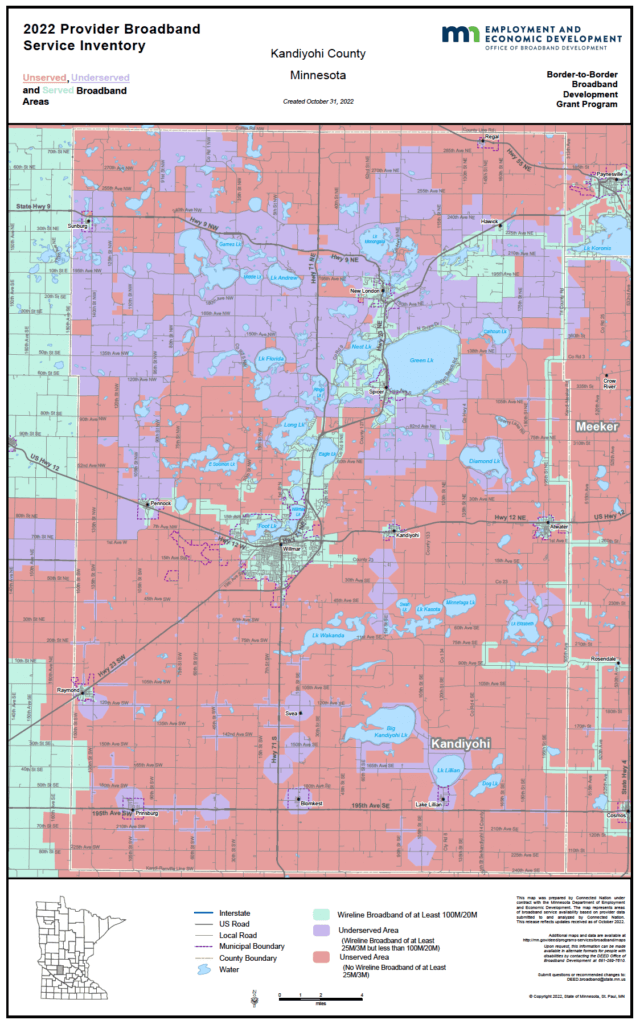 Rank: 69 (out of 87) for access to 100/20 megabits per second (Mbps)
Kandiyohi County ranks 69 for broadband access and 33 for digital equity out of 87 counties. They have been hovering around 70 percent coverage to broadband of 100 Mbps down and 20 up. They have seen a decrease to 68.18 percent in 2022, which is probably due to increased granularity of reporting within a margin of error. They have 6348 households without access to broadband at that speed. Estimates indicate that it will cost $59 million to get to ubiquitous broadband in the county.
Kandiyohi will benefit from a border to border grant announced December 2022:
Federated Telephone Cooperative, $4,913,505.50
Kandiyohi will also benefit from TDS deploying fiber to 3,700 properties in Kandiyohi, Stearns, Renville and Swift Counties.
Kandiyohi County has been working on better broadband for years. They saw a big improvement in 2019, but have been stagnant since. They came close to getting better broadband with CTC and a grant but that didn't work out in the end. Hopefully the most recent grant will help turn that around. Unfortunately, until I see evidence of improvement, we need to mark Kandiyohi with code red. Right now we're seeing a slip in percentage and ranking. They saw the one of greatest drops in broadband ranking – down 16 spots.
Digital Equity:
Kandiyohi County ranks 33 out of 87 for digital equity. (See full Digital Equity Profile)
Kandiyohi County ranks 29 out of 87 for computer ownership. 91.5 percent of homes have a computer of device as compared to statewide ownership of 92.4 percent.
Households with Device Access
A Device
88.3%
95.5%
statewide
Desktop or Laptop
75.5%
83.2%
statewide
Smartphone
73.0%
90.1%
statewide
Tablet
55.9%
65.8%
statewide
Has Worked with Blandin Foundation
Yes
Has Received MN Grant(s)
Yes
2016 – FRONTIER KANDIYOHI INITIATIVE – GRANT: $1,015,275
2015 – MVTV Wireless Middle Mile – Grant award: $808,080
2017, Consolidated Telecommunications Co. (CTC) was awarded a $4.94 million grant to improve serves in New London, Spicer and Willmar, and Frontier was awarded a grant of $1.02 million to improve service in rural Kandiyohi County. Unfortunately, the CTC project did not work out.
Government Districts
U.S. Congress: CD 7
MN Senate: 16
MN House: 16A, 16B