Table of goal data by year

| Year | Rank | 100/20 Mbps |
| --- | --- | --- |
| 2021 | #53 of 87 | 74.82% |
| 2020 | #49 of 87 | 73.78% |
| 2019 | #48 of 87 | 72.89% |
| 2018 | #86 of 87 | 10.64% |
| 2017 | #79 of 87 | 8.14% |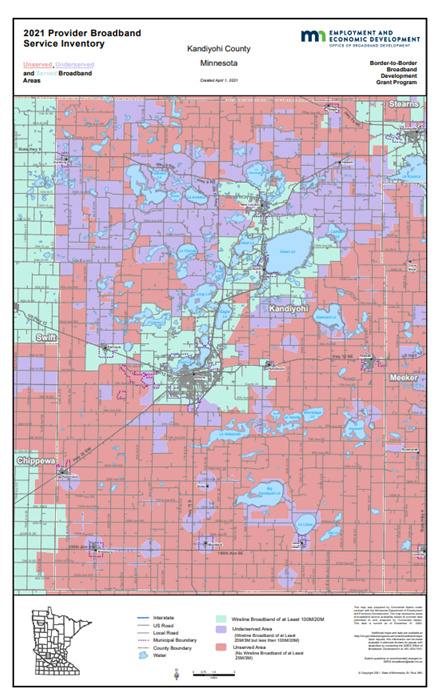 Rank: 53 (out of 87) for access to 100/20 megabits per second (Mbps)
Kandiyohi County has been working on better broadband for years. They saw a big improvement in 2019, but have been stagnant since. They came close to getting better broadband with CTC and a grant but that didn't work out in the end.
Projected allocation of American Recovery Project ARP funds in Benton is $7,930,170; broadband is one possible use. They have already elected to use some in Prinsburg.
The influx of funding is an opportunity for Kandiyohi to really invest; the question is whether they can convince the whole community to buy in. For now, they remain code yellow.
Find more articles on broadband in Kandiyohi. (http://tinyurl.com/z9wk7bm)
Households with Device Access
Computer
89.8%
93.6%
statewide
Desktop or Laptop
74.3%
80.6%
statewide
Smartphone
7.2%
7.7%
statewide
Tablet
58.4%
63.8%
statewide
Has Worked with Blandin Foundation
Yes
Has Received MN Grant(s)
Yes
2016 – FRONTIER KANDIYOHI INITIATIVE – GRANT: $1,015,275
2015 – MVTV Wireless Middle Mile – Grant award: $808,080
2017, Consolidated Telecommunications Co. (CTC) was awarded a $4.94 million grant to improve serves in New London, Spicer and Willmar, and Frontier was awarded a grant of $1.02 million to improve service in rural Kandiyohi County. Unfortunately, the CTC project did not work out.
Government Districts
U.S. Congress: CD 7
MN Senate: 17
MN House: 17A, 17B