Table of goal data by year

| Year | Rank | 100/20 Mbps |
| --- | --- | --- |
| 2022 | #63 of 87 | 72.3% |
| 2021 | #60 of 87 | 72.85% |
| 2020 | #60 of 87 | 68.6% |
| 2019 | #47 of 87 | 73.41% |
| 2018 | #28 of 87 | 73.44% |
| 2017 | #27 of 87 | 68.55% |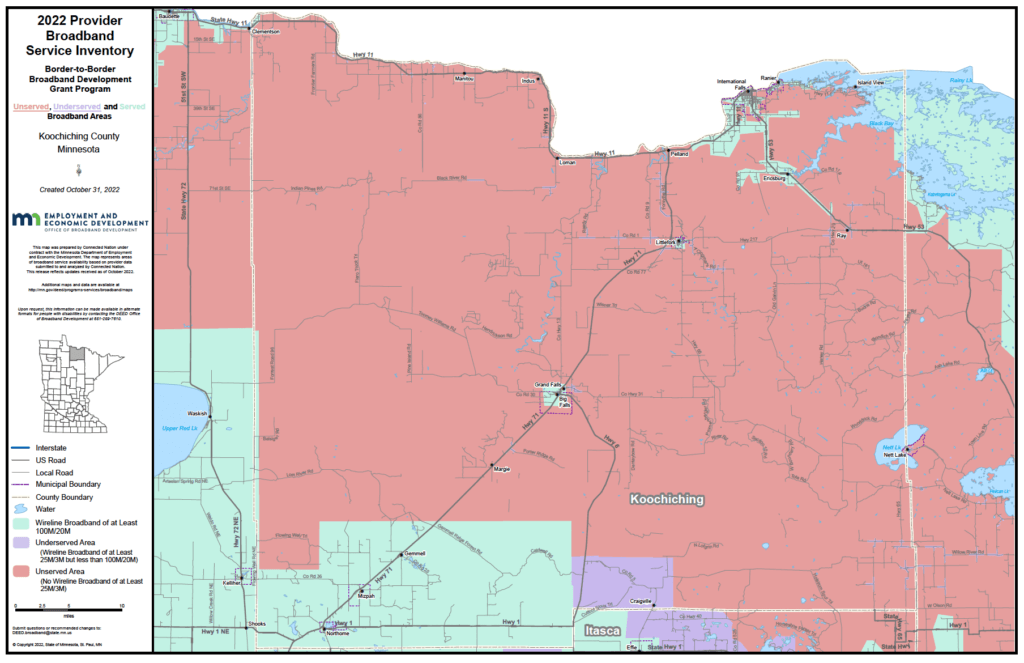 Rank: 63 (out of 87) for access to 100/20 megabits per second (Mbps)
Koochiching County ranks 63 for broadband access and 78 for digital equity out of 87 counties. They had incremental increases for a while but leveled off this year at 72.3 percent coverage to broadband of 100 Mbps down and 20 up. They have 2050 households without access to broadband at that speed. Estimates indicate that it will cost $19 million to get to ubiquitous broadband in the county.
Koochiching County has been working on getting better broadband for a while. They have learned a lot about options working with the Blandin Foundation. But I haven't seen as much lately and I haven't seen recent increase of grant award, which is why their code has been bumped from yellow to red.
Digital Equity:
Koochiching County ranks 78 out of 87 for digital equity. (See full Digital Equity Profile)
Koochiching County ranks 71 out of 87 for computer ownership. 88.2 percent of homes have a computer of device as compared to statewide ownership of 95.5 percent.
Households with Device Access
A Device
82.5%
95.5%
statewide
Desktop or Laptop
70.3%
83.2%
statewide
Smartphone
60.5%
90.1%
statewide
Tablet
50.3%
65.8%
statewide
Has Worked with Blandin Foundation
Yes
Has Received MN Grant(s)
Yes
2015 – Midcontinent Little Fork Middle Mile – Grant award: $277,448
Paul Bunyan Communications – North Central Minnesota Fiber Project– GRANT $2,562,916
Government Districts
U.S. Congress: CD 8
MN Senate: 03
MN House: 03A
Overlapping MN Reservations