Table of goal data by year

| Year | Rank | 100/20 Mbps |
| --- | --- | --- |
| 2021 | #60 of 87 | 72.85% |
| 2020 | #60 of 87 | 68.6% |
| 2019 | #47 of 87 | 73.41% |
| 2018 | #28 of 87 | 73.44% |
| 2017 | #27 of 87 | 68.55% |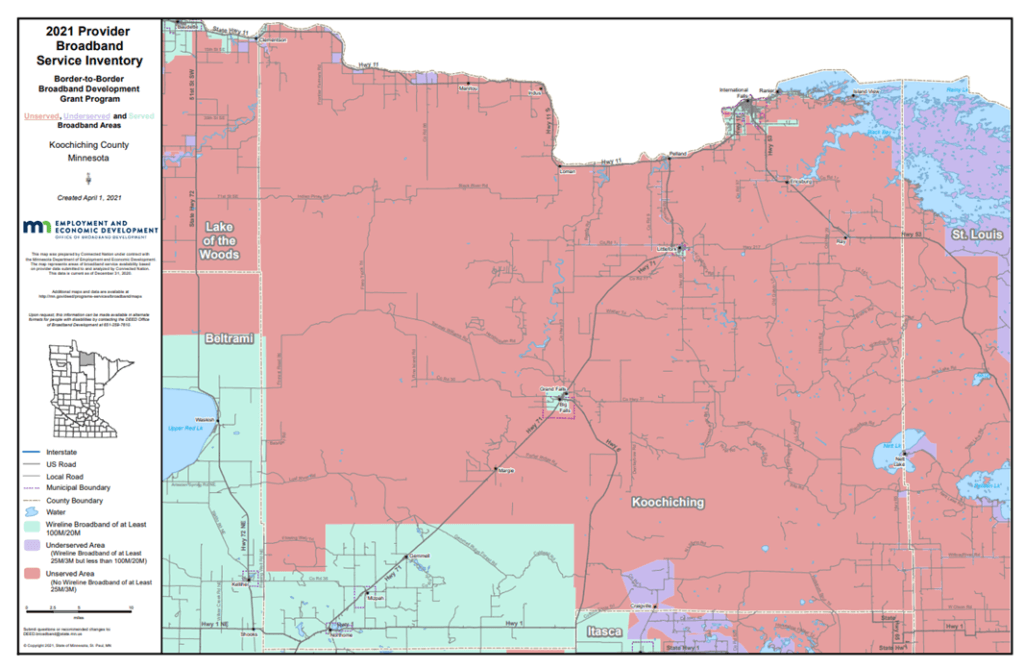 Rank: 59 (out of 87) for access to 100/20 megabits per second (Mbps)
Koochiching County has been working on getting better broadband for a while. They are well organized and engaged through Koochiching Technology Initiative (KTI); they have been a Blandin Broadband Community working on promoting better broadband use with other Arrowhead Regional leaders.
Midco activated more than 200 additional miles of fiber to create a Northern Minnesota fiber ring that adds diverse network paths for both Ely and International Falls. That will help Koochiching County.
Projected allocation of American Recovery Project ARP funds in Benton is $7,930,170; broadband is one possible use.
Koochiching has been working on broadband. They have learned a lot about options working with the Blandin Foundation. The have the potential of an influx of funding; they just need to influence that impact on broadband. For now, they remain in code yellow.
Find more articles on broadband in Koochiching. (http://tinyurl.com/gom8mqy)
Households with Device Access
Computer
85.6%
93.6%
statewide
Desktop or Laptop
72.1%
80.6%
statewide
Smartphone
5%
7.7%
statewide
Tablet
55.1%
63.8%
statewide
Has Worked with Blandin Foundation
Yes
Has Received MN Grant(s)
Yes
2015 – Midcontinent Little Fork Middle Mile – Grant award: $277,448
Paul Bunyan Communications – North Central Minnesota Fiber Project– GRANT $2,562,916
Government Districts
U.S. Congress: CD 8
MN Senate: 03
MN House: 03A
Overlapping MN Reservations