Table of goal data by year
Year
25/3 Mbps
100/20 Mbps
2019
#53 of 87
81.22%
#47 of 87
73.41%
2018
#58 of 87
73.5%
#28 of 87
73.44%
2017
#60 of 87
68.6%
#27 of 87
68.55%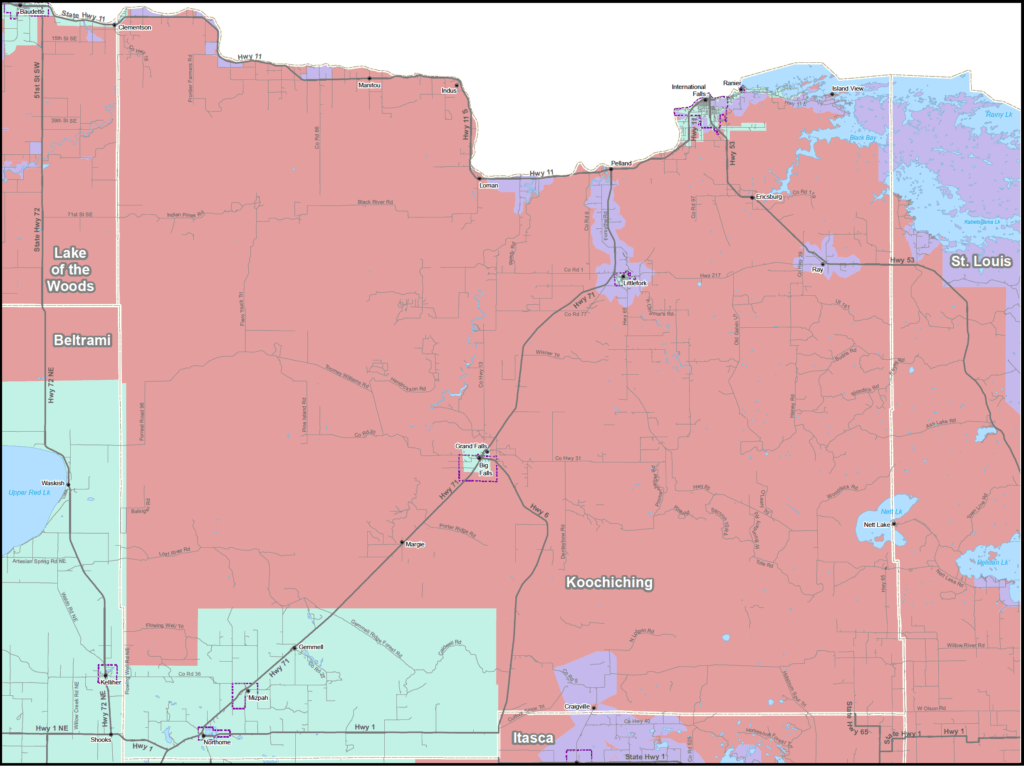 Rank: 46 (out of 87) for broadband 100/2 megabits per second (Mbps)
Koochiching County will need lots of work and investment to reach the MN state goals for 2022 and 2026. But, Koochiching is in a better position than many counties, both because they have a very active group of community advocates and because they have a willing provider partner interested in working with them.
Koochiching has benefited from one Minnesota state grant:
2015 – Midcontinent Little Fork Middle Mile
Grant award: $277,448
Midcontinent will build out broadband middle mile infrastructure between Little Fork and International Falls following MN11 to US71 to CR22 to provide state speed goal broadband service and above to 258 passings.
Koochiching has been working with the Blandin foundation on the Iron Range Broadband Communities (IRBC) initiative with the Koochiching Tech Initiative leading the way. They are working with Paul Bunyan Communications on a 2019 broadband grant application, which if funded, could offer services to more than 1,200 locations in Kabetogama, Pelland Junction, Ericsburg and Ray. (That's about 10 percent of Koochiching's total population.)
Koochiching County could benefit from future grants. In 2019, Paul Bunyan applied to upgrade service in Koochching. (That doesn't mean they will get the grant; they have only applied.)
Find more articles on broadband in Koochiching.
Has Worked with Blandin Foundation
Yes
Has Received MN Grant(s)
Yes
Government Districts
U.S. Congress: CD 8
MN Senate: 03
MN House: 03A