Table of goal data by year
Year
25/3 Mbps
100/20 Mbps
2020
#5 of 87
99.57%
#3 of 87
99.57%
2019
#17 of 87
97.35%
#9 of 87
97.35%
2018
#13 of 87
97.35%
#6 of 87
97.35%
2017
#7 of 87
99.36%
#2 of 87
99.36%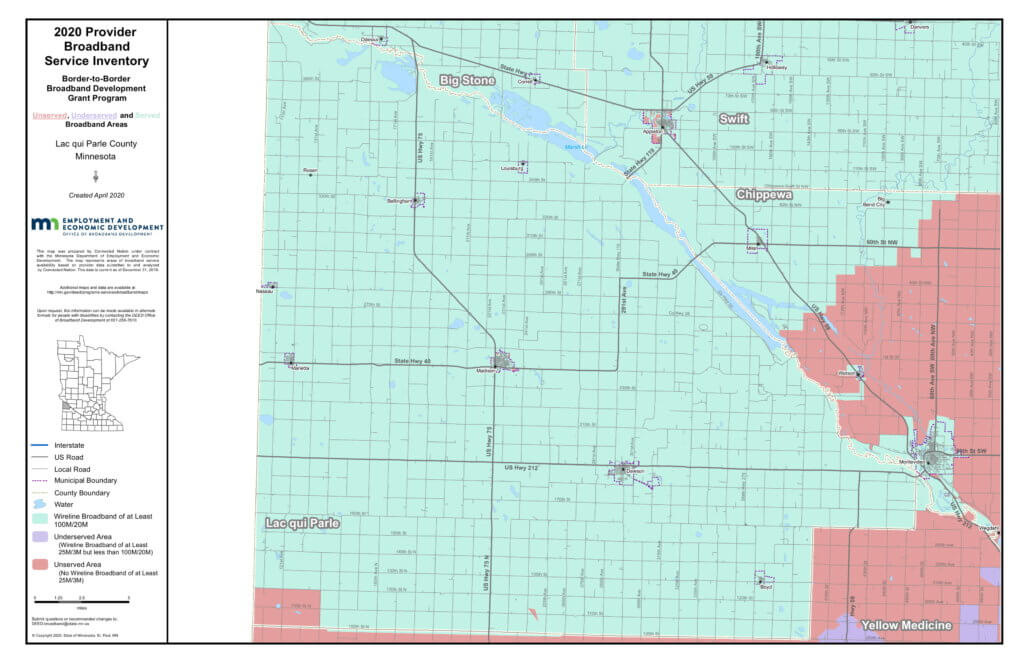 Rank: 3 (out of 87) for access to 100/20 megabits per second (Mbps)
Lac qui Parle (LqP) County received an American Recovery and Reinvestment Act (ARRA) award in 2010 that brought Fiber to the Home (FTTH) to most of the county. It has provided opportunities and prepared them for the work. We spoke to them specifically about how broadband was a help or hindrance in dealing with COVID.
Residents of LqP are able to get most of their work and learning done online. They will have a financial and academic advantage over counties that aren't as well served.
What we learned in the past:
In 2009, Blandin Foundation funded a feasibility study for LqP County and Farmers Telephone Cooperative. The feasibility study's engineering, operational, and market development plans were later used to support the partners' successful ARRA funding application. Resulting in a $9.6 million ARRA award in August 2010.
LqP has benefited from two MN state grants:
2017 – Farmers Mutual Telephone – City of Watson and SW Lac qui Parle County FTTP – GRANT $760,501
2015 – MVTV Wireless Middle Mile – Grant award: $808,080
Update from 2020:
Lac qui Parle County and Farmers Mutual Telephone were awarded Blandin Foundation Courageous Leadership awards last year for their early work bringing FTTH in a rural county.
Is broadband a help or hindrance in dealing with COVID?
LqP County met with Blandin on Broadband to talk about how their broadband situation helped or hindered the ability to deal with COVID restrictions.
On the call was Pam Lehmann, the EDA Director at the time that LqP got the ARRA award. As she said, it has been a universal help to the county in dealing with COVID. Kids are able to attend school online, when they need to. Because of the fast connection, Pam was able to access, interact and apply for federal funding for local area small businesses. Healthcare has moved online; insurance waivers and changes in regulation have been helpful in making that possible.
Healthcare recruitment has also moved online. The healthcare facilities have been hiring and are holding all interviews online. It's not the same as having someone come to town but, especially in the healthcare industry, you don't want people coming from their hospital to fly to LqP hospitals; so adequate broadband for video interactions have been a potential life saver.
Find more articles on broadband in Lac qui Parle.
Households with Device Access
Computer
83.8%
90.3%
statewide
Desktop or Laptop
74.5%
81.1%
statewide
Smartphone
65.9%
76.5%
statewide
Tablet
50.5%
59.3%
statewide
Has Worked with Blandin Foundation
Yes
Has Received MN Grant(s)
Yes
Government Districts
U.S. Congress: CD 7
MN Senate: 16
MN House: 16A