Table of goal data by year

| Year | Rank | 100/20 Mbps |
| --- | --- | --- |
| 2021 | #3 of 87 | 99.83% |
| 2020 | #3 of 87 | 99.57% |
| 2019 | #9 of 87 | 97.35% |
| 2018 | #6 of 87 | 97.35% |
| 2017 | #2 of 87 | 99.36% |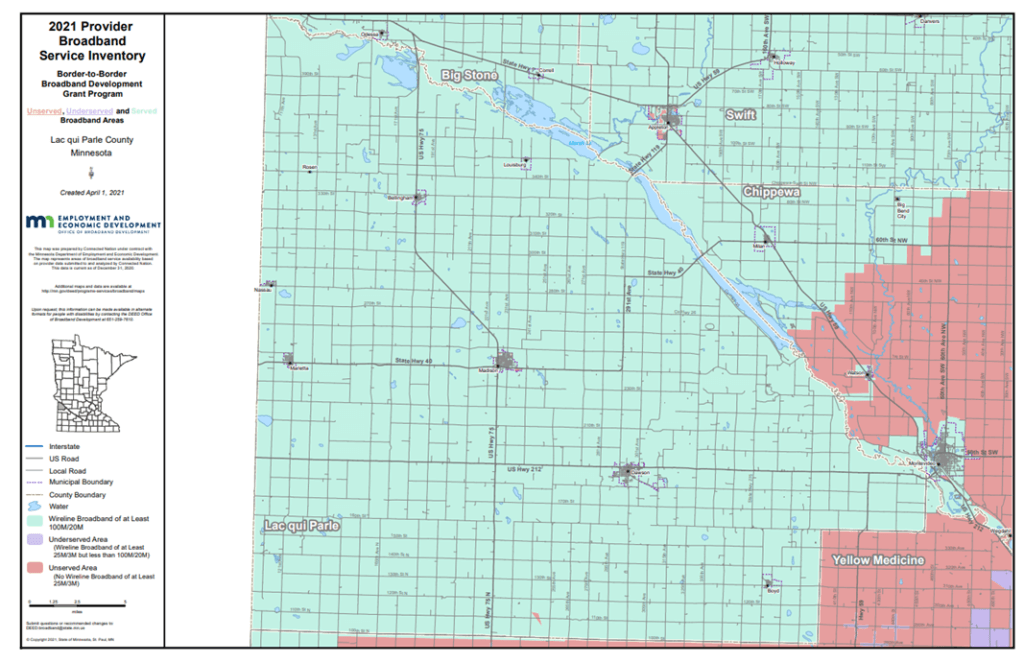 Rank: 3 (out of 87) for access to 100/20 megabits per second (Mbps)
Lac qui Parle (LqP) County received an American Recovery and Reinvestment Act (ARRA) award in 2010 that brought Fiber to the Home (FTTH) to most of the county. They have been well served since then and are able to make improvements.
Initially Madison, the county seat was not included in the original network, because at the time it was too well served to receive federal funding. The provider covering Madison has caught up.
As a report from the Institute for Local Self Reliance pointed out, Farmers Mutual Telephone Cooperative operates 1,300 miles of fiber with a take rate of 55 percent across its service area. The network frequently hears from residents that the service has become central to their lives, wellbeing, and ability to conduct business.
LqP is clearly code green.
In 2010, the county and Farmers were awarded a $9.6 million ARRA award.
Find more articles on broadband in Lac qui Parle. (http://tinyurl.com/zc2tfay)
Households with Device Access
Computer
85.5%
93.6%
statewide
Desktop or Laptop
74.7%
80.6%
statewide
Smartphone
6%
7.7%
statewide
Tablet
52.6%
63.8%
statewide
Has Worked with Blandin Foundation
Yes
2009, Blandin Foundation funded a feasibility study for LqP County and Farmers Telephone Cooperative. The feasibility study's engineering, operational, and market development plans were later used to support the partners' successful ARRA funding
Has Received MN Grant(s)
Yes
2017 – Farmers Mutual Telephone – City of Watson and SW Lac qui Parle County FTTP – GRANT $760,501
2015 – MVTV Wireless Middle Mile – Grant award: $808,080
Government Districts
U.S. Congress: CD 7
MN Senate: 16
MN House: 16A