Table of goal data by year

| Year | Rank | 100/20 Mbps |
| --- | --- | --- |
| 2022 | #4 of 87 | 99.86% |
| 2021 | #3 of 87 | 99.83% |
| 2020 | #3 of 87 | 99.57% |
| 2019 | #9 of 87 | 97.35% |
| 2018 | #6 of 87 | 97.35% |
| 2017 | #2 of 87 | 99.36% |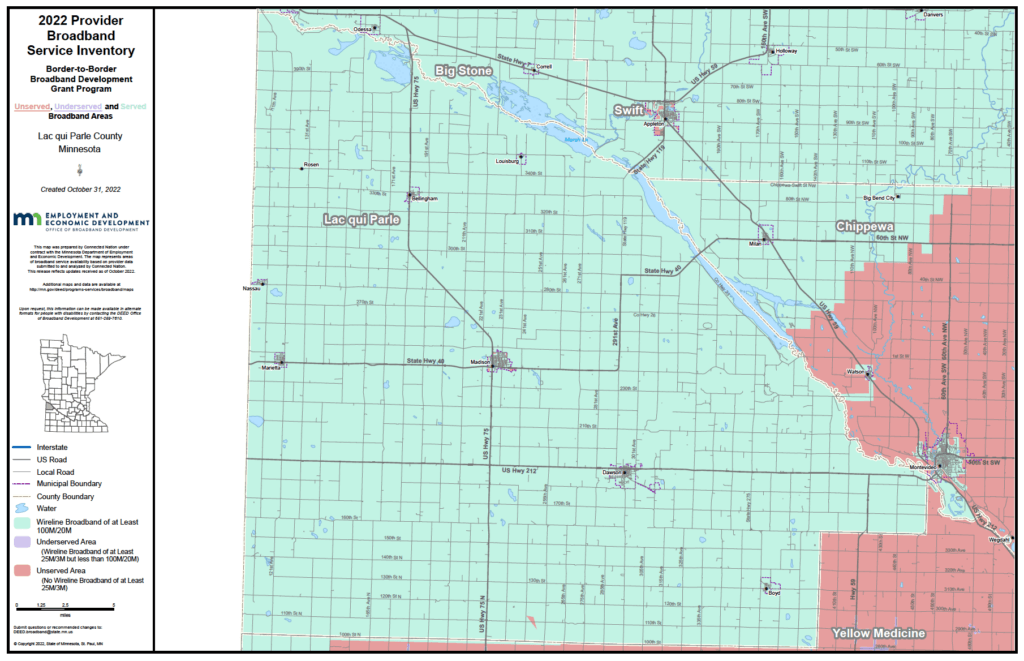 Rank: 4 (out of 87) for access to 100/20 megabits per second (Mbps)
LqP County ranks 4 for broadband access and 81 for digital equity out of 87 counties. They have had more than 99 percent coverage to broadband of 100 Mbps down and 20 up since we started tracking. They have 5 households without access to broadband at that speed. Estimates indicate that it will cost $45,000 to get to ubiquitous broadband in the county.
Lac qui Parle (LqP) County received an American Recovery and Reinvestment Act (ARRA) award in 2010 that brought Fiber to the Home (FTTH) to most of the county. They have been well served since then and are able to make improvements. That is why they get an easy green code. But their digital equity ranking is 81. If they get funding for technology, they should consider investment in digital equity. That being said, they were early partners with the Blandin Foundation and have a history of great programs, such as the Computer Commuter akin to a bookmobile but with computers and Internet access.
Digital Equity:
LqP County ranks 41 out of 87 for digital equity. (See full Digital Equity Profile)
LqP County ranks 81 out of 87 for computer ownership. 86 percent of homes have a computer of device as compared to statewide ownership of 95.5 percent.
Households with Device Access
A Device
83.8%
95.5%
statewide
Desktop or Laptop
74.5%
83.2%
statewide
Smartphone
65.9%
90.1%
statewide
Tablet
50.5%
65.8%
statewide
Has Worked with Blandin Foundation
Yes
2009, Blandin Foundation funded a feasibility study for LqP County and Farmers Telephone Cooperative. The feasibility study's engineering, operational, and market development plans were later used to support the partners' successful ARRA funding
Has Received MN Grant(s)
Yes
2017 – Farmers Mutual Telephone – City of Watson and SW Lac qui Parle County FTTP – GRANT $760,501
2015 – MVTV Wireless Middle Mile – Grant award: $808,080
2010 – The county and Farmers were awarded a $9.6 million ARRA award
Government Districts
U.S. Congress: CD 7
MN Senate: 15
MN House: 15A