Table of goal data by year
Year
25/3 Mbps
100/20 Mbps
2020
#19 of 87
93.85%
#15 of 87
93.39%
2019
#22 of 87
93.86%
#14 of 87
93.4%
2018
#20 of 87
94.3%
#11 of 87
94.3%
2017
#24 of 87
94.32%
#13 of 87
94.32%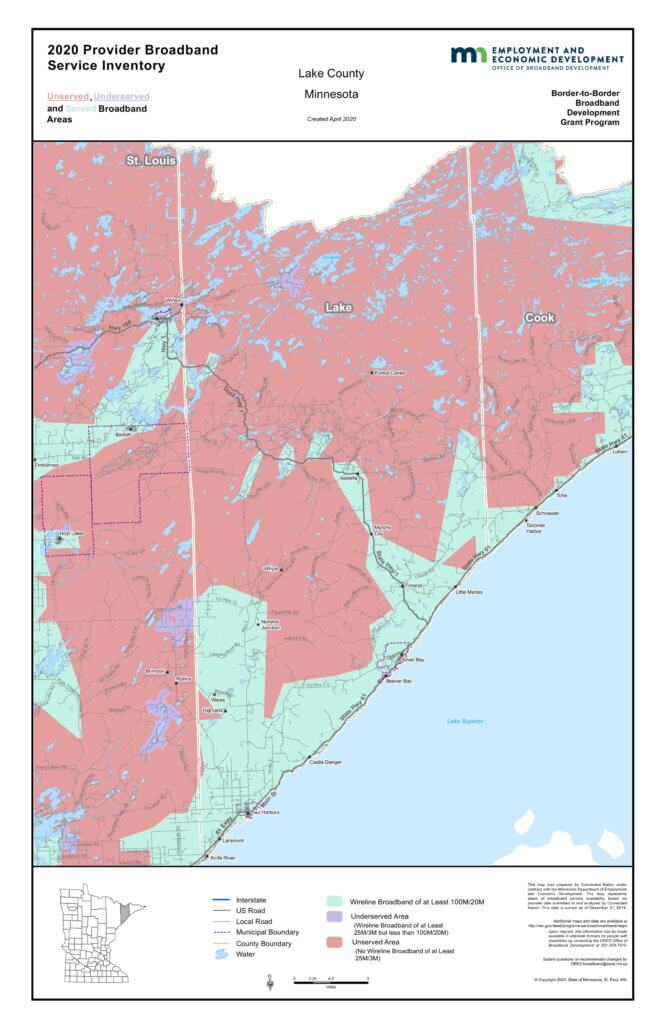 Rank: 15 (out of 87) for access to 100/20 megabits per second (Mbps)
Lake County received an American Recovery and Reinvestment Act (ARRA) award in 2010 to build Fiber to the Home (FTTH). That grant came with a lot of bumps in the road, but now more than 90 percent of the very remote county has access to 100/20 Mbps broadband. The county continues to make strides in broadband use. They probably need an extra push to get the remaining households covered by the 2026 goal, but they are close.
What we learned in the past:
In 2010, Lake County received an ARRA award of $66.3 million to improve broadband access in their area; about $10 million of the award was an outright grant; the rest was a low-interest loan. There were bumps along the road to getting fiber to the community but now they are well served.
Lake County was a 2013-2014 Blandin Broadband Community (BBC) and they were featured in a report on the community return on public investment in broadband, which found $83,418,170 investments had been made in the community; using formulas devised to measure impact of broadband access, Lake County has the potential to realize from this investment:
A combined household economic benefit of broadband of $13,695,550
A combined increase in residential real estate value of $38,547,421
Update from 2020:
We continue to see improvements in broadband access and adoption in Lake County:
Wilderness health, a collaborative of independent health providers for rural communities in Lake County, was recently awarded a grant worth nearly $800,000. The grant will be used to support the development of a telehealth program to offer mental health and other services to be used within its ten health system network.
911 Service redundancy was finally achieved through a partnership with CenturyLink, The Northeast Service Cooperative, True North Broadband, and the State of Minnesota, assisted by Cook County MIS, the Sheriff's Office, and Emergency Management. The result: no more County-wide 911 outages!
Last Fall, the Blandin Foundation Courageous Leadership was posthumously awarded to Paul Bergman, whose vision for a broadband-enabled future for Lake County brought modern access to the Internet to the residents of the county he loved.
Find more articles on broadband in Lake County.
Households with Device Access
Computer
87.7%
90.3%
statewide
Desktop or Laptop
76.9%
81.1%
statewide
Smartphone
68.4%
76.5%
statewide
Tablet
53.9%
59.3%
statewide
Has Received MN Grant(s)
No
Government Districts
U.S. Congress: CD 8
MN Senate: 03
MN House: 03A