Table of goal data by year

| Year | Rank | 100/20 Mbps |
| --- | --- | --- |
| 2022 | #56 of 87 | 74.92% |
| 2021 | #49 of 87 | 76% |
| 2020 | #55 of 87 | 70.67% |
| 2019 | #52 of 87 | 70.33% |
| 2018 | #31 of 87 | 70.65% |
| 2017 | #16 of 87 | 82.78% |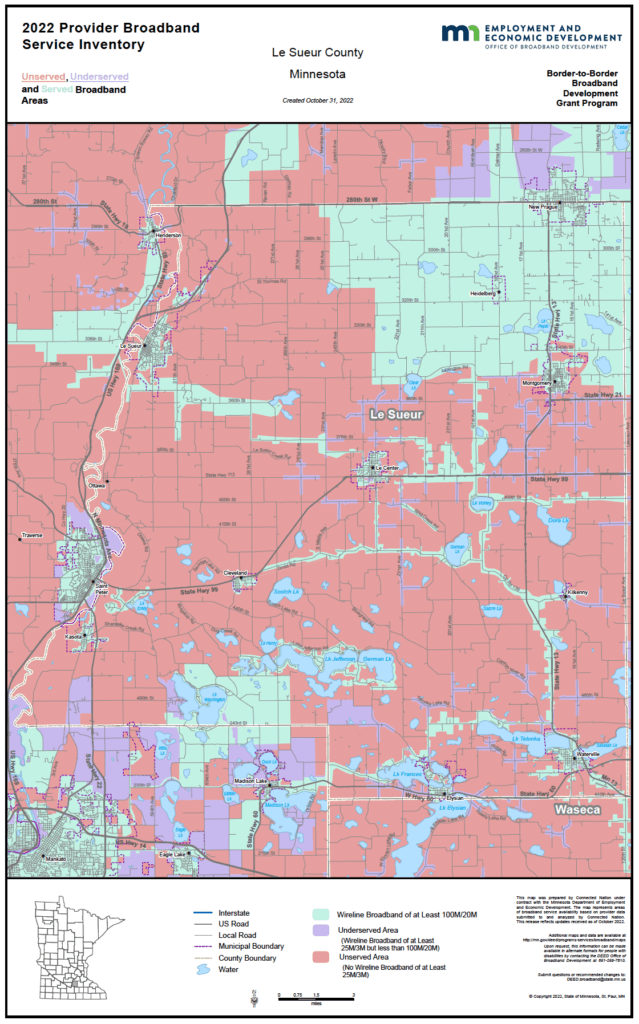 Rank: 56 (out of 87) for access to 100/20 megabits per second (Mbps)
Le Sueur County ranks 56 for broadband access and 84 for digital equity out of 87 counties. They have hovered around 75 percent coverage to broadband of 100 Mbps down and 20 for years. The percentage decreased this year, likely due to increase granularity of reporting. They have 3213 households without access to broadband at that speed. Estimates indicate that it will cost $29.8 million to get to ubiquitous broadband in the county.
Le Sueur started focusing on broadband in earnest in 2018. In 2020, they became a Blandin Broadband Community. They were busy creating a local plan and have become even more active since issues with federal funding preventing them from moving forward.
LTD Broadband was awarded the opportunity to submit a long form to get federal funding (RDOF) to deploy FTTH throughout much of Minnesota, including parts of Le Sueur County. The potential RDOF award meant Le Sueur's state grant application was no longer eligible. LTD's application for RDOF has since been rejected. And the Minnesota PUC (Public Utilities Commission) are looking at revoking the ETC designation that LTD needed to qualify for RDOF money.
Le Sueur will benefit from a border to border grant announced in December 2022:
Bevcomm – Rural Le Sueur County Broadband Expansion Project – Phase Two – GRANT $941,576 (Learn more)
They continue to hold local broadband meetings and have encouraged local residents to get involved by applying for Minnesota Line Extension grant funding and test the FCC maps, which will dictate who gets future funding.
Le Sueur has some roadblocks but they also have some formidable champions; that is why they get a yellow rating.
Digital Equity:
Le Sueur County ranks 26 out of 87 for digital equity. (See full Digital Equity Profile)
Le Sueur County ranks 22 out of 87 for computer ownership. 93.2 percent of homes have a computer of device as compared to statewide ownership of 95.5 percent.
Households with Device Access
A Device
88.3%
95.5%
statewide
Desktop or Laptop
75.9%
83.2%
statewide
Smartphone
72.4%
90.1%
statewide
Tablet
56.0%
65.8%
statewide
Has Worked with Blandin Foundation
Yes
Has Received MN Grant(s)
Yes
2016 – ECKLES TELEPHONE COMPANY (DBA BEVCOMM) RURAL HEIDELBERG– GRANT:  $188,000
BEVCOMM (Eckles Telephone Company) – Le Sueur County Project – GRANT $1,857,376
Government Districts
U.S. Congress: CD 2
MN Senate: 18, 22
MN House: 18A, 22B