Table of goal data by year

| Year | Rank | 100/20 Mbps |
| --- | --- | --- |
| 2022 | #2 of 87 | 99.99% |
| 2021 | #7 of 87 | 99.03% |
| 2020 | #84 of 87 | 40.42% |
| 2019 | #76 of 87 | 39.21% |
| 2018 | #66 of 87 | 39.21% |
| 2017 | #54 of 87 | 40% |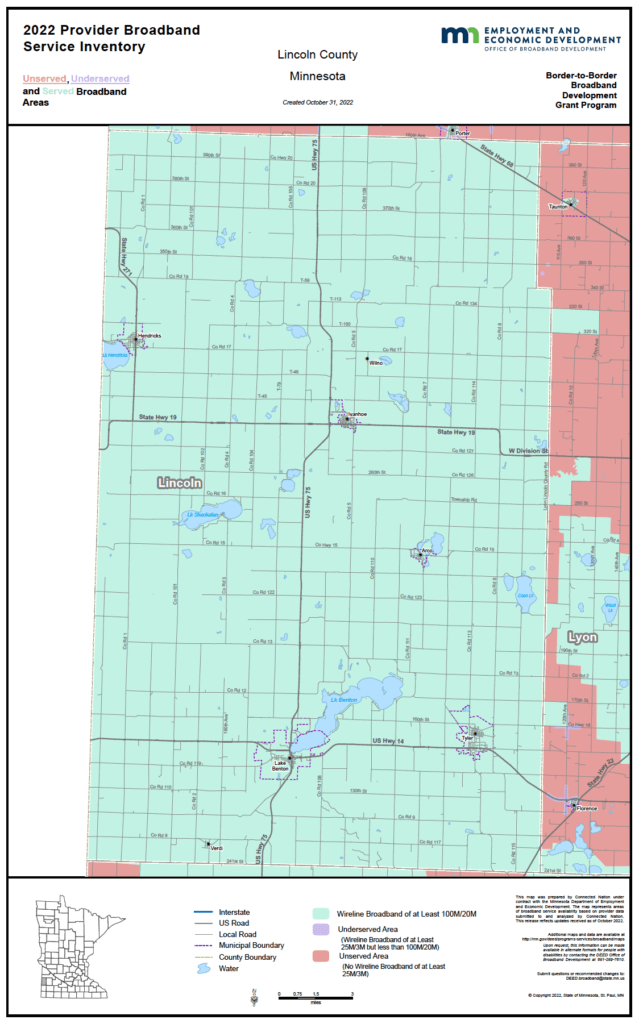 Rank: 2 (out of 87) for access to 100/20 megabits per second (Mbps)
Lincoln County ranks 2 for broadband access and 65 for digital equity out of 87 counties. They went to 99+ percent coverage to broadband of 100 Mbps down and 20 up last summer and have improved since then. They have 0 households without access to broadband at that speed. Estimates indicate that it will cost nothing to ubiquitous broadband in the county. However, they rank 65 for digital equity so they could focus on use with any public funding.
With help from the Blandin Foundation, Lincoln released a feasibility study in 2018, which indicated Fiber to the Premise would cost $8.5 million in eastern Lincoln County. They worked on a grant application that did not get funded but the county decided to move ahead on their own.
Last fall, ITC announced a fiber-optic expansion to the City of Ivanhoe in Lincoln County. Along with ITC's investment in the fiber-optic expansion, this project is funded by the City of Ivanhoe and Lincoln County. And they have been working on improving digital equity with help from the Blandin Foundation.
They continue to earn their green ranking.
Digital Equity:
Lincoln County ranks 65 out of 87 for digital equity. (See full Digital Equity Profile)
Lincoln County ranks 77 out of 87 for computer ownership. 87.3 percent of homes have a computer of device as compared to statewide ownership of 95.5 percent.
Households with Device Access
A Device
79.0%
95.5%
statewide
Desktop or Laptop
71.1%
83.2%
statewide
Smartphone
61.6%
90.1%
statewide
Tablet
47.3%
65.8%
statewide
Has Worked with Blandin Foundation
Yes
Has Received MN Grant(s)
Yes
2015 – MVTV Wireless Middle Mile – Grant award: $808,080
2014 – Interstate Telecommunications Cooperative (ITC), Hendricks Town FTTP – Award: $700,000.
Government Districts
U.S. Congress: CD 7
MN Senate: 21
MN House: 21A