Table of goal data by year

| Year | Rank | 100/20 Mbps |
| --- | --- | --- |
| 2021 | #7 of 87 | 99.03% |
| 2020 | #84 of 87 | 40.42% |
| 2019 | #76 of 87 | 39.21% |
| 2018 | #66 of 87 | 39.21% |
| 2017 | #54 of 87 | 40% |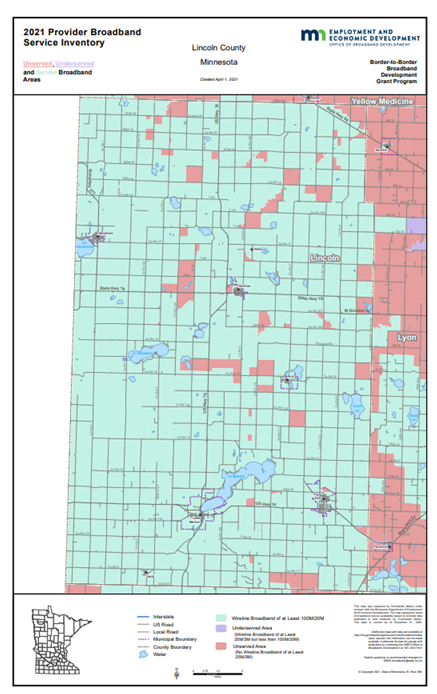 Rank: 7 (out of 87) for access to 100/20 megabits per second (Mbps)
Lincoln County has been active in trying to get better broadband for years; there was a renewed interest going back to 2016. With help from the Blandin Foundation, Lincoln released a feasibility study in 2018, which indicated Fiber to the Premise would cost $8.5 million in eastern Lincoln County. The community was able to go to the provider (ITC) with the budget and (maybe more importantly) maps. The plan included an overbuild of some Frontier areas but did not include Tyler and Ivanhoe. ITC said they were able to $2.5 million and looked at CAF reverse auction. That left the community with $6 million to meet the need. They applied for a Minnesota state grant; they found a way to include Tyler and Ivanhoe, which brought the project to $10 million. Unfortunately, they did not get the funding.
The county decided to move ahead on their own. They are trying to bond for $5 million. The area is fortunate that they have seen expansion in wind industry, which has led to production tax, which could be used for a special project such as broadband.
Lincoln went from code red to code green in one year!
Past grants:
2015 – MVTV Wireless Middle Mile – Grant award: $808,080
2014 – Interstate Telecommunications Cooperative (ITC), Hendricks Town FTTP – Award: $700,000.
Find more articles on broadband in Lincoln County (http://tinyurl.com/jxqwlab)
Households with Device Access
Computer
81.3%
%
statewide
Desktop or Laptop
71.3%
%
statewide
Smartphone
5.2%
%
statewide
Has Worked with Blandin Foundation
Yes
Has Received MN Grant(s)
Yes
Government Districts
U.S. Congress: CD 7
MN Senate: 22
MN House: 22A