Table of goal data by year
Year
25/3 Mbps
100/20 Mbps
2020
#39 of 87
85.82%
#37 of 87
79.92%
2019
#44 of 87
85.8%
#30 of 87
81.89%
2018
#44 of 87
80.71%
#29 of 87
72.77%
2017
#52 of 87
72.37%
#86 of 87
0%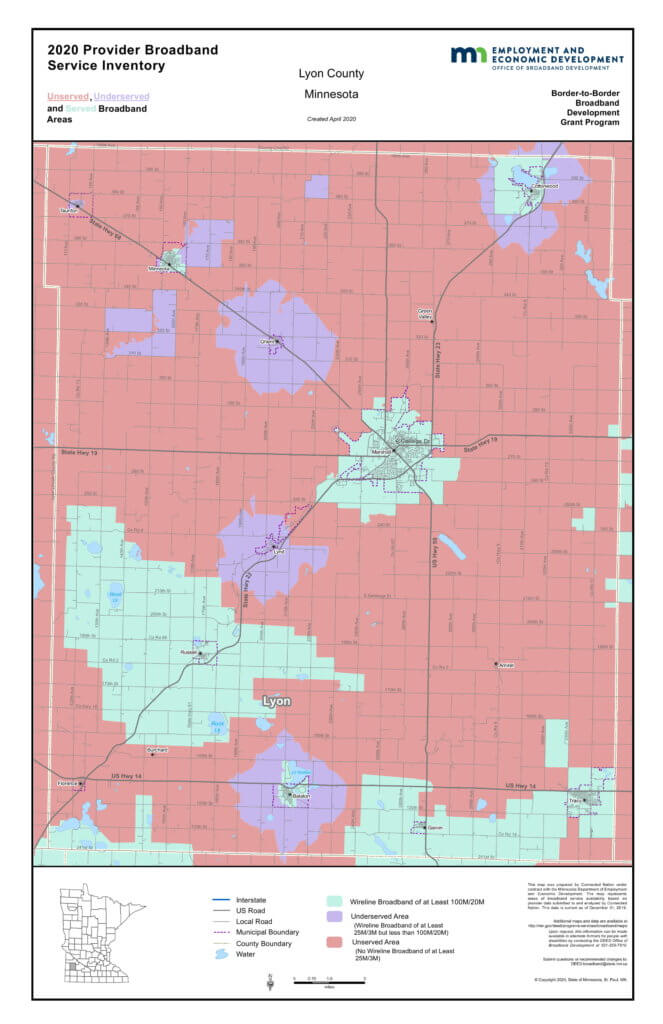 Rank: 36 (out of 87) for access to 100/20 megabits per second (Mbps)
In 2017, Lyon County went from zero to more than 70 percent broadband coverage at speeds of 100/20 Mbps. Unfortunately, a feasibility study in 2018 indicated that it was too expensive to build Fiber to the Home (FTTH) even with the help of a Border to Border grant. But there are hybrid solutions and the County could campaign for higher than 50 percent matches from the Border to Border grants, as others have done.
What we learned in the past:
In Spring of 2018, with support from Blandin Foundation, the county released the results of a feasibility study. It determined that it was not economically feasible to build fiber everywhere in the rural parts of the county using the existing Border-to-Border grant program—the 50% grant matching in that program is not enough to create a sustainable network. However, the hybrid fiber and wireless solutions all look to be economically viable.
Lyon County benefited from four state grants:
2017 – MVTC (Minnesota Valley Telephone Company, Inc.) – Milroy Broadband Project – GRANT $742,365
2017 – Woodstock Telephone Company – Balaton FTTP – GRANT $413,009
2016 – MIDCO CANBY TO MARSHALL MIDDLE MILE AND LAST MILE – GRANT AMOUNT: $623,000
2015 – MVTV Wireless Middle Mile – Grant award: $808,080
Update from 2020:
No broadband reports from Lyon County since last report.
Find more articles on broadband in Lyon County.
Households with Device Access
Computer
89.5%
90.3%
statewide
Desktop or Laptop
80.8%
81.1%
statewide
Smartphone
72.3%
76.5%
statewide
Tablet
56.1%
59.3%
statewide
Has Worked with Blandin Foundation
Yes
Has Received MN Grant(s)
Yes
Government Districts
U.S. Congress: CD 7
MN Senate: 16, 22
MN House: 16A, 22A