Table of goal data by year

| Year | Rank | 100/20 Mbps |
| --- | --- | --- |
| 2022 | #34 of 87 | 84.27% |
| 2021 | #38 of 87 | 82.31% |
| 2020 | #37 of 87 | 79.92% |
| 2019 | #30 of 87 | 81.89% |
| 2018 | #29 of 87 | 72.77% |
| 2017 | #86 of 87 | 0% |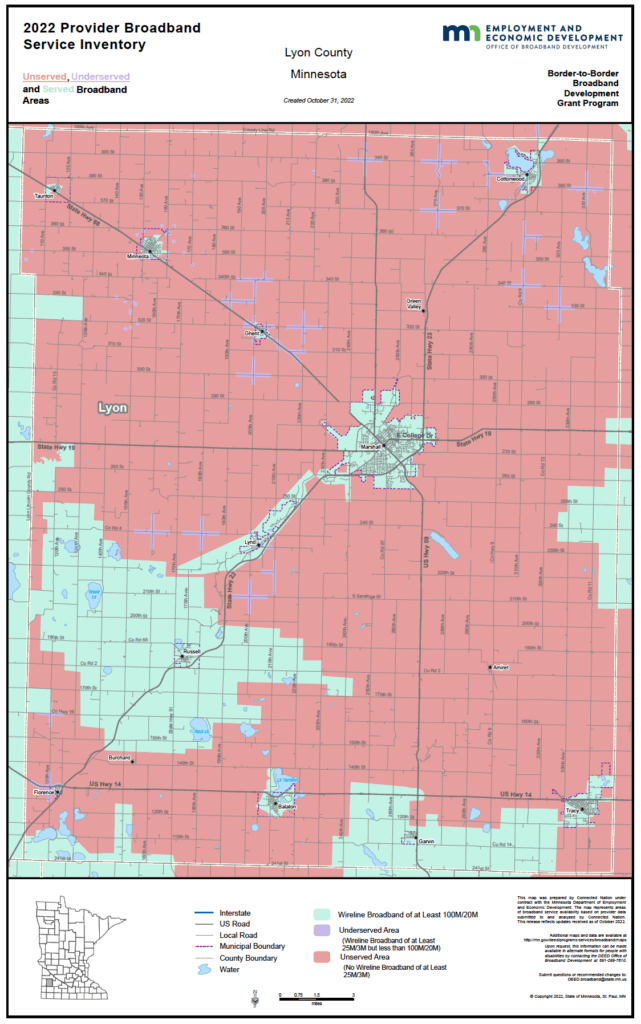 Rank: 34 (out of 87) for access to 100/20 megabits per second (Mbps)
Lyon County ranks 34 for broadband access and 28 for digital equity out of 87 counties. They have had incremental improvement landing at 84.27 percent coverage to broadband of 100 Mbps down and 20 up in 2022. They have 1759 households without access to broadband at that speed. Estimates indicate that it will cost $16.3 million to get to ubiquitous broadband in the county.
The Mayors of towns In Lyon met with Senator Klobuchar in January and October 2022. They have been talking about federal funding but there hasn't been a lot of evidence of improvements, which is why they still live with the red standing.
Digital Equity:
Lyon County ranks 28 out of 87 for digital equity. (See full Digital Equity Profile)
Lyon County ranks 27 out of 87 for computer ownership. 92.9 percent of homes have a computer of device as compared to statewide ownership of 95.5 percent.
Households with Device Access
A Device
89.5%
95.5%
statewide
Desktop or Laptop
80.8%
83.2%
statewide
Smartphone
73.3%
90.1%
statewide
Tablet
56.1%
65.8%
statewide
Has Worked with Blandin Foundation
Yes
Has Received MN Grant(s)
Yes
Woodstock Telephone Company – Lynd FTTP – GRANT $325,548 (Lyon County) – This middle and last mile project will serve 203 underserved households, three underserved businesses and three underserved anchor institutions in the City of Lynd in Lyon County.
2017 – MVTC (Minnesota Valley Telephone Company, Inc.) – Milroy Broadband Project – GRANT $742,365
2017 – Woodstock Telephone Company – Balaton FTTP – GRANT $413,009
2016 – MIDCO CANBY TO MARSHALL MIDDLE MILE AND LAST MILE – GRANT AMOUNT: $623,000
2015 – MVTV Wireless Middle Mile – Grant award: $808,080
Government Districts
U.S. Congress: CD 7
MN Senate: 15
MN House: 15A