Table of goal data by year
Year
25/3 Mbps
100/20 Mbps
2020
#73 of 87
71.81%
#62 of 87
68.24%
2019
#57 of 87
80.29%
#64 of 87
55.22%
2018
#78 of 87
56.38%
#48 of 87
54.8%
2017
#73 of 87
55.64%
#39 of 87
54.06%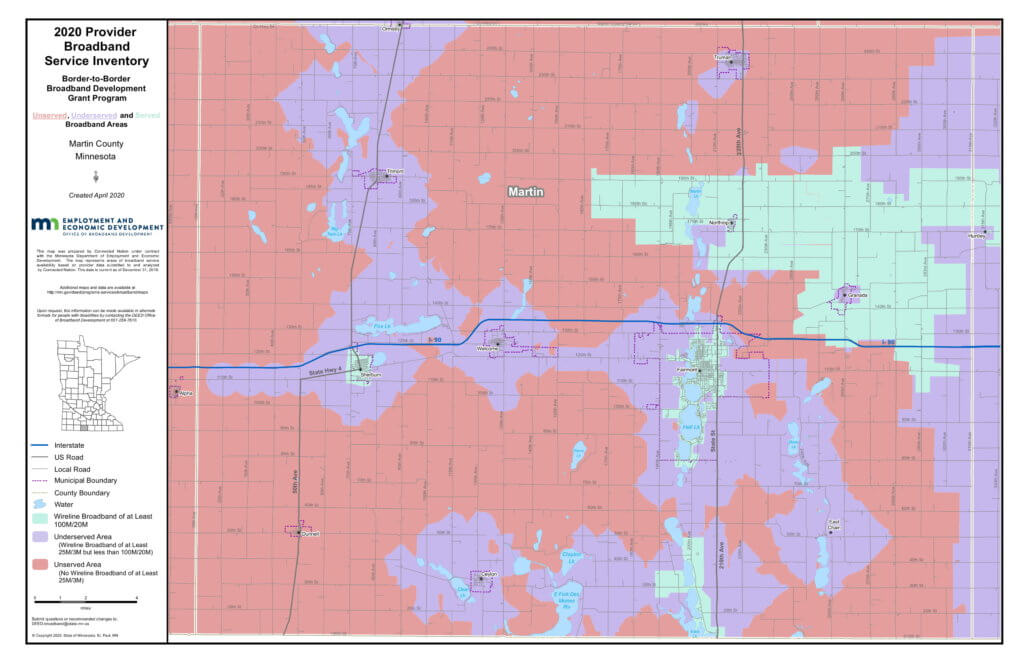 Rank: 71 (out of 87) for access to 100/20 megabits per second (Mbps)
Martin County has seen an increase in broadband coverage in the last year, yet a slip in ranking, which means they are improving but not as fast as other counties. They will see improvements based on a recent MN Border to Border grant award. And the county was named a Telecommuter Forward, which indicates an interest in broadband use and deployment.
What we learned in the past:
Martin County was a 2015-2016 Blandin Broadband Community  and through that partnership they had a feasibility study done in 2017.
Martin County has benefited with three state grants:
2017- BEVCOMM (Granada Telephone Company) — Granada Rural Final – GRANT: $202,410
2016 – GRANADA TELEPHONE COMPANY (DBA BEVCOMM) SOUTH RURAL GRANADA – GRANT:  $157,920
2016 – MARTIN COUNTY (WITH FRONTIER) RURAL BROADBAND INITIATIVE – GRANT: $1,677,823
Update from 2020:
Martin County will benefit from a Border to Border grant awarded in the last round:
BEVCOMM (Blue Earth Valley Telephone Company & Easton Telephone Company) – Rural Faribault County Project – GRANT: $579,781
This last mile project will upgrade approximately 112 unserved and six underserved households, 50 unserved farms, and eight unserved businesses in areas of Faribault and Martin Counties. In a funding partnership with the State of Minnesota and Faribault County Economic Development Authority, BEVCOMM will improve broadband service levels up to 1 Gbps download and 1 Gbps upload, exceeding the 2022 and 2026 state speed goals. Sustainable broadband adoption will transform these unserved areas into highly-productive rural communities.
Total eligible project cost is $1,449,451
Local match is $869,670
Martin County was names a Telecommuter Forward community, which indicates an interest in promoting access and adoption.
Find more articles on broadband in Martin County.
Households with Device Access
Computer
84.2%
90.3%
statewide
Desktop or Laptop
70.7%
81.1%
statewide
Smartphone
67.5%
76.5%
statewide
Tablet
46.2%
59.3%
statewide
Has Worked with Blandin Foundation
Yes
Martin County has worked with the Blandin Foundation.
Government Districts
U.S. Congress: CD 1
MN Senate: 23
MN House: 23A