Table of goal data by year
Year
25/3 Mbps
100/20 Mbps
2019
#55 of 87
81.01%
#63 of 87
58.59%
2018
#41 of 87
83.53%
#43 of 87
58.57%
2017
#13 of 87
98.58%
#36 of 87
56.92%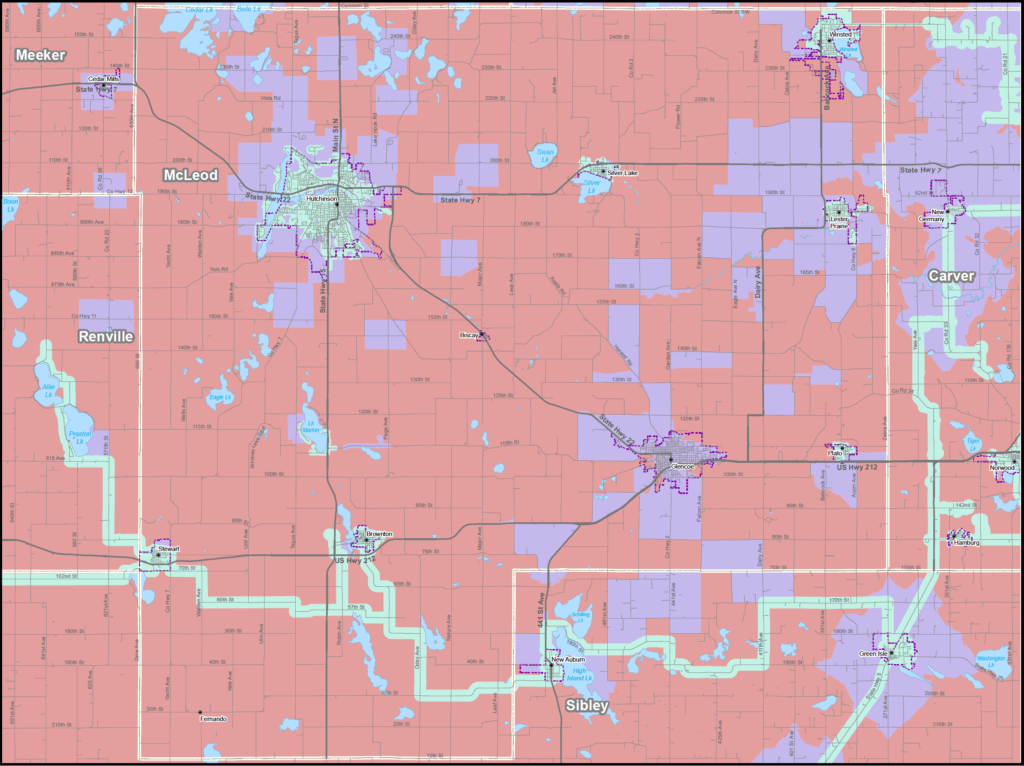 Rank: 63 (out of 87) for broadband at 100/20 megabits per second (Mbps)
McLeod is not poised to meet the Minnesota broadband goals for either 2022 or 2026. They are in a difficult position because they have such a mixed bag of service levels across the county.
In February 2018, the Blandin Foundation held a meeting in the region to talk about broadband, where there was a glimpse of the situation in the county…
They don't have an economic development department to work on broadband. So no one seems to be championing the effort on a county-wide basis. BUT, as part of RS Fiber, two cities are getting connectivity (FTTH). Hutchinson has cable and halfway decent speeds – but outside of Hutchinson, the county is not well served. There was a MN State grant in 2014 just outside the city of Hutchinson via New Ulm Telecom.
In summer 2019, RS Fiber announced completed construction of gigabit FTTP networks in 10 communities located in Renville, Sibley, McLeod, and Nicollet Counties of west central Minnesota. Hopefully we'll see the impact of that in the next mapping.
To meet the state's broadband speed goals, McLeod will want to look at starting or joining a concerted effort to improve broadband because, while they see incremental increase in access, their ranking is dropping, which means other counties are doing better.
McLeod County could benefit from future grants. In 2019, Nuvera Communications, Winsted Telephone Company and Winthrop Telephone Company applied to upgrade service in McLeod. (That doesn't mean they will get the grant; they have only applied.)
Find more articles on broadband in McLeod County.
Has Worked with Blandin Foundation
No
Has Received MN Grant(s)
No
Government Districts
U.S. Congress: CD 7
MN Senate: 18
MN House: 18A, 18B