Table of goal data by year

| Year | Rank | 100/20 Mbps |
| --- | --- | --- |
| 2022 | #54 of 87 | 75.48% |
| 2021 | #73 of 87 | 58.09% |
| 2020 | #72 of 87 | 56.13% |
| 2019 | #63 of 87 | 58.59% |
| 2018 | #43 of 87 | 58.57% |
| 2017 | #36 of 87 | 56.92% |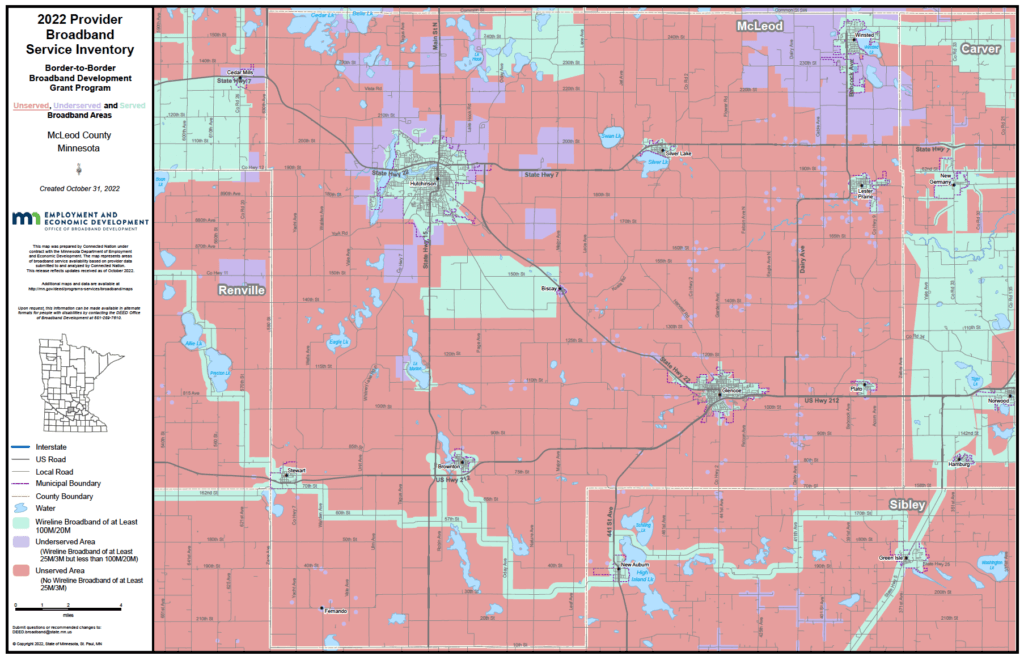 Rank: 54 (out of 87) for access to 100/20 megabits per second (Mbps)
McLeod County ranks 54 for broadband access and 32 for digital equity out of 87 counties. They have gone from 58 percent coverage to broadband of 100 Mbps down and 20 up in 2021 to 75.48 percent access this year. They have 3879 households without access to broadband at that speed. Estimates indicate that it will cost $36 million to get to ubiquitous broadband in the county.
McLeod County will benefit from a few border to border grants announced in December 2022:
Nuvera Communications, Inc. – Belle Lake and Hutchinson East FTTP – GRANT $1,840,250
Mediacom Minnesota LLC – Swan Lake – GRANT $99,156 (Learn more)
Last year was the first time McLeod benefited from a border to border grant but they have more coming for 2022. In April 2022, area leaders met with the Office of Broadband Development to talk about broadband; they have a momentum going and that's why their code has gone from red to yellow. In fact, they saw the second greatest increase in county ranking this year! Up 20 places!
Digital Equity:
McLeod County ranks 32 out of 87 for digital equity. (See full Digital Equity Profile)
McLeod County ranks 39 out of 87 for computer ownership. 91.4 percent of homes have a computer of device as compared to statewide ownership of 95.5 percent.
Households with Device Access
A Device
84.2%
95.5%
statewide
Desktop or Laptop
70.7%
83.2%
statewide
Smartphone
67.5%
90.1%
statewide
Tablet
46.2%
65.8%
statewide
Has Worked with Blandin Foundation
No
Has Received MN Grant(s)
Yes
MN State Grants awarded in 2021: Nuvera Communications, Inc. – Hutchinson SE FTTP – GRANT $169,369 This last mile project will serve 42 unserved and five underserved locations in the Hutchinson area of McLeod County.
Winthrop Telephone Company, Inc. – Bismarck & Transit Township FTTP Project – GRANT $716,000 This last mile project will serve 148 unserved and six underserved locations, including homes, businesses and farms, in Bismarck, Transit and Round Grove townships in Sibley and McLeod counties.
Government Districts
U.S. Congress: CD 7
MN Senate: 17
MN House: 17A, 17B