Table of goal data by year
Year
25/3 Mbps
100/20 Mbps
2020
#80 of 87
62.46%
#75 of 87
53.86%
2019
#73 of 87
71.72%
#74 of 87
45.08%
2018
#63 of 87
71.45%
#57 of 87
45.08%
2017
#12 of 87
98.58%
#57 of 87
38.13%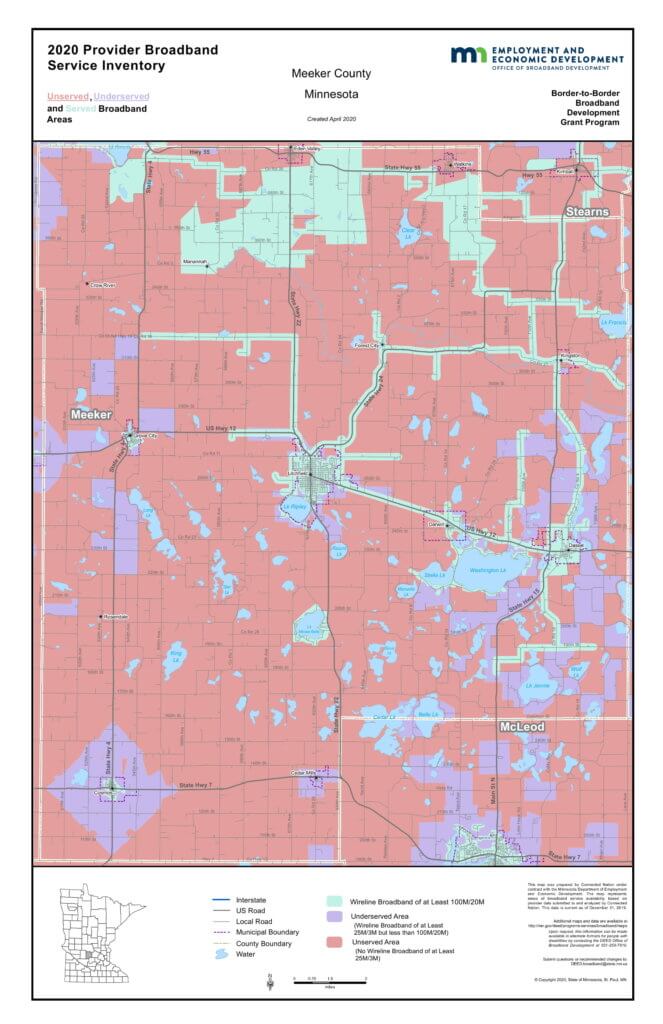 Rank: 74 (out of 87) for access to 100/20 megabits per second (Mbps)
Meeker County has been engaged in broadband expansion for years. Unfortunately, it sounds like their recognition of the need for better broadband doesn't match actual improvement. They will benefit from a MN Border to Border grant awarded in the last round. The project is small, but hopefully will start a quest for more improvement.
What we learned in the past:
Meeker County has benefited from one MN broadband grant:
2015 – MVTV Wireless Middle Mile – Grant award: $808,080
In 2017, Meeker County released a broadband feasibility study, with Blandin Foundation's support. They gave an update in 2018, "Two years ago, businesses thought they were fine with existing broadband. Now they need more. We need to focus on future needs to create a solution for today and tomorrow."
Update from 2020:
Meeker County will benefit from a Border to Border grant awarded in the last round:
2019: Nuvera Communications, Inc. – Hutchinson W Project – GRANT $346,282
This last mile project will serve 43 households, 11 businesses, and 55 farms in areas of Cedar Mills Township in Meeker County, and Boon Lake and Brookfield Townships in Renville County. In a funding partnership with the State of Minnesota, Nuvera Communications, Inc. will improve broadband service levels up to 1 Gbps download and 1 Gbps upload, exceeding the 2022 and 2026 state speed goals. This fiber-to-the-premises network will provide reliable, affordable, high quality broadband to rural farms, businesses, and homes. Residents will also have increased access to health care and education, and the opportunity to telecommute or start their own businesses.
Total eligible cost is $910,704
Local match is $564,422
Find more articles on broadband in Meeker County.
Households with Device Access
Computer
85.3%
90.3%
statewide
Desktop or Laptop
75.0%
81.1%
statewide
Smartphone
69.7%
76.5%
statewide
Tablet
52.1%
59.3%
statewide
Has Worked with Blandin Foundation
Yes
Has Received MN Grant(s)
Yes
Government Districts
U.S. Congress: CD 7
MN Senate: 18
MN House: 18A